NEW CONFIGURATIONS vignettes from the collection in recent years
A Ramachandran, Aisha Khalid, Akbar Padamsee, Arpana Caur, Aipita Singh, Avinash Chandra, Ayesha Sultana, Biren De, FN Souza, GR lranna, Gulammohammed Sheikh, Hema Upadhyay, Himmat Shah, Imran Qureshi, J Sultan Ali, Jagannath Panda, Jamini Roy, Jayashree Chakravarty, Jehangir Sabavala, KK Hebbar, Krishen Khanna, Laxman Pai, Mohan Samant, Meera Mukherjee, Mrinalini Mukherjee, Nalini Malani, Nilima Sheikh, Prabhakar Barwe, Pushpamala N, Ram Kumar, Reddeppa Naidu, Rekha Rodwittiya, Somnath Hore, Surendran Nair, Tyeb Mehta, V Ramesh, Zarina
This exhibition is dedicated to the memory of eminent artist Ram Kumar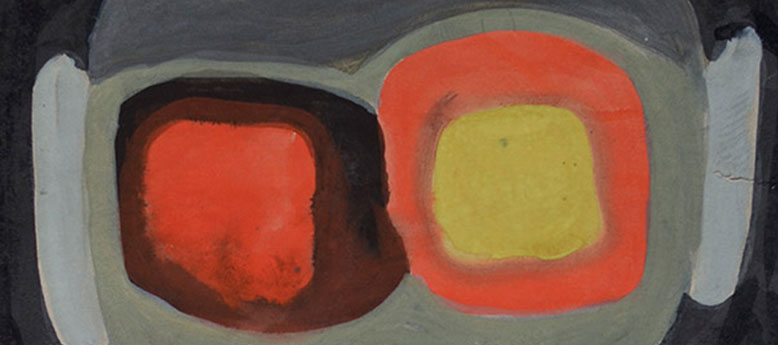 Participating artists:
Anandmohan Naik, LN Tallur, College Backyard, Amitesh Grover and Arnika Ahldag, K. Ramanujam, Sanchayan Ghosh and Monogobbet Society, Shaina Anand, Ashok Sukumaran, Pad.ma, Desire Machine Collective, Cholamandal Artists, Village, Baroda Fine Arts Fair, Weavers, Service Centre, Pablo Bartholomew, J&K Academy of Art, Culture and Languages Sarai Reader 09, CAMP, Santhal Family, Open Circle, K.G. Subramanyan, Gagan Singh, Prabhakar Barwe, Nicholas Roerich, Haku Shah, Stella Kramrisch, Rags Media Collective, R.V. Ramani, Govind Nihalani, Paribartana Mohanty, Astitva Collective, Group 1890, Mochu Bhule Bisre Kalakar Cooperative and Rajeev Sethi, Inder Salim and Shantanu Lodh, Shveta Sarda J. Swaminathan and Akhilesh, Bharat Bhawan, WALA, Ram Rahman, Richard Bartholomew, Umesh Madanahalli and CAVA students, V. Arnawaz, Jyoti Bhatt, Meera Mukherjee, Harkat Unedited, Calcutta Group, SAHMAT, Siddhartha Chatterjee, Anonymous
The main protagonist of the new exhibition 'Hangar for the Passerby' at the Kiran Nadar Museum of Art, Noida is the transient figure of the Passerby. The exhibition is an assemblage of collectivities, collectives, collaborative practices, and moments of transference across generations and groups of artists practicing in India. It highlights contexts, emotional investments, challenges and schema of artistic collaborations and sociality, through juxtaposition of different models and attempts of coalescence as proposed by different artists.

At the heart of the exhibition is a souvenir shop that makes the museum a meeting ground and criss-cross of institutional histories of Bharat Bhavan, Kala Bhavan, J&K Academy of Art, Culture & Languages, Kala Bhavan and Fine Arts Faculty of Vadodara. It proposes re-visitations of certain historical moments, speculating and re-enacting spatial dynamics of collectivity. Some of the groups, collectives and contexts that will be brought into discussion are Cholamandala Artists' village, Weavers' Service Centre, Baroda Art Fair, Astitva Collective, Sahmat, Open Circle, CAMP, Sarai Reader 09 etc. Within this meshwork and interlacing, the exhibition also presents instances of formal and informal pedagogical exercises, workshops and participatory acts, facilitated by many artists in institutional spaces.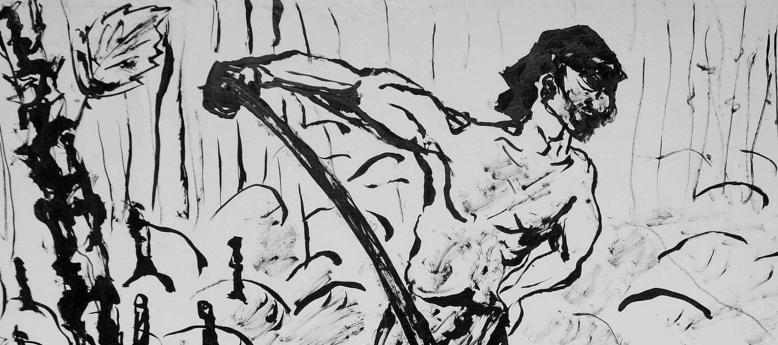 Participating artists
C.K. Rajan, K.M. Madhusudhanan, K.P. Krishnakumar, N.N. Rimzon, and Surendran Nair
Pondering their strong Marxist idealism, artists from the Government College of Fine Arts, Trivandrum/Thiruvananthapuram in Kerala in the late 1970s-1980s were convinced about the need for radical thinking and dissent, resisting neo-colonialism, prevalent superstitions and rituals, an obsolete education system and the commercialization of art. Their rebellious spirit of the time is revealed in the puffed rings of smoke from the burning cigarette, lost in thought portraits, reading books, dreaming utopia while participating in acts of protest. Like nocturnal birds, they sat vigilant under the starry night, watching the moon in the sky, amidst the sensual lush landscape of Kerala, where the pond and the fields and the roadside shrine remained steeped in the mystique of the place. Sketching on tissue papers, painting on cigarette packets, making collages from newspaper cutouts and magazines, these artists continued to explore the intensity of charcoal, graphite and ink, and also the accessibility of prints. Inspired by literature, cinema and theatre, they shared stories, the recurrence of poetic symbols and world-histories, techniques and tools while seeking a range of expressive and aesthetic possibilities, each one alone, yet together. We see the absurdities of humanity unleashed in the black and white film-like stills in charcoal by Madhusudhanan, the dark, tragic soul of Krishnakumar's heroic man, the subaltern figure of N.N. Rimzon amidst confining circumambulating boundaries, the political wit and satire of C.K. Rajan's collages and the quirky whimsicality of Surendran Nair's, sharpened through the witty play of words and images. Their growing camaraderie is witnessed in the portraits painted of each other and the spaces they occupied in the absence of individual artist-studios and financial support. The exhibition brings into focus the works of five artists who spent their formative years in Kerala and whose subversive art practice problematised the discourse of Indian Art in the 1980s and 90s.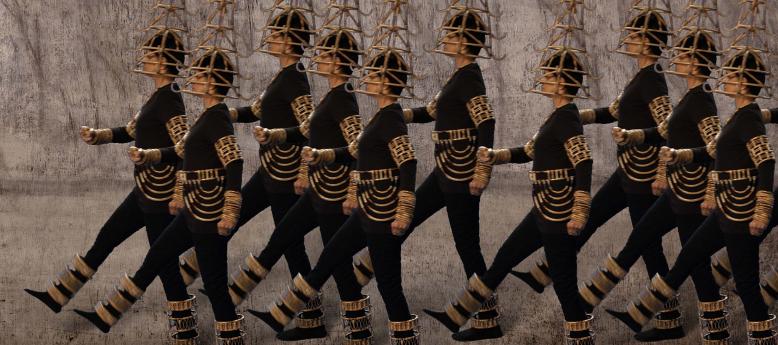 Participating Artists:
Archana Hande, Bani Abidi, Gigi Scaria, Hitain Patel, Paribartana Mohanty, Pratul Dash, Rashid Rana, Rohini Devasher, Shakuntala Kulkarni, Sheba Chhachhi, Shilpa Gupta, Sonia Khurana, Ranbir Kaleka, Vishal Dar and Vivan Sundaram
The Kiran Nadar Museum of Art is pleased to present for the first time an exhibition dedicated only to video works. The exhibition 'Enactments and each passing day' is presented conceptually as a choreography of scenes, actions, staging/s, sites and journeys by fifteen contemporary artists from different generations. It unfolds in loops various enactments in the form of single-channel and multiple-channel videos, video-sculptures, and large video installations. The exhibition showcases many important works from the collection including Ranbir Kaleka's 'Man Threading a Needle' (1998-99) and Bani Abidi's trilogy of videos 'Mangoes', 'Anthem' and 'News' (1999 -2001), Vivan Sundaram's 'Black Gold' (2014), Shakuntala Kulkarni's 'Julus' (2015) and Sonia Khurana's 'Head Hand' and the 'Surreal Pond'.
The exhibition offers journeys to unknown, real and imaginary terrains, that are speckled and marked with discreet and abstract presence, such as that of Shakuntala Kulkarni's army and procession of multiple selves/bodies in her immersive four-channel video work 'Julus' and Sheba Chhachhi's mammoth elephant submerging or dissolving in water in her video 'Water Diviner. Archana Hande's video installation 'The Golden Feral Trail'' is transforming the West Australian horizon into a screen displaying stories of nomadism, economic relations and loss of cultural identity. From Vivan Sundaram's bed of detritus that refers to the fabled city of Muziris, the viewer is taken to a strange forgotten abandoned outpost of Second World War off the U.K. coast, marked by huge metallic structures in Rohini Devasher's video.
The exhibition contests the established binaries between rigidity of statehood and borders, and the everyday, iconic and the frivolous, Mao and Gandhi, physicist and a miniaturist, artist and his double. These enactments performed by actors/non-actors or artist-performers amidst a crowd or in solitude, in a ruin or remote landscapes, inside a workshop or a public space, are mappings of 'returns to the everyday'. The exhibition speaks through ascents and accents, dissolutions, dislocations, territorial claims, apocalyptic signs, body and the double, and public icons, inducing one to read simultaneously the readily visible and the suggested gestures.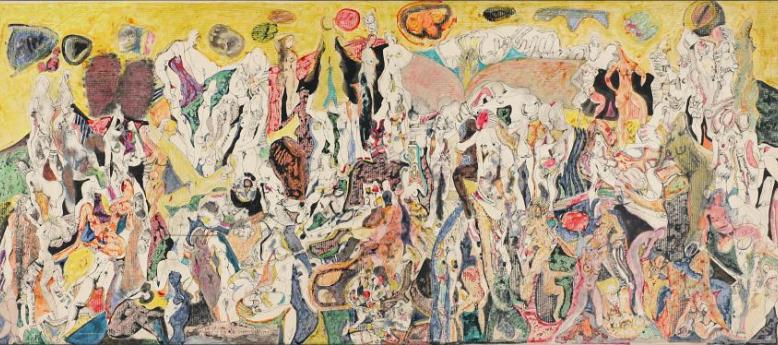 Bhupen work in the image panel: TWO MEN, 1993, oil on canvas
Participating Artists
A. Ramachandran, Akbar Padamsee, Anish Kapoor, Anjolie Ela Menon, Arpita Singh, Atul Dodiya, Avinash Chandra, Bhupen Khakhar, Bikash Bhattacharjee, F.N. Souza, G.R. Iranna, George Keyt, Gulammohammed Sheikh, Jagannath Panda, Jagdish Swaminathan, Jamini Roy, Jogen Chowdhury, M.F. Husain, Manjit Bawa, N.S. Harsha, Navjot Altaf, Nicholas Roerich, Raja Ravi Varma, Ram Kumar, Rameshwar Broota, Raqib Shaw, Rashid Rana, Ravinder Reddy, S.H. Raza, Sakti Burman, Satish Gujral, Shahzia Sikander, Shibu Natesan, Subodh Gupta, Surendran Nair, T.V. Santhosh, Tyeb Mehta, V.S. Gaitonde, Venkat Bothsa, Vivek Vilasini
The inaugural exhibition 'Open Doors' literally opens up the private museum and its collection to the larger public, presenting the extraordinary works that Mrs. Kiran Nadar has collected over the last two decades. As a metaphor, 'Open Doors' is emblematic of the revelatory power of works of art, inviting us to enter intriguing and intangible spaces, where memory and imagination, dream and reality, past and present often collide to recreate a new world. The exhibition brings to the public seminal works that mark historically relevant moments in 20th century Indian art.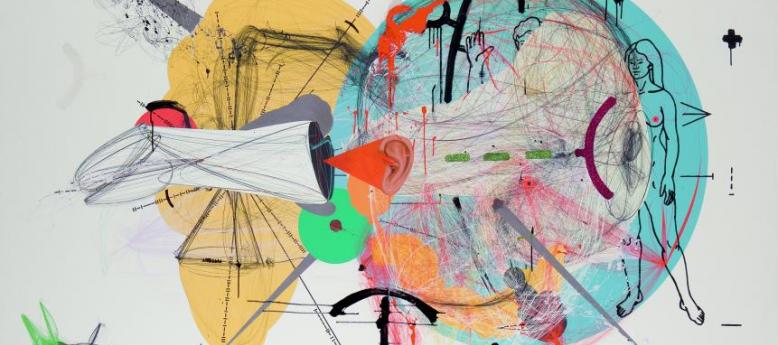 Participating Artists
Abhishek Hazra, Aditya Pande, Asim Waqif, Abir Karmakar, B.M. Kamath, Gauri Gill, Gigi Scaria, Lavanya Mani, Mithu Sen, Nandini Valli Muthiah, Prajakta Palav Aher, Pooja Iranna, Praneet Soi, Rohini Devasher, Raqs Media Collective, Sarnath Banerjee, Seher Shah, T. Venkanna
The exhibition signals technology's place in a massive global change in the flow and reception of information. It is technology that serves democratic art forms, from social messaging to video-sharing and social media to serving micro banking in women's cooperatives in India and Bangladesh. At the same time, technology challenges the museum as it constructs an archive, leading the past into the future. Technology as the driver of invention challenges the aura that art confers on an object. Responding to the space based in a technology hub, artists have revisited industrialization from the 19th century to the present day with wit, irony and critique. The many stages of invention that signal modernity here intersect with contemporary views of design, architecture and film. The arts works invoke a sensory response to the environment, a return to tactility and natural materials. Cynicism is tempered with nostalgia and the poetics of a vanishing beauty.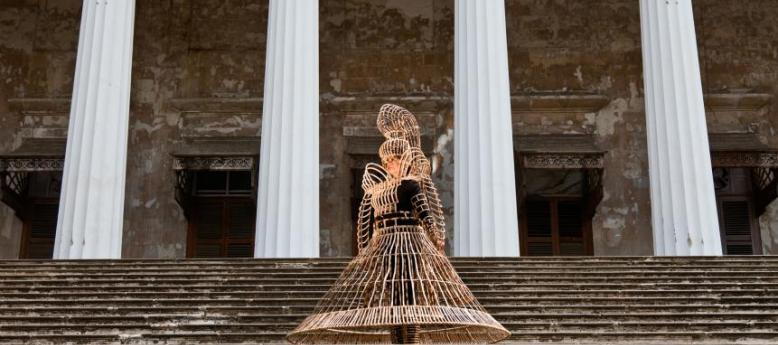 Shakuntala Kulkarni's solo exhibition 'of bodies, armour and cages' attempts to address the relationship of the body to the dual notion of protection and entrapment. From her earlier concerns with human predicament, Shakuntala has shifted attention to gender specific issues over the last two decades, making an enquiry into the lives of urban women and their space within patriarchal societal structures. At different stages of her art practice, Shakuntala started addressing issues like pain, claustrophobia, alienation, fear, violence, etc. experienced by women within city spaces, examining possible ways of dealing with it. The body language in her work becomes the site of contestation for addressing her concerns through performance videos. While the cane armour, that the protagonist wears, becomes a metaphor for protecting the physical body, it also stands as resistance to the invasion of cultural and historical spaces.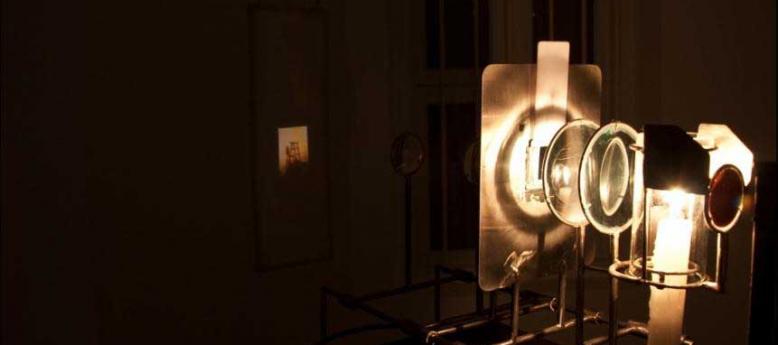 Participating Artists
Amar Kanwar, Chittarprosad, H.G. Arunkumar, Masooma Syed, Naeem Mohaiemen, N.N. Rimzon, Rakhi Peswani, Ranbir Kaleka, Ravi Agarwal, Samit Das, Sheba Chhachhi, Sudhir Patwardhan, Sumedh Rajendran, Susanta Mandal
And four Projects:
Bhopal: Memory, Movement and Museum (The Remember Bhopal Trust and Rama Lakshmi), Grazing (Akansha Rastogi in collaboration with Abhishek Hazra, Prayas Abhinav and Kiran Subbaiah), Layout IV (M. Pravat, Sayantan Maitra Boka and Susanta Mandal), and Sunil Janah: Ram Rahman Project
This exhibition presents the museum as a site under construction, introspecting on its contours in the contemporary context of India and the Subcontinent. It takes its cues from James Clifford's formulation of the museum as 'Contact Zones': a meeting ground activated by the complex interplay of cultures and communities coming into contact and engaging with each other to construct memories, histories and social action itself.
In the context of the museum, now imagined as an active, contested public sphere, how is memory encoded? How does it create conditions for seeing that also speak of the instability and subjectivity of that experience? The exhibition constructs a dense experience of collective themes: on the changing representation of labour; on social movements and archival practices; on construction as built space and built ideas; and on cultural networks.
Privileging artistic process over the art product, the exhibition allows for dialogue on tenuous issues of identity, visibility and belonging, and inflects on the roles and systems of art production that make these conversations possible. With fourteen artists and four projects, 'Zones of Contact' engages with projects that present possibilities of alternate ways of producing, archiving, remembering and disseminating knowledge-systems.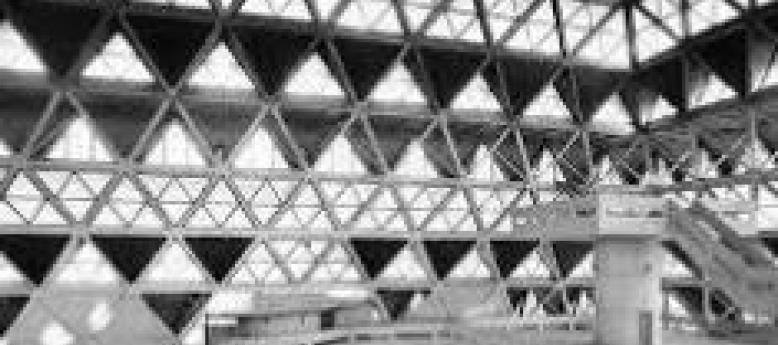 Participating Artists
Ramkinker Baij, Richard Bartholomew, Nandalal Bose, Somnath Hore, M.F. Husain, Ida kar, Bhupen Khakhar, Madan Mahatta, Benodbehari Mukherjee, Meera Mukherjee, Jeram Patel, Ganesh Pyne, Krishna Reddy, Himmat Shah, Arpita Singh and F.N. Souza.
The exhibition displays in-depth oeuvre of sixteen Indian artists from the KNMA Collection. The idea is to share with the art viewers the strength of the collection and a contextual history of Modernism in India, its ideological musings at Santiniketan with Nandalal Bose, Binode Behari Mukherjee, Ramkinkar Baij, Krishna Reddy, Somnath Hore and Ganesh Pyne from Kolkata, two artists F.N. Souza and M.F. Husain from the Progressive Artists' Group (Bombay), and Jeram Patel, Himmat Shah, Arpita Singh and Bhupen Khakhar from Baroda and Delhi. There are photographs by photographers Madan Mahatta, Richard Bartholomew and Ida Kar with their brilliant portrayals of artists, capturing their persona, or in their studios with their creations, or at exhibition openings and sometimes all by themselves, pensive or looking at the transient world around them.
The exhibition is intended to focus on drawings, sketches and watercolours that these iconic figures of Indian modern art produced in their immersive careers, some of whom were great teachers and ideologues of their times. Juxtaposed with these intimate works of the artists are photographs by photographers that documented the history of the time.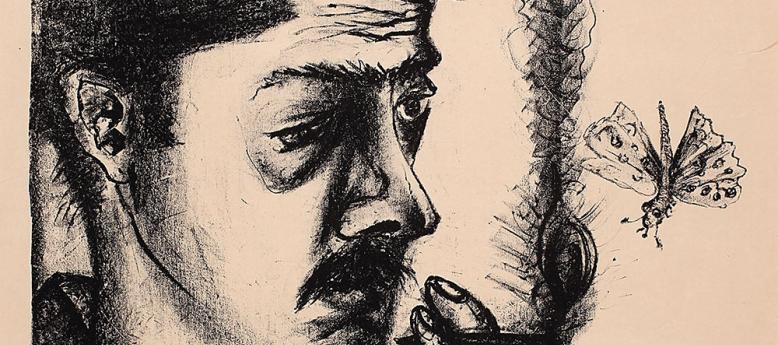 KNMA collection unveiled an exhibition of hundred and eighty five early works of Vadodara-based artist Surendran Nair. Tracing Nair's journey from the 1970s onwards to the time when he was a student at the Trivandrum College of Fine Arts and later at the Faculty of Fine Arts, Vadodara, the exhibition is revelatory of his creative process that combines his deftness of skill with a fertile imagination to evolve a transformative vision. Through the simple daily act of sketching and drawing, his surroundings and the persona of friends and family get etched with acts of wit, humour and the absurd that Surendran packs into the realm of the everyday. Portraits, mostly of Nair's classmates, artist-friends like N.N. Rimzon, K.V. Sasikumar, Ashokan Poduval, K.M. Madhusudhan, K.P. Krishnakumar and Alex Mathew are also tied up with the history of contemporary artists from Kerala, inspired by Marxism with strong ideological positioning.