Community
MAKING PRINTS
2nd July to 10th July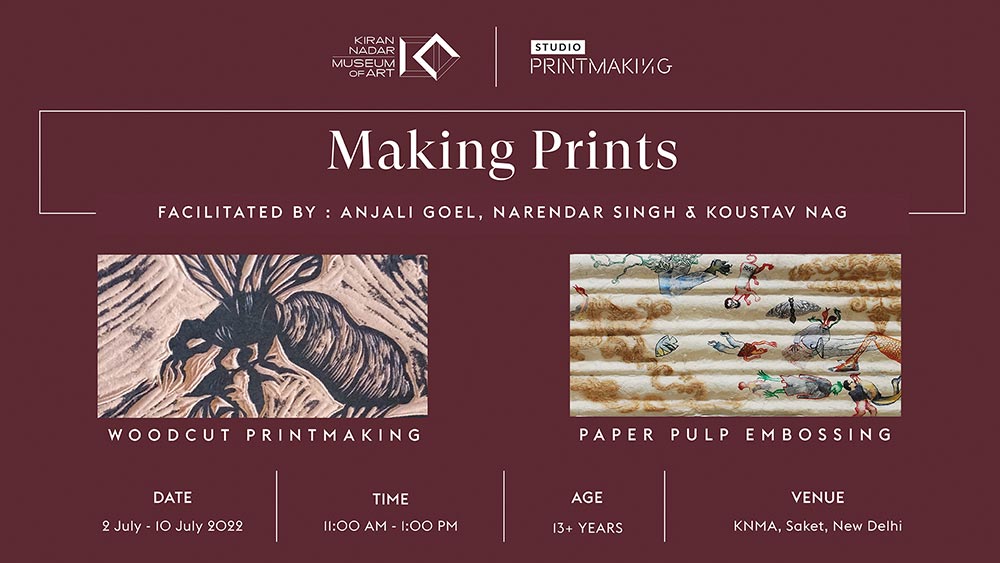 ---
Printmaking is a technique of art making carried on by transferring image from a prepared screen to a sheet of paper or other material. This process enables the production of multiples of the same image.
Making Prints is a program which includes two forms of traditional and experimental print making i.e. Woodcut and Paper Pulp Embossing. The workshop includes a comprehensive understanding of the technique and procedure involved in printmaking practice.
Woodcut
Woodcut is among the oldest relief printmaking techniques. This workshop will introduce you to the tools and methods needed to allow you to carve and print from your own relief woodblocks. You will explore carving techniques to obtain a range of texture, depth, and contrast to create your artwork. Studying from the ongoing exhibition of works by Somnath Hore, you can see different possibilities of this medium at the workshop.
Materials
Blocks to carve (MDF board), relief carving tools, Reference sheet, Pencils/erasers, Transfer Paper, Brayer (ink roller), Ink knife/spatula, Water-based printing ink- Black, Paper - newsprint, archival paper for final printing.
Dates – 2nd and 3rd July
Paper pulp embossing
Papermaking begins with a fibrous pulp, often recycling used bits of paper and cotton. In its long history, paper and its diverse forms have been integral to artistic processes. The embossing process offers a satisfying detail that appeals to our sense of touch and adds visual depth. Somnath Hore was instrumental in introducing low-relief paper pulp editions into the milieu of printmaking. Paper, especially in the early, wet pulp stage, is malleable; it will embrace and retain an image of whatever mold it is pressed against.
Materials
Paper pulp, Plaster of Paris blocks, Carving tools
Dates – 9th and 10th July
Venue – KNMA, Saket
Time – 11 am – 1 pm
Age Group – 13+
Fees – Rs. 250 per Print Technique
Kiran Nadar Museum of Art is a not for profit institution. The funds from this ticketed workshop go directly to the facilitator.
Disclaimer: Please note that all the workshop sessions will be recorded, and can be used on social media by KNMA
REGISTER