Happenings
3 Masters, 8 Films
20 March 2023
Publication details:
A French language Film Festival featuring legendary filmmakers Jean-Luc Godard, Louis Malle and François Truffaut
In collaboration with French Institute, India.
24 March 2023, Friday: Louis Malle: May Fools (1.48h) – 2PM onwards, Zazie in the Metro (1.29h) 5pm onwards
25 March 2023, Saturday: Jean Luc Godard : Pierrot Le Fou (1.52h) – 2.00pm onwards, Le Mépris (1.50 hrs) - 5pm onwards
31 March 2023, Friday : François Truffaut: The 400 Blows (1.33h) – 2pm onwards, The Last Metro (2.08) - 5pm onwards
1 April 2023, Saturday: Godard – A Bout de Souffle (1.30h) – 11AM onwards La Chinoise (1.36h) – 2.30PM onwards
All Films are with English subtitles Entry free for all. Seating based on first come first serve.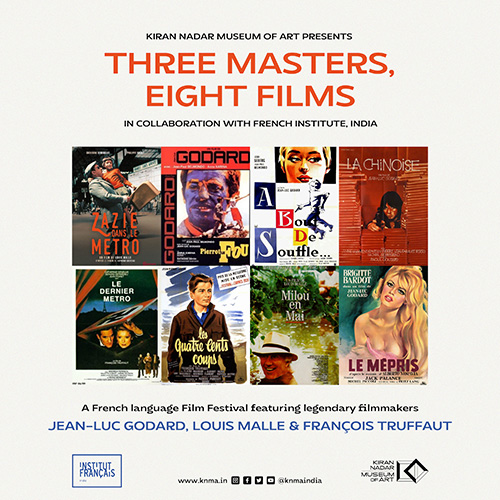 Bout De Souffle (Breathless)
by Jean-Luc Godard
Michel Poiccard steals a car in Marseille and shoots a policeman on the side of the road. In Paris, he meets Patricia, a young American girl who sells the New York Herald Tribune on the Champs Elysées. She takes him in, they wander from one bank to the other, he looks for money from his old friends. The police hunt him down, Patricia turns him in. Michel Poiccard is shot dead in a street in Montparnasse.
Le Mépris (Contempt)
by Jean-Luc Godard
American film producer Jeremy Prokosch hires respected Austrian director Fritz Lang to direct a film adaptation of Homer's Odyssey. Dissatisfied with Lang's treatment of the material as an art film, Prokosch hires Paul Javal, a novelist and playwright, to rework the script. The conflict between artistic expression and commercial opportunity parallels Paul's sudden estrangement from his wife Camille Javal, who becomes aloof with Paul after being left alone with Prokosch, a millionaire playboy.
Pierrot le Fou (Pierrot the Fool)
by Jean-Luc Godard
Ferdinand Griffon is unhappily married and has been recently fired from his job at a TV broadcasting company. After attending a mindless party full of shallow discussions in Paris, he feels a need to escape and decides to run away with his baby-sitter, an ex-girlfriend, Marianne Renoir, leaving his wife and children and bourgeois lifestyle. Following Marianne into her apartment and finding a corpse, Ferdinand soon discovers that Marianne is being chased by Algerian gangsters, two of whom they barely escape.
La Chinoise
by Jean-Luc Godard
In an apartment whose walls are covered with little red books, young people study Marxist-Leninist thought. Their leader, Véronique, proposes to the group the assassination of a personality. Directed one year before the events of May 68, the Chinese woman is considered a prophetic film.
Zazie in the Metro
By Louis Malle
When the mother of Zazie comes to Paris to meet her lover, she leaves her daughter with her uncle Gabriel. However the reckless and uncontrollable nephew leaves Gabriel's apartment and decides to visit Paris by subway. However the employees are on strike and the runaway girl gets Gabriel into trouble in a chaotic Paris.
May Fools
By Louis Malle
Madame Vieuzac has just passed away in her house in Southwestern France, far from the hue and cry of Paris in May, 1968. Her son, Milou, who has always lived with his mother, summons the rest of the family for the funeral. Children and grand-children of the dear departed are delighted or displeased to find themselves together again. But the "events" happening in Paris catch up with them : the grave - diggers are on strike and the funeral cannot be held.
The 400 Blows
Francoise Truffaut
A young Parisian boy, Antoine Doinel, neglected by his derelict parents, skips school, sneaks into movies, runs away from home, steals things, and tries (disastrously) to return them. Like most kids, he gets into more trouble for things he thinks are right than for his actual trespasses. Unlike most kids, he gets whacked with the big stick. He inhabits a Paris of dingy flats, seedy arcades, abandoned factories, and workaday streets, a city that seems big and full of possibilities only to a child's eye.
The Last Metro
Francoise Truffaut
All Marion Steiner can think about is rehearsals for a new play she is staging at the Montmartre Theater, where she has taken over as director in place of her Jewish husband, who has disappeared. Everyone believes that Lucas Steiner has fled France, but he is, in fact, hiding in the basement of the theater.