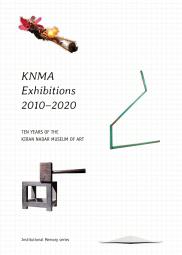 Booklet
Institutional Memory Series: KNMA Exhibitions 2010 -2020
Ten Years of Kiran Nadar Museum of Art
KNMA Exhibitions 2010 -2020, part of the Institutional Memory Series focuses on 10 years of exhibition making at KNMA. In the course of a decade, the exhibitions presented by the museum has evolved with the institute's multi-focal vision on assimilating, presenting and processing cultural material. Highlighting modern and contemporary art of South Asia, the museum has presented over 80 exhibitions across India and the world.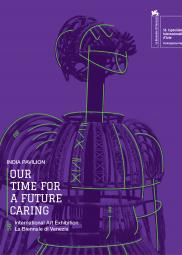 Our Time for a Future Caring
Our Time for a Future Caring book accompanying the India Pavilion exhibition presented at the 58th International Art Exhibition – La Biennale di Venezia from May 8 to November 24, 2019. Organised by the Ministry of Culture, Government of India in collaboration with the Kiran Nadar Museum of Art (KNMA) and Confederation of Indian Industry (CII), and curated by Roobina Karode, India Pavilion marks the 150th birth anniversary of Mahatma Gandhi. It exhibits artworks and projects by an intergenerational mix of eight artists that imaginatively engaged with nation-building as a work in progress and Gandhian ideas on the village republic: Nandalal Bose, MF Husain, Ashim Purkayastha, Atul Dodiya, GR Iranna, Rummana Hussain, Jitish Kallat and Shakuntala Kulkarni.
The book features three extensive essays. Roobina Karode, Director & Chief Curator, KNMA, lays out the curatorial premise of India Pavilion, elaborating on multiple focal points and intersections in the exhibition. It takes one through the framework and thoughts behind imagining the second official pavilion from India and proposes modes of resistance, restoration and recuperation through the selected artists' works. Art critic Gayatri Sinha's essay 'Body Politics and the Making of the Mahatma' traces Gandhi's philosophical ideas and practices, and as interpreted in the work and visual vocabularies of contemporary Indian artists. In 'The Space of Retelling: Commemorative Exhibitions, Timelines, Fugitivitiy vis-a vis India Pavilion in Venice', Akansha Rastogi, Senior Curator, KNMA, dwells on histories of exhibitions that are conceptualised around historical dates, events, figures and symbols, and examines the commemorative urge in exhibition-making.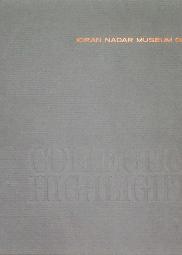 Collection Highlights (2017)
Collection Highlights features hundred and seven artworks by forty-nine artists across generations from the museum's permanent collection. The book consolidates seminal modernist works from the pre and post-Independence decades of India, and experimental contemporary works in different mediums, and presents their historical contexts. It is the first part of the series of archival books on the KNMA Collection, reflecting on the diversity and multi-dimensional perspective of modern and contemporary artistic practices in South Asia.
In the Foreword, Kiran Nadar, Chairperson and Founder, KNMA, reflects on her journey of building the existent collection and such a creative breadth of artists whose art she gradually acquired. A lucid introductory essay by the museum director, Roobina Karode highlights the pursuits and aspirations of KNMA, its collection, exhibitions and the multiple interventions made by the museum in the fields of art, culture, education and knowledge production to generate awareness. The book contains an alphabetical index of artwork images and auxiliary texts on all forty nine artists.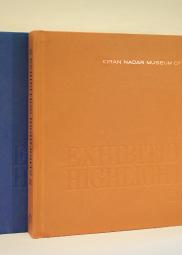 Exhibition Highlights, Volume I & II (2017)
The two volumes of Exhibition Highlights chronologically maps all the exhibitions organised by KNMA in its two branches, Saket and Noida, and offsite too, since its inception in 2010. From acclaimed retrospectives of artists Nasreen Mohamedi, Nalini Malani, Himmat Shah, Jeram Patel and Rameshwar Broota to historical group exhibitions like 'Is it What You Think? Ruminations on Time, Memory and Site', this book gives one an insight into KNMA's exhibition planning and strategy as a young private museum in South Asia.  The first volume charts five years (2010 – 2014) of exhibition-history of KNMA with sixteen mega-exhibitions organized in that period. The second volume covers two years from 2015 to 2017 with eighteen exhibitions. With exclusive documentary photographs of the exhibition spaces and display strategies, alongside supportive texts and curatorial ideas behind each exposition, both volumes elaborate upon several areas of museum's interest and engagement.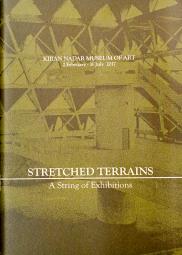 Stretched Terrains: A String of Exhibitions (2017)
This booklet accompanied a string of seven uniquely interrelated yet independent exhibitions, collectively titled as 'Stretched Terrains'. It includes solo exhibitions of three modern masters from the Progressive Artists' Group: MF Husain ('Yatra: The Rooted Nomad'), SH Raza (The Black Sun), and FN Souza (Man Grinding his Teeth). Also, part of the sequence is a special exhibition on modern architecture of Delhi, a focused perspective on the Vision Exchange Workshop organised by artist Akbar Padamsee in 1968-69, and a photography exhibition of Parthiv Shah (Sadak.Sarai.Sheher.Basti) of his documentation of MF Husain in early 1990s. Responding and parallel to this rich tapestry of different ingenious pursuits, proposals and vocabularies, is the exhibition 'Interpositions: Replaying the inventory' showcasing works of four contemporary artists. The booklet initiates a pleasurable read with the curatorial note by curator of the exhibition Roobina Karode, followed by texts and images from each one of the seven folds of the exhibition.
the euphoria of being
HIMMAT SHAH; A CONTINUING JOURNEY ACROSS SIX DECADES (2017)
'the euphoria of being' booklet that accompanied the Himmat Shah's exhibition in Jaipur. Produced in collaboration with Jawahar Kala Kendra, Jaipur and KNMA, the booklet contains an opening note by Pooja Sood, followed by an insightful curatorial note titled 'Encountering strangeness in a familiar landscape' by Roobina Karode. It takes one through different phases of Himmat Shah's artistic oeuvre from burn paper collages, silver paintings, ceramics, terracotta to bronze sculptures. It includes exhibitions shots along with archival photographs and material.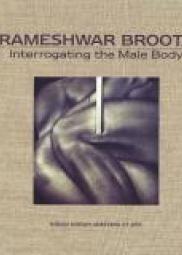 Visions of Interiority
Interrogating the Male Body Rameshwar Broota: A Retrospective (2015)
This monograph by Roobina Karode on artist Rameshwar Broota accompanied his retrospective 'Visions of Interiority' at KNMA. It includes a foreword by Kito De Boer and a republication of an older essay on the artist by renowned poet and art critic, Keshav Malik. The book reveals Broota's choice to take the lesser trodden path throughout his artistic practice. While his contemporaries were portraying the female nude as subject matter; Broota remained intently focused on exploring and depicting the male anatomy.
The monograph elaborates Broota's journey as an artist, which began with his figurative works and gradual moved towards the reduction of form from the canvas altogether. His practice is categorized into separate sections which describe his opus oeuvre that roughly comprises of the Ape Series, Metamorphosis, Traces of Man, Confrontation, Counterparts, and New Arrivals.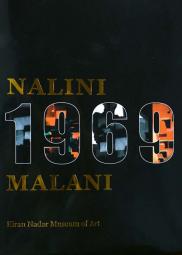 Nalini Malani
You Can't Keep Acid in a Paper Bag, 1969-2014 (2015)
You can't Keep Acid in a Paper Bag, examines the multifaceted and wide ranging oeuvre of Nalini Malani which spans a period of over 45 years. This engaging publication traces through articles and images, her journey as an artist from the time when  experimental art sparsely dotted the art scene and women artists worked from margins of the art fraternity, both in India and internationally.
Just like her retrospective at KNMA which took place in three episodes, the publication also comprises of three sections, each of them carrying texts by renowned writers pertaining to specific areas from Malani's prolific oeuvre. The book includes essays and interviews by art historians and cultural such as Ashish Rajadhyaksha, Rhana Devenport, Doris von Drathen, Chaitanya Sambrani, Roobina Karode and Shanay Jhaveri.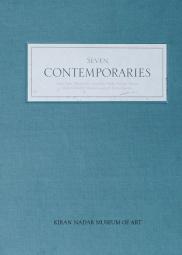 Seven Contemporaries (2015)
Seven Contemporaries, captures the artistic practices, anxieties, inspirations, preoccupations, and trepidations of seven women artists who have enriched the contemporary Indian art scene; Anita Dube, Bharti  Kher, Dayanita Singh, Ranjani Shettar, Sheba Chhachhi, Sheela Gowda and Sonia Khurana. Edited by Akansha Rastogi and Roobina Karode, the publication describes the singularity of their engagement with art through their extraordinary practices.
The publication comprises of long essays delineating the art practice of the seven artists by Parul Dave Mukherjee, Gayatri Sinha, John Zarobell, Roobina Karode, Akansha Rastogi, and Marta Jakimowicz. It also includes text by the artists, interviews, excerpts from their diaries and conversations.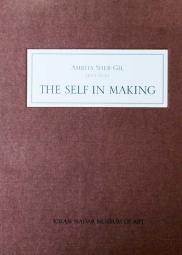 The Self in Making - Amrita Sher-Gil (2014)
The Self in Making, Amrita Sher-Gil delineates the way her maturity was tied up with deep self-awareness of her artistic persona as well as her identity as a 'modern woman'. Through the rich selection of images chosen from her trajectory of practice, a glimpse is offered into how this self-realization stimulated her several self-portraits since the age of fourteen.
The publication illustrates the ease with which she slipped into a traditional garb from a modern one, or switched roles which were different from the ones she was used to, giving a clue to the way her personal life influenced her creations. The curatorial note by Roobina Karode and the extensive essay by Rakhee Balram expound how in her self-portraits, she fused together varied moods and moments with a masterly skill and imbued them with meaning.
Pages