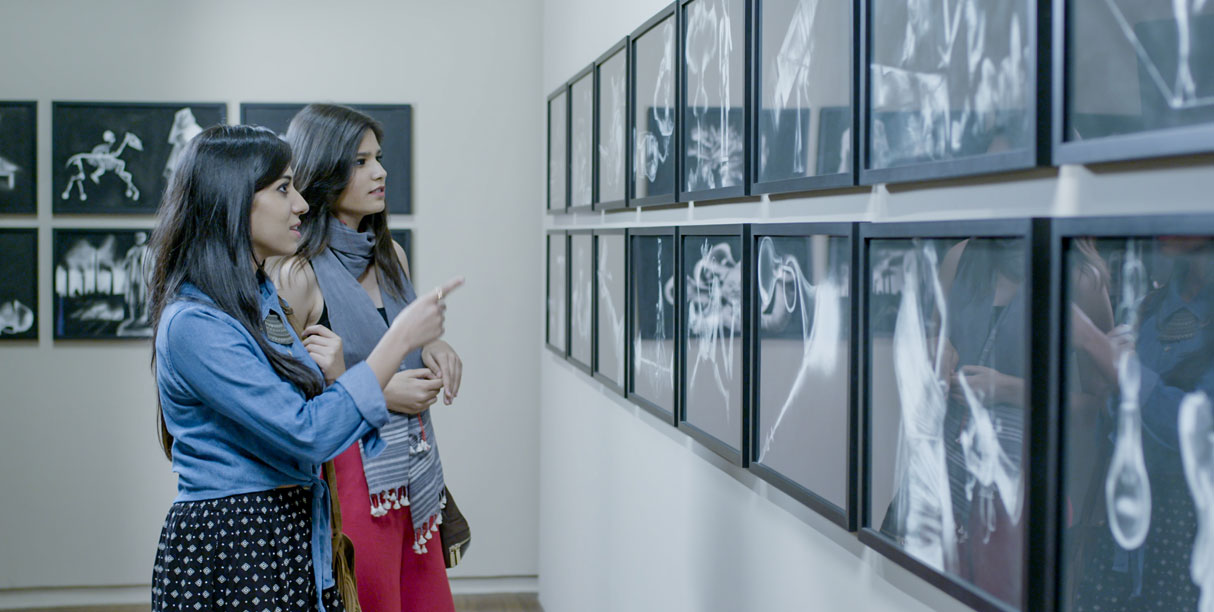 Volunteer Programme
KNMA encourages individuals from diverse backgrounds and age-groups to volunteer, contribute, and become part of the museum. Through the Volunteer Programme, individuals are invited to learn and participate actively in various outreach and educational activities, guided tours, workshops, surveys, and research for various community projects. We encourage multi-lingual interactions in the museum, and welcome fresh energy and ideas. Professionals and students who are looking for exciting interactions with art, artists, and community work are encouraged to apply for the programme.
Internship
The internships offered at KNMA are intense and cater to budding art professionals, fresh graduates from the Humanities, young artists who aim to be groomed and trained in the fields ranging from art handling and management, art historical research, curation, publishing, design, archiving, exhibition production, communications and social media, art education, and outreach etc. KNMA Interns are also encouraged to work on individual short-term projects.
Current Openings
Job Title: Social Media Officer
Professional Services Directorate: Marketing
Directorate section: Marketing
Direct Reports : Sr. Manager Marketing
Indirect Reports : Chief Marketing Officer
PURPOSE OF ROLE:
The Social Media Officer is responsible for ongoing community management and maintaining / growing the KNMA's brand level social media presence across multiple brand outposts (which include Facebook, Twitter, Instagram, YouTube, blogs and other developing social media channels relevant to the KNMA's communications strategy) via organic and paid social activity. The role is responsible for planning / implementing a content marketing programmes which increases brand awareness with our core target markets through the effective use of social media channels. This will include developing and implementing content marketing campaigns appropriate to the channel being used, monitoring social media channels to respond appropriately to posts / comments, and identifying issues that require escalation.
KEY ACCOUNTABILITIES:
Team Specific:
Oversee the development and delivery of the social media content marketing plan
Coordinate content plan with other teams in the Organization
Be part of the bringing together of all the brand elements (messaging, insights from marketing team and audiences, content from other teams)
Publish / repurpose content across approved central social media brand outposts ( e.g. copy / articles, photography, video, etc.)
Co-ordinate the work of other content producers across KNMA to develop content suitable for social media channels to fully engage audiences
Ensure brand compliance
Any other duties required which are appropriate to the grade of the post
Community management
Lead daily community management across all central brand social media outposts (inc. Facebook, Twitter, Instagram, Snapchat, YouTube, LinkedIn)
Liaise with internal stakeholders on community management queries / issues
Deploy approved statements during crisis management
Strong customer service focus
Content marketing (organic & paid)
Lead the content calendar process (inc. approvals), raising brand awareness, increased data capture and engagement levels across all activity
Creation / placement of engaging, creative and informative organic content across all central brand social media outposts which informs, entertains and delights audiences with brand focused messaging
Optimize content for each distinct channel (whether content is written, photography, video or testimonial led), taking into account changing platform / audience requirements
Ensure all content is on brand (working across all channels), whilst managing customer expectations as appropriate
Ensure content has a high visual and influential impact and meets relevant corporate guidelines
Work in partnership with other teams generating content to influence / improve (e.g. Curatorial, admin & other teams)
Conduct ongoing research (as needed) to identify audience needs / desires / satisfaction
Co-ordinate paid activity with external suppliers (media agency) and internal Brand & Campaign marketing team
Lead content gathering / placement at identified events (e.g. Openings, exhibitions, walkthroughs, school programs, symposiums & guest lectures, etc.)
Reporting
Use Google Analytics and other data sources to assess impact efficiency of social media activity
Assist the Senior Marketing Manager with creation / improving reports to the wider KNMA to report on success / reach
Upon reviewing reports, analyze / optimize paid activity, with a 'test, learn, refine' approach to future improvements
Monitor / report on key competitor activity
Core Requirements
Interest in Art and Social Media
Commitment to key strategic priorities of the Chairman & Director of the Museum
Willingness and ability to travel to work-place locations within India & Abroad
Prior Experience in managing art museum or Galleries social media
Adhere to and promote KNMA's policies and information security
Ensure compliance with Health & Safety regulations
Support and promote KNMA's policies and carry out duties in a resource efficient way, recognizing the shared responsibility of minimizing KNMA's negative environmental impacts wherever possible.
Willingness to deliver against any reasonable work-related request
KEY PERFORMANCE INDICATORS:
The Marketing Communication Team KPIs are:
Raise brand awareness
Raise direct response
Raise student engagement levels
Raise student satisfaction
Raise stakeholder engagement and the value of the department to the institution and its audience
Everyone contributes to these KPIs to help realize the brand and the corporate strategy
PERSON SPECIFICATION:
Essential
Desirable
Experience

Strong community management experience

Experience

Previous experience in a similar social media role

Agency / supplier management experience

Significant experience managing / developing social media marketing programmes (organic and paid)

SEO understanding / experience

Creating & delivering content marketing programme(s) which inform customers / prospects and drives leads & sales

Experience within Higher Education sector

In-depth knowledge of social media environment

Understanding of budgeting and monitoring

Skills

Highly creative and collaborative

Skills

Good understanding of the characteristics and qualities that prospects / visitors / students / art enthusiasts want from a museum

Strong marketing skillset across the entire social media landscape (Community management, content creation & distribution, analysis)

Excellent written, verbal and interpersonal communication skills

Intermediate to advanced Photoshop skills

Data literate, able to review / assess / make recommendations as a result of analysis

Multitasker able to work across multiple projects to tight timescales

Excellent communication & listening skills

Qualifications

Degree or equivalent experience

Qualifications

Professional qualification, or evidence of training/development in social media marketing
Send us your CV at ruchira.sarkar@hcl.com
Job Title:Art Documentation Officer (Contractual)
It will involve inputting, editing, updating and quality-checking collections records for a variety of daily tasks and projects, such as, maintaining collections management standards and terminology control, centralizing collections data and bringing records to catalogue level, as well as managing the Art and Industry aspects of the Inventory Project and Online Collections Project. The post-holder will also be responsible for all Art and Industry loans and will work as part of a loans team within the department to manage loans efficiently, under the guidance of the Registrar.
Major Tasks:
Coordinates and facilitates archives access requests by staff, researchers, research associates, and the public, as well as responding to archives information inquiries and requests.
Responsible for researching and responding to copyright and ownership issues.
Feeding data in the software
Responsible for providing scans of images and documents as needed using appropriate digital and metadata standards.
Coordinates and facilitates archives use in public programs.
Coordinates loans with Registrar.
Responsible for archival maintenance.
Evaluates and coordinates the re-housing and stabilization of archives.
Ensures compliance with government regulations related to archives.
Ensures accurate and up-to-date inventories and reconciliation of archives and records, including spot check inventories.
Maintains records of and prioritizes processing backlog.
Coordinates the move of archives into new or improved storage conditions.
Manages archival policies and procedures
Ensures current museum archives handling procedures are recorded and enforced.
Work with other Documentation Officers to co-ordinate efforts and reach agreed targets in all active areas of the upcoming Inventory Project and the broader, continuous documentation work of the department.
Experience Requirements:
M.A. in Art History, Archives, Library Science, Museum Studies, or related field with formal training in archives management and preservation or commensurate experience.
Two years of Archives experience required, preferably in a museum setting.
Experience and training in records management.
Experience with professional archives management software and environmental monitoring applications.
Supervisory experience. Abilities, Skills, and Knowledge:
Knowledge of archives preservation requirements, storage needs, and registration procedures for archives.
Up-to-date knowledge of professional standards and trends.
Familiar with governmental regulations and legal requirements related to archives and experience in compliance with