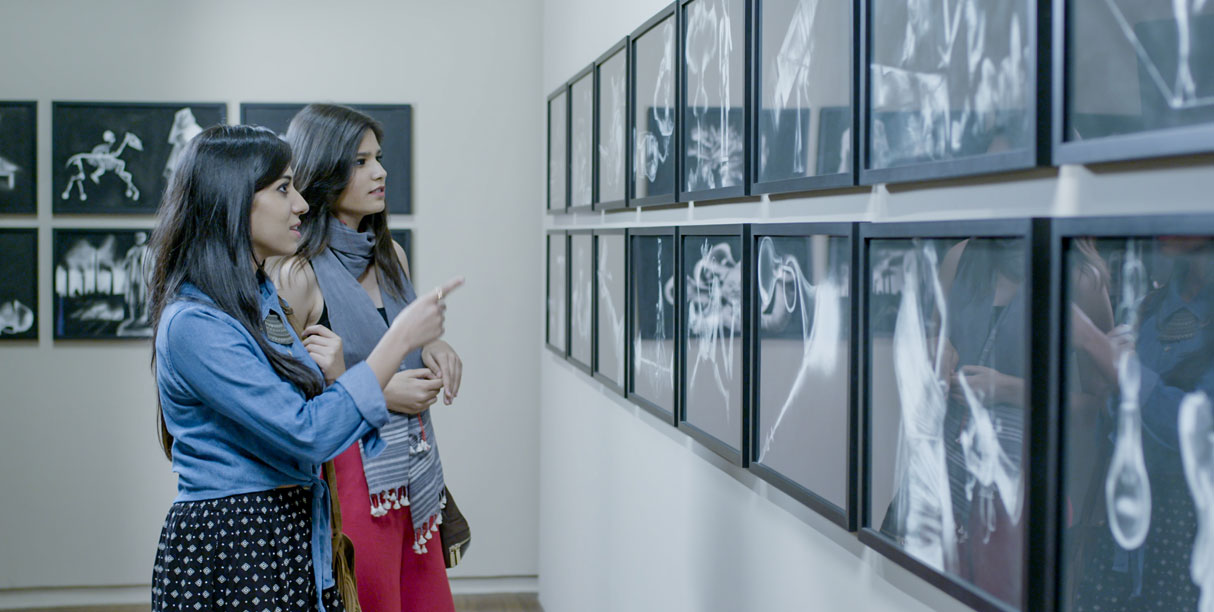 Volunteer Programme
KNMA encourages individuals from diverse backgrounds and age-groups to volunteer, contribute, and become part of the museum. Through the Volunteer Programme, individuals are invited to learn and participate actively in various outreach and educational activities, guided tours, workshops, surveys, and research for various community projects. We encourage multi-lingual interactions in the museum, and welcome fresh energy and ideas. Professionals and students who are looking for exciting interactions with art, artists, and community work are encouraged to apply for the programme.
Internship
The internships offered at KNMA are intense and cater to budding art professionals, fresh graduates from the Humanities, young artists who aim to be groomed and trained in the fields ranging from art handling and management, art historical research, curation, publishing, design, archiving, exhibition production, communications and social media, art education, and outreach etc. KNMA Interns are also encouraged to work on individual short-term projects.
---
Junior Graphic Designer
No. of Posts: 01
Department: Marketing
Location: New Delhi and Noida
Remuneration: Competitive
Application deadline: 25 August 2023
Job Description: You will be expected to design projects from start to finish as a Junior Graphic Designer, utilising your creativity and attention to detail. Create drafts and prototypes using design software and techniques, collaborate with team members, and pitch creative ideas. Work with feedback to continuously improve their designs and contribute to project success.
Duties & Responsibilities:We are seeking a Junior Designer to join our team and contribute to the creation of compelling designs for social media posts/banners, marketing collaterals, product designing, and presentations. As a Junior Designer, you will collaborate closely with the team to produce work of the highest quality. In this role, your creativity and meticulous attention to detail will be crucial.
If you possess a genuine passion for design and have a strong desire to expand your knowledge and skills, we invite you to connect with us. Your primary objective will be to develop impactful designs that effectively represent and promote our company's vision. We look forward to meeting talented individuals who can contribute to our team and help us achieve outstanding design outcomes that align with our company's vision.
Requirements:
Minimum of one to two years of experience as a Junior Designer
Experience with design software and graphics editing tools - Photoshop, Illustrator, Indesign , Coral Draw
Experience with other softwares like Premiere Pro and After Effects is a plus point
Familiarity with design techniques
Understanding of visual elements (layout, type and fonts)
Teamwork skills
A keen eye for detail
Time management and multitasking abilities
Creativity skills and problem-solving aptitude
BA/BFA in Design or a related field
Application Guidelines
Applicants are required to send a cover letter stating their interest in the role, CV, and portfolio with their earlier works. The selection process includes a virtual/ telephone interview followed by an in-person interview at KNMA Saket or KNMA, Noida Applications to be sent via email to careers@knma.org by 25 August 2023 with the subject line: Application | Junior Graphic Designer
---