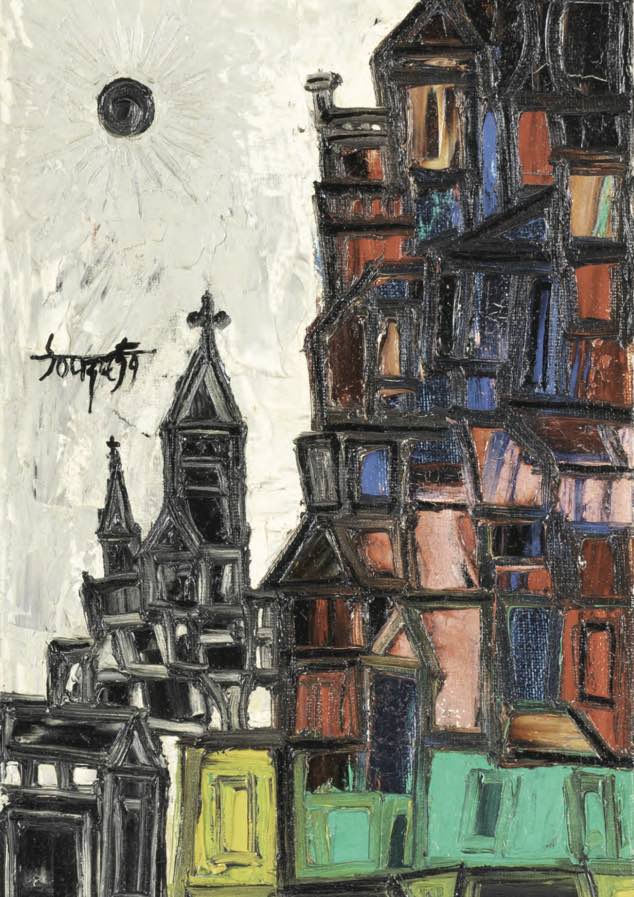 F. N. Souza
Landscape with Black Planet, 1959
Oil on Canvas | 16" x 10.7"
Collection : KNMA
F. N. Souza :
Francis Newton Souza was born in 1924 in Saligao, Goa in a Roman Catholic family. He joined Sir J.J. School of Art in 1940. In 1947, he co-founded the Progressive Artists' Group along with S.H. Raza, M.F. Husain and three other fellow artists. In 1949, Souza left for London. His autobiographical essay Nirvana of a Maggot was published in 1955 followed by a solo exhibition at Gallery One in London that brought him considerable recognition. His book Words and Lines was published in 1959.
Posthumous solo exhibitions include, F.N. Souza – Black on Black, Grosvenor Gallery, London, 2013; F.N. Souza: Landscapes, Heads & Nudes, Grosvenor Gallery, London, 2012; Volte-Face: Souza's Iconoclastic Vision, by Dhoomimal Gallery at the Lalit Kala Akademi, New Delhi, 2010 and F. N. Souza: Religion & Erotica, Tate Britain, London, 2005. He was conferred the Kalidas Sanman by the Government of Madhya Pradesh in 1998, received the Guggenheim International Award, New York in 1967 and the John Moores Prize, Liverpool in 1957. The artist passed away in 2002 in Mumbai.
Slide the pieces in the correct order to reveal the painting!
Instructions:
1. Push the pieces over the board till the painting is complete.
2. You can only move one piece at a time, you can do so by clicking on it. You can only move the pieces near the free area (grey).
Hint: Start with placing the first row in order
You did it? (this should be at the bottom of the game)
Under 10 minutes : The treasure that you are, you should be at a museum!
20 minutes : That's absolutely brilliant!
30 minutes : you're only human :)
Share a screenshot of your finished piece with us using #JigsawArt and tag @knmaindia on Instagram to be featured!
Share it :