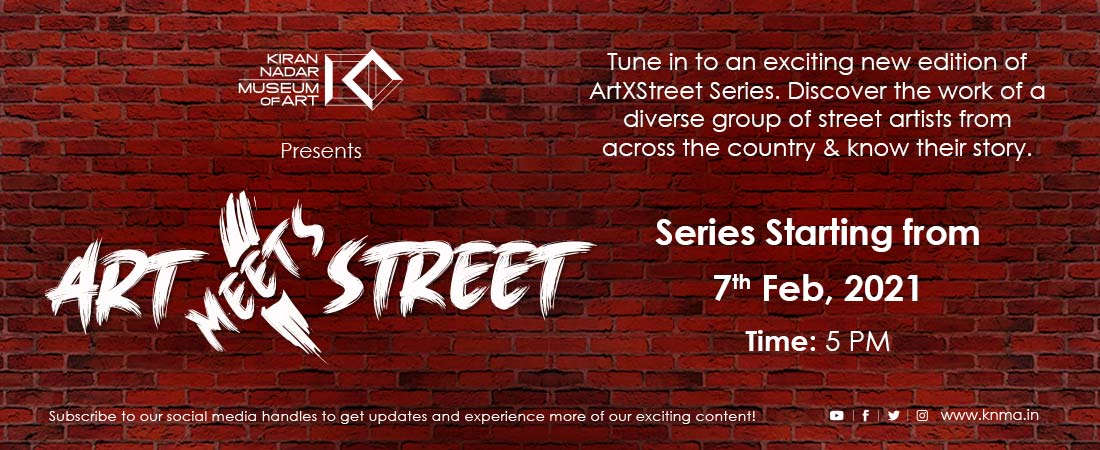 The Kiran Nadar Museum of Art explores the realm of public art with this new series 'Art Meets Street'. An increasingly popular art form that is slowly finding its footing in India, this new series will premiere on February 4, 2020. It seeks to engage with a diverse group of street artists and explore the creative process and individual stories associated with it.
The idea behind this series is to build on personal expression that evolves into a cultural representation of a city or time in the public space. To explore the interaction between the artwork and the people who grow up around it, pass it on their way to commute, or see it just once. How do these interactions impact the thought process and the collective consciousness? Public art in a way embodies the democratization of art in society, as an alternative to art in galleries or private collections. Hosted by renowned interior designer Vinita Chaitanya, the series aims to recognize the power of rebellion, activism and the simple expression of public art with some of India's leading street artists such as Shilo Shiv Suleman, Hanif Qureshi, Anpu Varkey, Do & Khatra and Kiran Mahajan
Episode 1: Shilo Shiv Suleman
In this exciting first episode of our 'Art Meets Street' series, discover how art brings mystical magic and fantasy to urban streets with celebrity interior designer Vinita Chaitanya and disruptive Indian contemporary artist Shilo Shiv Suleman !
Episode 2: Siddharth Gohil
Join us for another interesting episode of our 'Art Meets Street' series! Explore the role of art and the journey of self-discovery with celebrity interior designer Vinita Chaitanya and Sid Gohil of renowned artistic duo Do & Khatra!
Episode 3: Anpu Varkey
In the third episode of our 'Art Meets Street' series, witness a fascinating story unravel as celebrity interior designer @vinitachaitanya talks all things art and freedom of expression with Indian painter and street artist Anpu Varkey (@anpusan).