Community
Architectural Sketching Workshop
Architectural Sketching workshop would focus on skills of observations and representation from the surrounding. Emphasis will be given to draw with an understanding of scale and to the right proportions. The exercise would also help in applications of basic perspective drawing. The workshop would help the participants to improve the quality of lines and gain more confidence in realistic views of a building or its interiors.
Date : 26th March 2023
Time : 11:00am to 1:00pm
Venue: KNMA Saket and Noida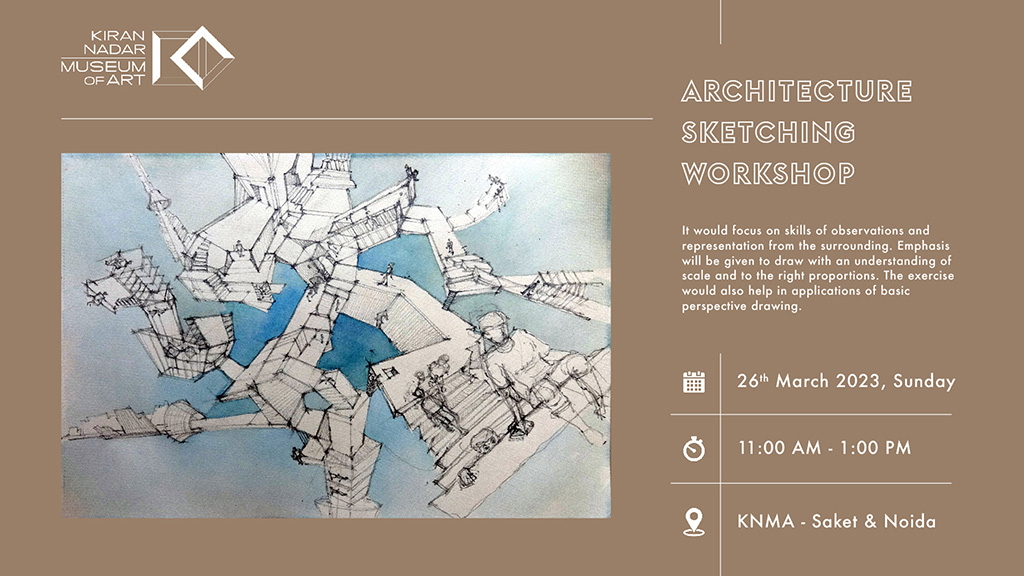 Register for Saket Register for Noida
About the Artists:
Udit Mittal is the Principal architect of QX Design studio based in Kolkata and Bhubaneswar. Along with a bachelor degree from School of Planning and Architecture Delhi, he also holds a senior diploma certificate in Fine Arts. Since the college days till date his knowledge is largely based on first hand experiences outside the classroom (or office) walls with field studies in different parts of the country like Kerala, Chandigarh, Pondicherry, Arunachal, Nagaland, Goa Odisha, Bengal etc.
Adarsh Kumar Rao is Delhi based Artist. through his art practice he is looking towards his experience skills and research to develop a idealistic representative visual language.
REGISTER