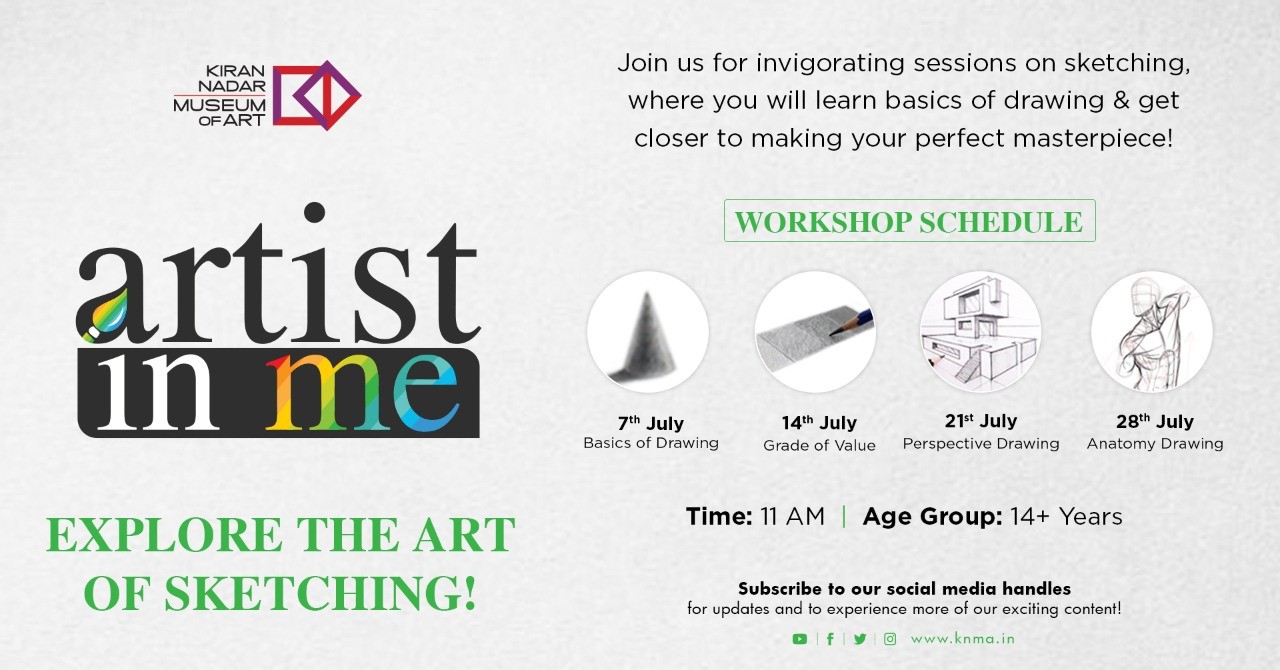 Exploring the Art of Sketching
7th – 28th July
The museum's mission emphasizes on the need for skills that are required for a professional career in art. KNMA hosts a series of education classes for children, young adults or anyone who would like to learn the technical aspect of art. These skills are essential when applying for an art school, preparing a portfolio of relevant work or even making art for yourself. This series including sessions on Sketching, Watercolor, Charcoal, Handmade paper and more.
In Sketching series, we will discuss more about the basics of drawing, looking at the materials required in it and tips and tricks that are perfect for any beginner. How range of value can help in building a sketch or a drawing. Talking about perspective and foreshortening and human anatomy drawing
Basics of Drawing

In our first lesson you will get to learn about the materials required for drawing. To start with you will need sketchbook, pencils, tissue paper for smudging and eraser. Practicing by drawing loose lines, swirls, circles, square, ellipsis and different shapes to warm up your hand.

Grade of Value

In this session learn about full range of values which is the most important design element of a painting. Master these tonal values to make your artwork more realistic by practicing about the tints and shades with which one can convert 2-dimensional drawing into a 3-dimensional object.

Perspective Drawing

In this session we will learn about the perspective and foreshortening. Perspective is one of these approaches that will help you become a better draftsperson—especially when it comes to architecture by learning about the horizon and vanishing points. Foreshortening is the concept that describes how objects appears much shorter when viewed from a sharp angle and when the object is close to us.

Anatomy Drawing

Here we will learn about Human anatomy where we will get to know about three things i.e., Body proportions, Bones and Muscle groups. Starting from the stick figures, moving on to the volumes of the muscle structure and then finally the details of the body.