NGO
Be Water, Shapeshift & Thinking with the Mangroves
A four-day online intensive exploring the game-world and protest spaces
With Gayatri Kodikal
27 - 30 October 2021, 4.00 to 7.00 pm
THE ARTISTS' WAY #7
A Series of Intensives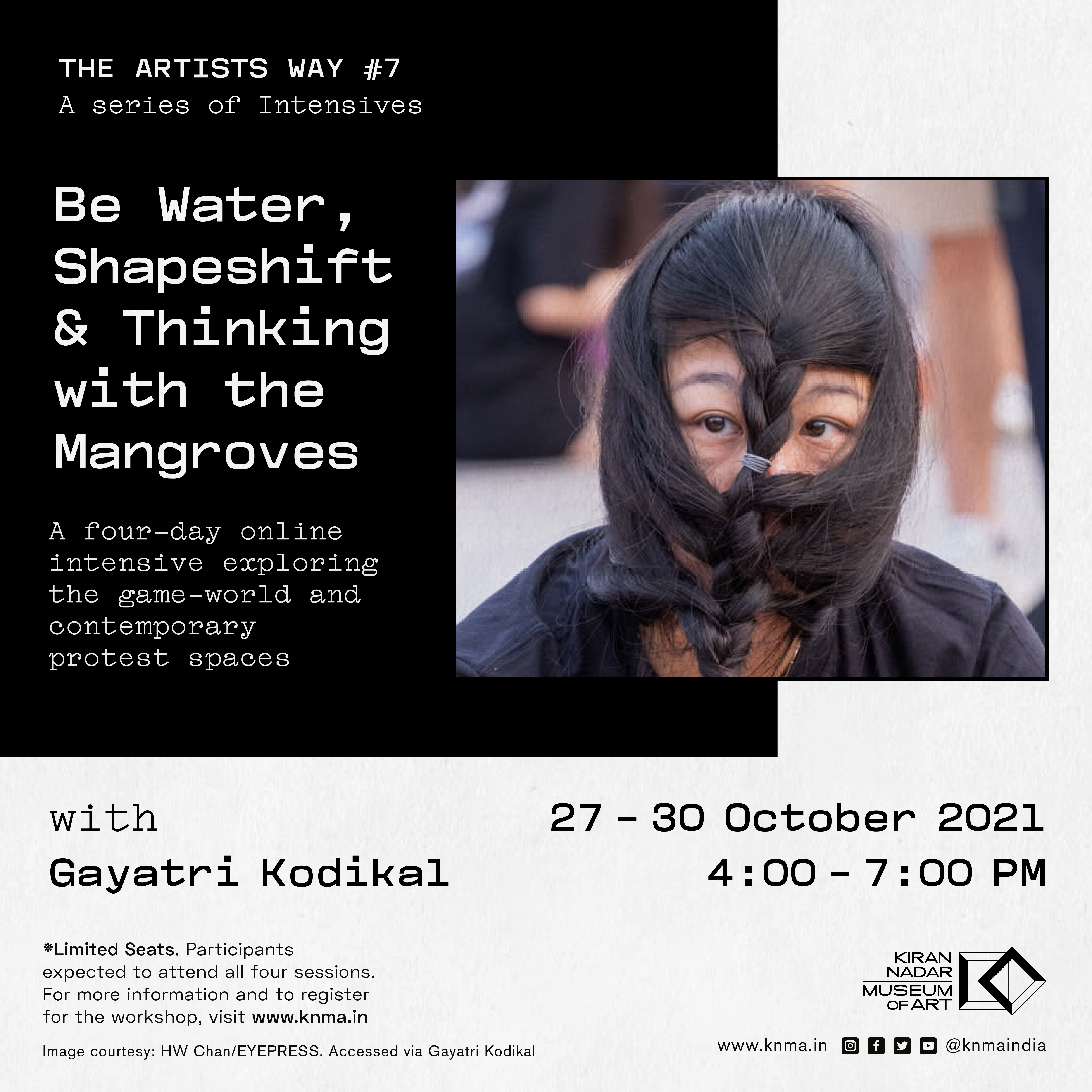 Shapeshifting has been encountered through myth, stories, fables, poems and images. From ancient oral narratives to contemporary video games. A recurring symbolic motif from across all cultures, and through almost all mediums of storytelling, emerging as a rhizomatic reaction with no point of origin or hierarchies, shapeshifting tells of living not only at the marginal, the threshold and liminal spaces, but also from the void of Western ontologies. In its contemporary political avatars, shapeshifting is performed through the contemporary protester, digital fugitive and the stateless. The contemporary protester strategizes with camouflage and constantly re-establishes the protest space that is momentary and transformative.
Gayatri Kodikal imagines shapeshifting as a way of endurance and compassion, to be with and to stay with each other in relation to the other. There is much need for a communal and collective shapeshifting exercise that could help the political economic climate depart from a definitive structure of law and control, to a much larger, inclusive, permeable, nomadic channel of organizing ourselves with our differences. In that sense, shapeshifting escapes classification and definition, and this quality gives it the potency to be critical and political. Since the shapeshifter and shapeshifting has been present in our collective consciousness since early civilizations, then it can perhaps become a fascinating lens to look at contemporary political strategies of embodied transformation that is continuous and emancipatory. Gayatri has been evolving the mangrove game world and shapeshifting mangrove archives as part of her artistic research and practice. And this four-day intensive emerges from her ongoing explorations of shapeshifting as a poetic apparatus for world-making and strategies of embodiment in contemporary politics.
The mangrove as a game world holds forth refuge, resistance and reconciliation. How does thinking with the mangroves reimagine ways of coexisting and resisting capitalist capture? The four days of this intensive will study and generate multiple potentials and strategies for the contemporary protester and protest space (both digital and IRL) through the study of shapeshifting as a narrative trope. Keeping the mangrove as a guiding metaphor for the study, participants will experiment with simple world building tools and game mechanics to propose political strategies for contemporary embodiment.
This intensive is playful, collaborative and exercise-based. Through the four days, participants will be invited to play, make, construct their own game-world journeys, settings and narrative environments and space of thought and associations to explore a variety of positions and perspectives. Participants will lead a collective enquiry into game making as a mode of storytelling
Participants will have access to the research material, resources and reading list prior to the sessions. This online intensive is free. Interested participants are expected to commit their presence on all days and participate in group discussions with their own examples and understanding. The age limit for participation is 18 years and above. The intensive may explore the possibility of further collaborative work towards the end.
Gayatri Kodikal is an artist and writer. She works with moving image, sound and esoteric game worlds. She indulges in the speculative, the historical, science fiction and feminist narratives. She is based in Rotterdam, The Netherlands.
This is the seventh program of the 'The Artists' Way' series of intensives, organized by KNMA, with the focus on artistic research as new pedagogies of the future. These intensives have been conceptualized and led by practicing artists who have been using workshops and different pedagogic formats as part of their art-making process, often collaborating with different groups and forming their own personal, formal and informal networks of learning and unlearning. Each intensive is unique, different in format, scope and methodology, wherein artists also share their related research. 'The Artists' Way' program is outlined by Akansha Rastogi, with Madhurima Chaudhuri, Neha Tickoo and Priya Chandra.