Talks
Between Vows & Words
Anupam Sud (Five Decades of Art Practice)
A Panel Discussion
08 December 2022
Venue: KNMA Saket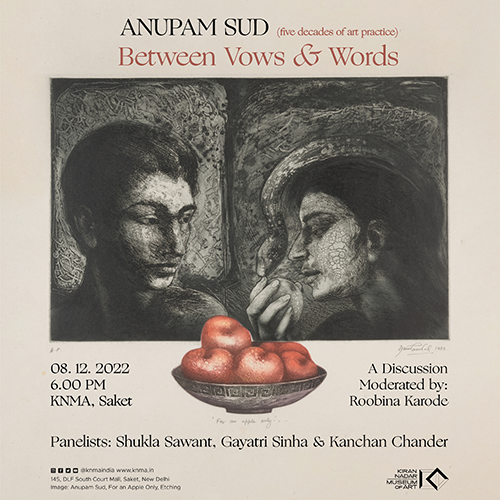 KNMA presents a panel discussion on the ongoing exhibition 'Between Vows & Words: Anupam Sud (Five Decades of Art Practice) moderated by Roobina Karode. The panelists Shukla Sawant, Gayatri Sinha and Kanchan Chander will discuss the artistic journey of Anupam Sud.
Shukla Sawant is professor of art history and visual studies at the School of Arts and Aesthetics, Jawaharlal Nehru University, New Delhi. Her areas of research interests  include art in colonial India, postcolonial theory, South Asian modernism and contemporary art movements, photography and printmaking, new media practices and artist collectives and organisations. In 1990, Sawant, along with several printmakers working in Garhi studios of the Lalit Kala Akademi,  founded the Indian Printmakers Guild. Sawant's oeuvre combines painting, printmaking, photography, sculpture and sound and she has showcased her works in India and abroad. Some of Sawant's notable publications include Instituting Artists' Collectives: The Bangalore/Bengaluru Experiments with 'Solidarity Economies' (2012), The Trace Beneath: The Photographic Residue in the Early Twentieth-Century Paintings of the Bombay School (2017) among others.
Gayatri Sinha is an editor, curator and critic based in New Delhi. She is the founder director of the visual arts e-resource, ciriticalcollective.in. Her primary areas of enquiry are around the structures of gender and iconography, media, economics and social history. Her curatorial endeavours cover domains of photography and lens based work from archival and contemporary sources. Gayatri has held lectures in Duke University, NYU, Tate Britain, MOMA and several other institutional spaces.
Kanchan Chander received her formal training in art including painting and printing in New Delhi, Santiago (Chile), Berlin and Paris (Ecole Des Beaux Arts, Paris). Inspired by Frida Kahlo, Amrita Sher-Gil and figures from classical Indian temple sculptures, Chander's torsos and figures are the focus of her work. The female form in her painting have an ambiguous relationship with power, violence and sensuality .Chander has participated in several solo and group shows in India and abroad. In 1986, she received the International Print Biennale Award Bardford, U.K. She was awarded the Junior Fellowship from the Ministry of HRD (1990 -1992) and the Senior Fellowship in 2019. Chander was a Lecturer at College of Art, New Delhi till 2005. The artist lives and works in New Delhi.