Happenings
Book Launch: Ganesh Haloi - A Rhythm Surfaces in the Mind Speakers: Adam Szymczyk in conversation with Roobina Karode 05 January 2023, KNMA Saket
5 January 2023
Publication details:
Ganesh Haloi - A Rhythm Surfaces in the Mind
Edited by Natasha Ginwala and Jesal Thacker
Authors: Iftikhar Dadi, Adam Szymczyk, Lawrence Rinder, Soumik Nandy Majumdar, Roobina Karode, Natasha Ginwala and Jesal Thacker
Published by Akar Prakar in association with Mapin Publishing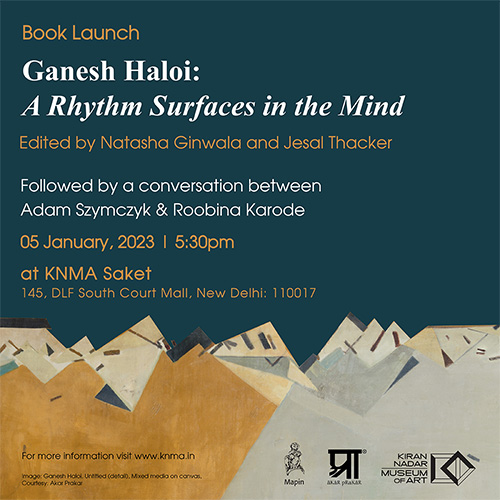 Ganesh Haloi, born in Jamalpur, Mymensingh (now in Bangladesh), moved to Calcutta after the Partition in 1950. Witness to India's resilient culture, freedom and struggle for its secular modernism, Haloi is among the artists of the generation who have played a significant role in the shaping of Indian modern art. Ganesh Haloi has cultivated a singular vocabulary of abstraction and landscape. This painterly world is textured with knowledge references that the artist is attuned to over decades—from realms as diverse as archaeology, ancient architecture, art history, sacred philosophy and poetry. His works are exercises in bringing life to the genre of landscape painting through the assembly of disparate symbolic forms.
Throughout Haloi's oeuvre, as in his thinking, there is never a separation between the nature within and the nature without. With extensive essays by eminent art critics and interspersed with previously unpublished illustrated folios and sketches of work from throughout his life, this monograph documents Haloi's earth-toned abstract vocabulary that has drawn overtime on a vast breadth of iconography, ideas, and movements. In his paintings, Haloi is an itinerant traveller and so is the viewer. Within strangely unbound time, one takes passage across the vastness of the landscape, a floating geometry, the seduction of lines.