Community
Brush Lettering & Calligraphy
Enter calligraphy - the ancient art decorative handwriting and lettering. It's more than an expression of beauty and aesthetics. Writing slowly and deeply is a meditative process that helps us express and reconnect with ourselves. It holds up a mirror to our nature and behaviour.
Kiran Nadar Museum of Art (KNMA) along with Inku Kumar(founder, Calliart & facilitator to this workshop) brings on experimental as well as traditional approaches to the art of Calligraphy. Students are given a thorough hands-on introduction to the subject and swiftly master the basics while honing their own individual styles. One of the first things we learn in school is to draw and conjoin different lines to create alphabet letters. This teaches us language, a way to make sense of the world and participate in it. With Kumar's guidance, students turn that elementary life lesson into a grand artistic journey through this workshop.
*The workshop is for 2 Days and participants need to enrol only once.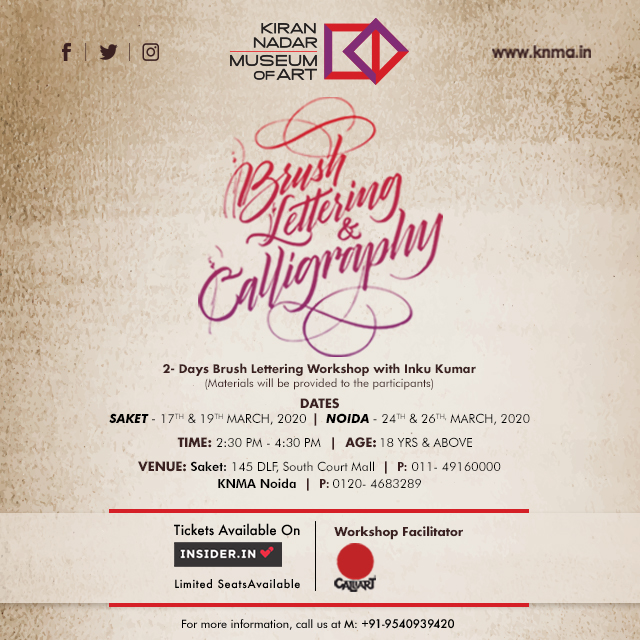 Links for registration:
KNMA Saket :
Workshop Dates – 17th & 19th March 2020
https://insider.in/brush-lettering-calligraphy-mar17-2020/event
KNMA Noida :
Workshop Dates – 24th & 26th March 2020
https://insider.in/brush-lettering-calligraphy-mar26-2020/event
REGISTER