Happenings
Saraikella Chhau Performance By Padma Shri Guru Shashadhar Acharya with disciples Saturday, 23 July 2022 | 6:30 pm at KNMA Saket
20 July 2022
KNMA presents a unique evening of Saraikella Chhau dance as a beautiful way of experiencing the exhibitions 'K Ramanujam: Into the Moonlight Parade' and 'Atul Dodiya: Walking with the Waves.'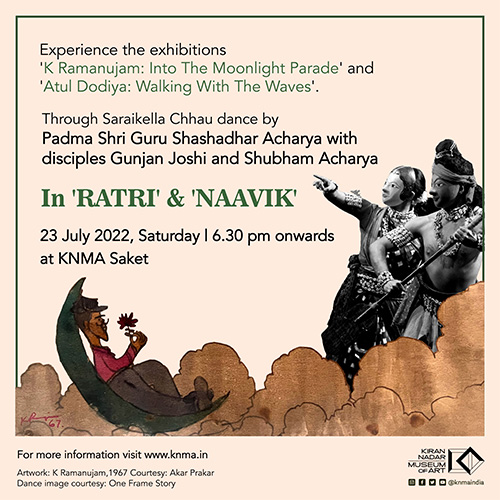 The event has been conceived as a spatial as well as an episodic journey from one exhibition to another, from one story to another, within the interiors of the museum area. Laden with rich visuals and imagery the performances carry narratives as if moving through a dream-scape. The evening will stand witness to resonances within visual and performing arts, complementing each other, and how! From the enchanting moonlit world of K Ramanujam, full of celestial apparitions there is a gradual movement towards the splendid tides wading the imagination of Atul Dodiya. Both dance pieces 'Ratri' and 'Naavik' respectively find the narrative flow as a response to the displayed artworks. The choreographed pieces are distinct in concepts and execution in the same way both exhibitions are, yet connected on the same drifting plane of lucid imagination.
The program is initiated and conceptualized by Neha Tickoo
The dance is presented by Padma Shri Guru Shashadhar Acharya with disciples Gunjan Joshi and Shubham Acharya.
Ratri | Raaga: Yaman and Marubihag, Tala- 12 matra | Duration: 15 minutes
Ratri literally translates into the night and in the style of Seraikella Chhau is a composition that echoes the Vedic concept of celebrating forces in nature. This is inspired from the Ratri Sukta, a verse in the Rig Veda that personifies night into a goddess. A Goddess that protects the world and its beings from the threatening forces that may lurk in her darkness. Night is welcomed ritually in traditional Indian homes with the lighting of an oil lamp. In this choreography the woman doing her ritual arti is symbolically represented by Sandhya or dusk, whose exit marks the entry of night. Her magnificent presence stills the evening with tranquility… reveling in her profound darkness, she scatters stars to adorn her midnight skies. The composition also uses the abstract imagery of an elusive moon with whom she gently plays until the first rays of light take him away.
Naavik | Local tune, Tala-7 matras | Duration: 13 minutes
A boatman and his wife navigating waters create a unique allegorical interpretation of the metaphoric journey of life. The boatman tenaciously faces the joys and perils with the silent strength of his beloved, who in turn seeks his protection. Reveling in each other's love and support they thus sail on their tiny boat through the changing times of life.
Padma Shri Guri Shashadhar Acharya is a fifth-generation dancer from his family. He learned Chhau from his father, Guru Lingaraj Acharya, and then from Guru Natshekhar Bana Bihari Pattnaik, Vikram Karmakar, Kedarnath Sahu, and Sudhendranath Singhdeo. In the early 1990s, he left Saraikela to work at the Gurukul Dance Academy and then at the Prithvi Theatre in Mumbai. He is a faculty member at the Film and Television Institute of India (FTII), Pune and at the National School of Drama, New Delhi. He teaches at the New Delhi-based Triveni Kala Sangam. In 2020, he received the Padma Shri honour for his contribution in the field of Arts.