Community
Chitrakala Mahotsav
Chitrakala Mahotsav, the first ever Folk Art Painting Festival @KNMA
Kiran Nadar Museum of Art with an aim to bring to the public, the various indigenous Folk art forms of our country presents the 'Chitrakala Mahotsav' an art festival focusing on Indian Tribal and Folk art to create awareness and bring to the public the original art sensibilities by artists from different states, in association with Dastkar, a private not-for-profit NGO established in 1981, working to support traditional Indian craftspeople.
The three-day festival will take place at Kiran Nadar Museum of Art, Saket and will have Exhibition of paintings by artists many of them women and village based, Performances by Folk Artists, Workshops open for public to understand the art forms and food stalls as well. The exhibition-cum-sale stalls of Folk and Tribal art forms will have Madhubani, Pichwai, Gond, Pattachitra, Miniature, Phad, Sanjhi, Kalighat painting amongst others.
The Art Workshops will be free for all and will be conducted by artists themselves for the general audiences hence giving them the opportunity of a better understanding of the effort and craft indigenous to the art form. These Interactive sessions with the local craft Artists will also help to understand the lineage and history of the art forms.
Dastkar is an organization that has been working for the last three decades with the main objective of helping craftspeople regain their place in the economic mainstream, in a country where the craft sector is second only to agriculture in providing employment.
Chitrakala Mahotsav is a humble attempt to celebrate the diversity of Indian art and the magnanimity of Indian Crafts from all across the nation. The Museum intends to create this fair for Tribal and Folk artists and craftsmen, and give the audiences an opportunity to indulge in the company of Indian artists, art lovers and art enthusiasts.
Indulge in the festivities for a weekend this February 8th-10th at KNMA, Saket. 11:00 am- 7:00 pm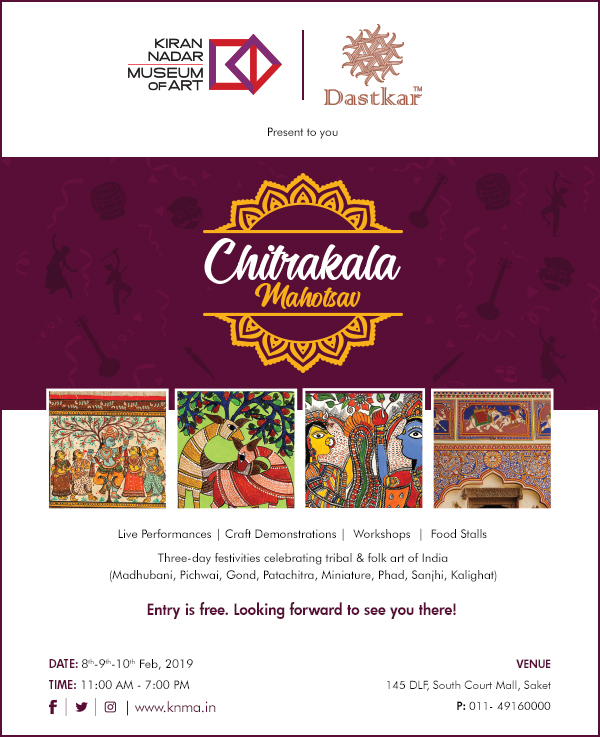 REGISTER