A Walk into the Alleyways of Nizamuddin
Walk led by Chandan Gomes

08 April 2022
Part of City as Museum Series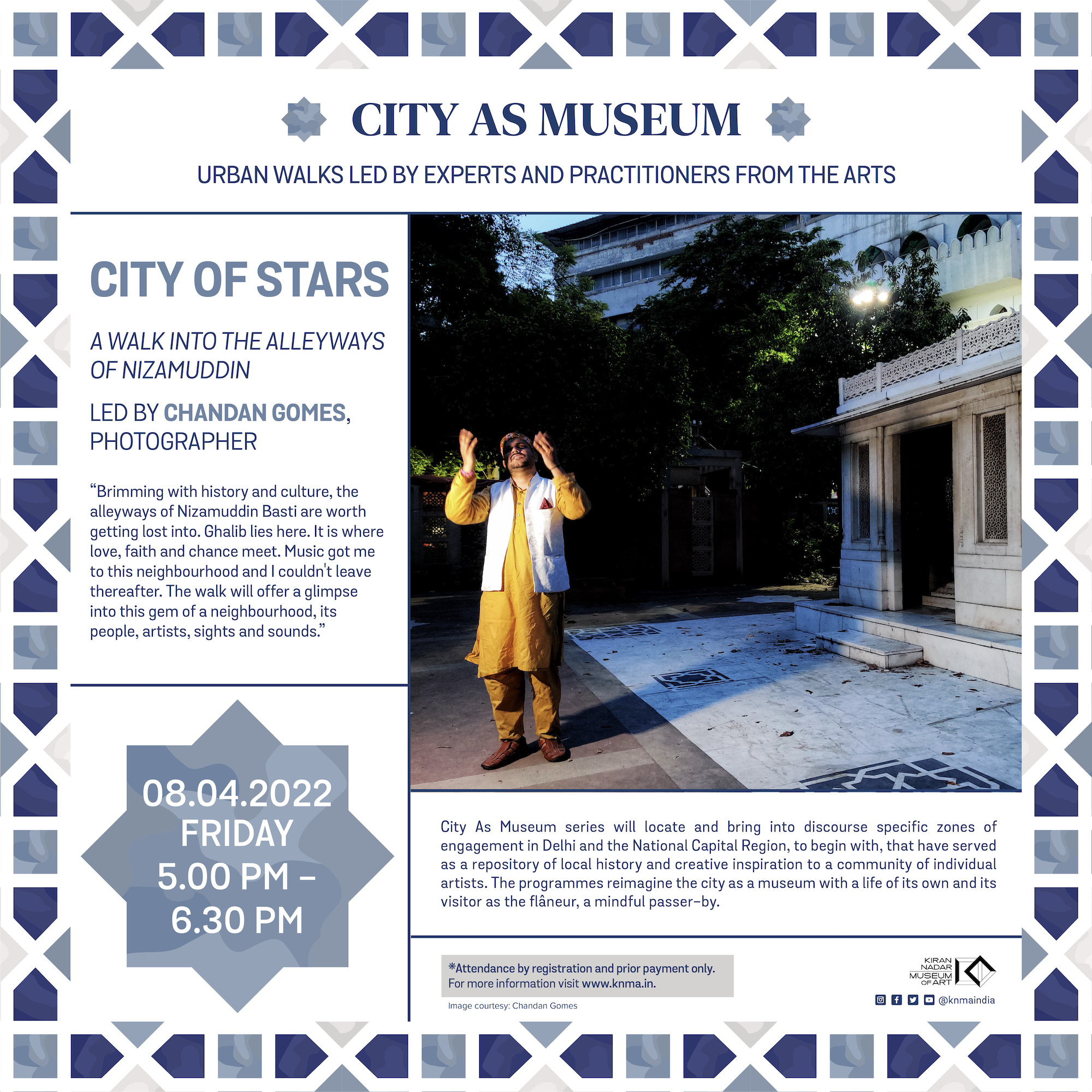 Kiran Nadar Museum of Art presents a series of curated walks across the city of Delhi under the banner 'City as Museum' led by experts and practitioners from the arts. The series will locate and bring into discourse specific zones of engagement in Delhi and the National Capital Region that have served as a repository of local history and creative inspiration to a community of individual artists
In the first segment, photographer and walk leader Chandan Gomes gives a walkthrough of Nizamuddin Basti area offering glimpses into the neighbourhood, its people, artists, sights and sounds that have also filtered into his own photographic practice.
This ticketed event with limited participation has 8 slots only. Each ticket is ₹450*
Chandan Gomes has studied Philosophy at St. Stephen's College, Delhi. Emotional and intellectual anxieties drive him as an artist. He has taught at Sri Aurobindo Centre for Arts & Communications, Delhi, National Institute of Design, Gandhinagar and Ashoka University, Haryana. He is currently working on his first film and dreams of opening a stationery shop one day. He has won numerous awards and fellowships and has been exhibited widely – Les Recontres d'Arles, France (2018, supported by PHOTOINK), Kochi Muziris Biennale (2018-19), Foto Fest Biennale, Houston (2018), Serendipity Arts Festival (2018), Asia House, London (2018), Zeytiburnu International Photography Festival, Istanbul (2018) and Benaki Museum, Athens (2016), amongst other places. His most recent exhibitions were held at MMAG Foundation, Amman (2020), Landskrona Museum (2019) and Rubenstein Arts Centre (2019). He was also the artist in residence at Centre for Documentary Studies, Duke University (2019).
City as Museum Series: The programme reimagines the city as a museum with a life of its own and its visitor as the flâneur, a mindful passerby. Each walk will be unique in itself and led by an expert thoroughly knowledgeable in the subject matter and the specific urban site of concern. The series will locate and bring into discourse specific zones of engagement in Delhi and the National Capital Region that have served as a repository of local history and creative inspiration to a community of individual artists. Each walk will aim to revisit and engage with certain urban spaces as a means to claim a piece of the shared lived experience through an approach using oral dissemination and immersive participation.
Curated by Madhurima Chaudhuri and Neha Tickoo
*Kiran Nadar Museum of Art is a not for profit institution. The funds from this ticketed event go directly to the walk leader.