NGO
Common Resources
Drafting Fables for the Future
An online intensive workshop with Vibha Galhotra
13 – 16 April 2021, 4 – 7 pm
THE ARTISTS' WAY # 5
Registration for the workshop has been closed because we have reached the maximum number of registrations for the event. Thank you for your interest!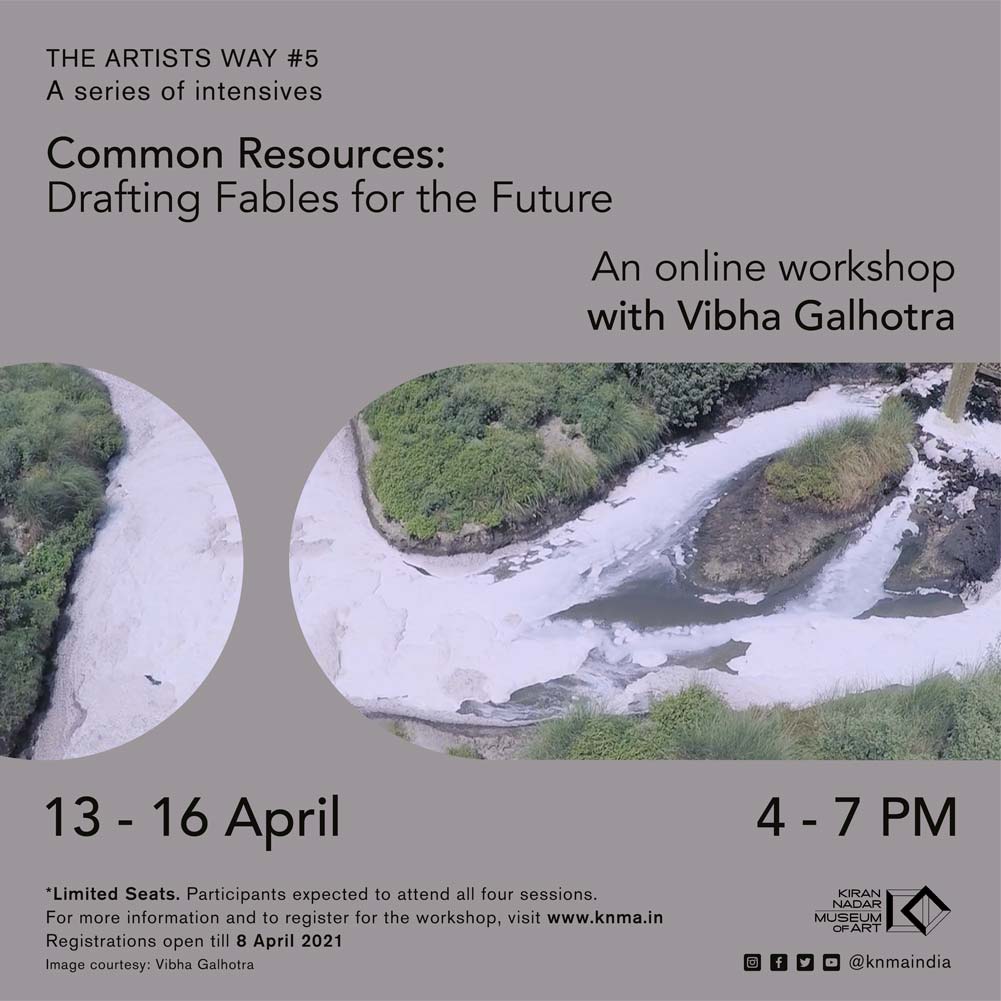 This four-day online intensive, focuses on aspects of care and ownership of common resources, in particular water and other shared natural resources. From ongoing inquiries in her artistic practice, artist Vibha Galhotra poses the following questions to be collectively addressed in the intensive: what do we know about our impact on global and local ecosystems? What steps and methods can we undertake to increase our awareness of and intervention into the subject? Can art instill a sense of caution and care in our collective fight for environmental equality and justice? The intensive is open to anyone interested in engaging and working with these questions and revisiting human's relationship to the natural world.
During the course of the workshop, environmentalists and experts on environment justice and urban ecosystems will interact with the group of participants, to think through the importance of care in relation to common resources. With specific case studies, sessions will explore how day-to-day elements of our sustainable ecosystems are affected, damaged and erased from our memory. The workshop will indulge participants to find their belonging with nature and weave their tacit and forgotten knowledge into a collective artwork.
Vibha Galhotra will share how her methods and engagement as an artist working around the questions of the environment and how over the years that has translated across different materials and concepts. We will move from a collective dining experience to discussing implicit relationship between the quality of water and food production, water heritage, lost ecologies, urban utopias, and towards drafting fables for the futures we want to imagine. The workshop is activity and discussion-based. The workshop will involve cooking as well as few exercises with easily accessible household materials such as threads, buttons, beads, sand, needle, glue, piece of cloth, handkerchief etc. Interested participants are expected to commit their presence on all days and undertake some group work between the sessions. The age limit for participation is 18 years and above. Towards the end, workshop will explore the possibility of further collaborative work.
Vibha Galhotra is a New Delhi-based conceptual artist, working in a variety of media, including sculpture, photography, printmaking, video, drawing, and text. Her work is influenced by nature, climate change, and the anthropogenic issues of our age. Her large-scale sculptural works address the shifting topography of the world under the impact of globalization. She has shown extensively in India, New York as well as internationally, with many projects that involve diverse communities and their regions.
Galhotra currently is a fellow of the Jerusalem International Fellow Program, 2020. She was awarded the Asia Arts Future Award, 2019, the Asian Cultural Council Fellow, 2017, and the prestigious Rockefeller Grant, 2016. Galhotra was born in the North of India, where she spent her formative years doing her Bachelors in Fine Art at Government College of Arts, Chandigarh followed by Masters of Fine Arts at Kala Bhavana, Visva Bharati University, Santiniketan, India.
This is the fifth program of the 'The Artists' Way' series of experimental online intensives organized by KNMA. These intensive are led by practicing artists who have been using workshops as part of their art making process, often collaborating with different groups and forming their own personal, formal and informal networks of learning and unlearning. The series is imagined as an exploratory platform, with part pedagogic intent and infused with new questions, doubts, playfulness and also involving a collective/collaborative production towards the end of the workshop. The program is part of KNMA Education Outreach, with the focus on artistic research as new pedagogies of the future. Each workshop is unique, different in format, scope and methodology, wherein artists also share their related research. 'The Artists' Way' program is outlined by Akansha Rastogi, with Madhurima Chaudhuri, Priya Chandra and Neha Tickoo.