Talks
Conversations on Culture 1.1
Chikankari:  Fashion Statements from the Past to Inspire the Future
Lecture by Paola Manfredi
Thursday, 10 December 2022 | 6:00 pm onwards
Venue: KNMA Saket
30 November 2022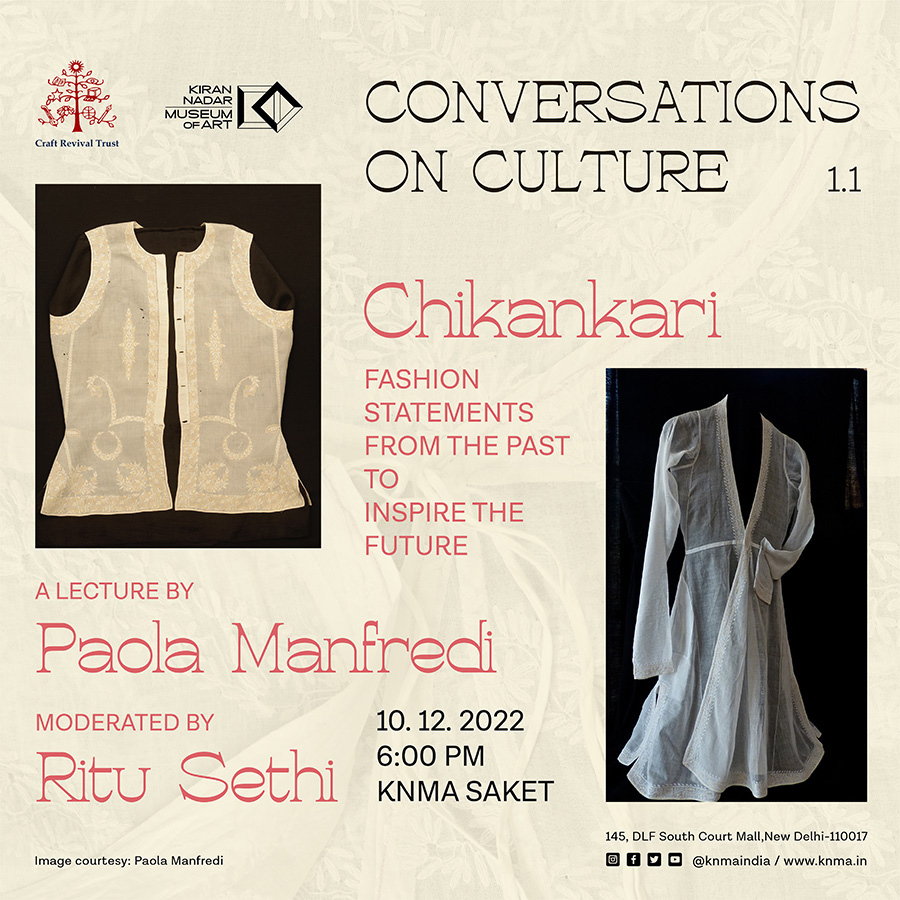 Kiran Nadar Museum of Art in collaboration with Craft Revival Trust present 'Conversations on Culture', a new talk series offering fresh perspectives on cultural practices and tradition. The series will be inaugurated with Paola Manfredi's lecture on Chikankari: Fashion Statements from the Past to Inspire the Future, moderated by Ritu Sethi.The lecture and conversation will highlight the evolution of the versatile and dynamic tradition of chikankari from antique pieces to contemporary interpretations.
'Conversations on Culture' is envisaged as an umbrella series of talks and discussions that take us out into India and the world by advancing new ideas, offering new perspectives, and giving access to insight, research and practice on culture and tradition. The subjects range from history, heritage, modern and contemporary developments, craft, textiles, heritage arts, innovation, creative industries to fashion and design. Our core belief in the importance of arts and culture will stay central to the Conversations. The series also locates and reiterates the museum as a place of cultural dialogue.
The series is co-curated by Ritu Sethi, Madhurima Chaudhuri and Neha Tickoo.
Established in 1999 the Craft Revival Trust (CRT) was founded on the principal that access to knowledge and its dissemination forms the vital core for safeguarding cultural heritage. CRT's mission over the years has built a knowledge and policy framework that is a continuing investment in empowering and strengthening the cultural and creative industries, and its individuals, groups and communities of practitioners and transmitters.
Ritu Sethi is the founder-trustee of the Craft Revival Trust and the editor of Global InCH, the international journal of intangible cultural heritage. In addition she oversees the Asia InCH Encyclopaedia on the traditional arts, crafts, textiles of South Asia. Ritu's research interests examine aspects of pre and post-colonial histories of the arts, textiles and the handmade, and their links to the modern and contemporary. She has authored and edited several publications including 'Embroidering Futures - Repurposing the Kantha', 'Painters, Poets, Performers – The Patuas of Bengal'; 'Designers Meet Artisans - A Practical Guide' (translated into Spanish and French), among her other writings in Indian and international publications.
She currently serves on several advisory boards including - IRCI UNESCO CAT II Centre, Japan. In India she serves on the Advisory Board of the ICH committee, Ministry of Culture; National Crafts Museum and Hast Kala Academy, Government of India; Asia Society (South Asia) besides other institutions/committees
Paola Manfredi has an academic background in ethnology and has specialized in Asian traditional textiles. She is an independent researcher and a designer. For over forty years she has lived and worked in South Asia with artisans mainly embroiderers inbvovoled in the tradition of Aari work, Chikankari in Lucknow, crewel embroidery in Kashmir, Kantha in Bangladesh and embroidered textiles in Pakistan.
Her approach focus on the uniqueness of traditional craftsmanship and on its decorative vocabulary. She promotes the education, training and proficiency of artisans striving for excellence. Her effort aims to preserve the richness and creative potential of ancient traditions so that they can find their space even in contemporary contexts. Manfredi has designed and produced hand-embroidered textiles made by expert master craftsmen. She has organized textiles exhibitions and training workshops for artisans. Manfredi is the author of numerous articles on textile craftsmanship and textile heritage.