Community
Craft Connects
Learn about India's colourful cultures by exploring the fascinating world of local Indian arts and crafts with Craft Connects, in collaboration with Dastkar. Here skilled people will create many types of decorative pieces out of paper, clay, colours and other cheap tools. It preserves the rich traditional art forms and heritage along with the talents which are associated with the people's history and lifestyle. In India artifacts are being made from centuries and people around the world love these.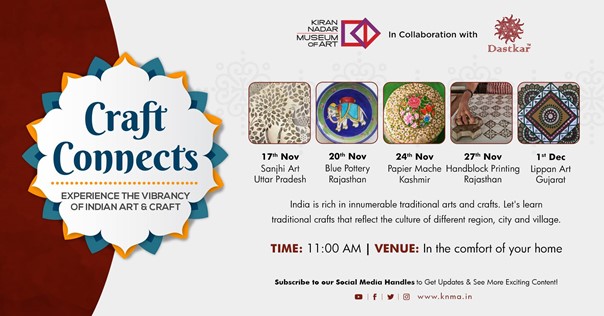 Sanjhi Art, Uttar Pradesh
Sanjhi is the ancient art of paper stencilling practised across Mathura and Vrindavan. It was traditionally used to make ritualistic and ceremonial rangolis in temples dedicated to Lord Krishna. The term Sanjhi is derived from Sanjh or dusk. It is related to the ritualistic practice of unveiling the rangoli in the temples with chanting at dusk.
In olden times, the stencils were made using rough paper or banana leaves but contemporary artisans have started creating artworks using handmade and recycled paper. Traditionally, the stencil was used to create the only rangolis, but gradually the stencils caught the interest of the patrons. Now, the stencil is considered at par with the final decoration. The cut-outs are available as framed artworks as well.
Cutting of the paper is a very delicate and precise procedure. A little slip will cut off the portion to be left intact and the entire procedure will be meaningless.
Blue Pottery, Rajasthan
This traditional craft of Jaipur is given the name 'Blue Pottery' due to the predominance of the colour blue.
However, by the 1950s Blue Pottery had almost vanished. Muralist and painter Kripal Singh Shekhawat with the support of Kamladevi Chattopadhyaya and RajmataGayatri Devi revived the craft. A combination of wheel turning and moulding techniques is used to produce various shapes for the pottery. After the object is sanded and dried a clean white coat is applied to the surface to give it a smooth, improved texture. Floral, animal and bird motifs are painted on it and the object is given a glass glaze at a low temperature. It is during the firing that the objects attain transparency and shades of turquoise blue, pale green, yellow and brown.
Grameen Blue Art Pottery, a regular in the DASTKAR bazaars, has always had great sales with us. Pots, vases, tea sets, cups and saucers, plates and glasses, jugs, ashtrays made by them are a huge hit with shoppers
Papier Mache, Kashmir
Lateef Hussain Khan from Chinar Valley Arts running this group.
In Kashmir, Papier Mache originated in the form of making qalamdans (pen cases) from paper pulp (Base). These are covered with floral or geometric patterns and finished with a coat of Rogan (Varnish); it was for this reason that the craft was initially referred as Kariqalamdan (the art of making pen cases).
Papier Mache products involves two processes: Sakhtasaazi (basic object is made of a light weight material by a different community called saktasazi., who fashions the base product) and Naqashi (Painting) giving decorative touch, painting by fine hands for intricate designs, done over it.
This art form is primarily based on paper pulp, and is richly decorated, colorful artifact; generally, in the form of vases, bowls or cups, bases of lamps and many other small objects. These are generally made in homes or workshops, in Srinagar and other parts of Kashmir.
​Handblock Printing, Rajasthan
Meena Kumari Chhippa, Hand Block Artisan. The art of chapa (block printing) gave them the name Chhipa
Bagru is a village located 32 km west of Jaipur, the capital City of Rajasthan. It has long been home to the Chippa Community, a caste dedicated to the art of hand block printing Bagru printers use a technique called dabu in which a mixture of black clay, acacia gum, spoiled wheat flour, limestone, and cow pies is printed onto the fabric. The fabric can then be dyed and left in the sun to dry. When the dabu is washed out the printed portions of the fabric are left undyed. the village has kept up its tradition of using natural dyes. These dyes include indigo blue, madder root red, pomegranate yellow, harda yellow, syahi black, and a green obtained by mixing harda and indigo.
No authentic literature is available to indicate the beginning of this kind of printing, but this art is said to have started around 450 years back. The village had a community of CHHIPAS, or traditional crafts people who printed fabrics by hand. Bagru chhipas came from Sawai Madhopur, Alwar, Jhunjhuna, and Sikkar districts of Rajasthan to settle in Bagru and make it their home outset around 450 years ago. They are known for their unique designs of luxuriant trellises in sophisticated natural colors.
Lippan Art
Mud and mirror work are known as Lippan Kaam. It is a traditional mural craft of Kutch also known as ChittarKaam. Various communities in Kutch do mud-relief work and have their own distinct style of lippan kaam.
The motifs are inspired from the embroidery patterns and once the walls are done, they look stunning with mirrors embedded in the mud work, much like the embroideries itself.
Ramju Kumbhar belongs to Mankuva in Bhuj, Kutch in Gujarat. He has been practicing this craft since the past 25 years and started learning it from his father when he was in grade 7, in school.
The modern-day version of lippan work is seen on MDF ply cut into neat square, rectangle or circular surfaces and used as home decor and as artworks at hotels and offices
REGISTER