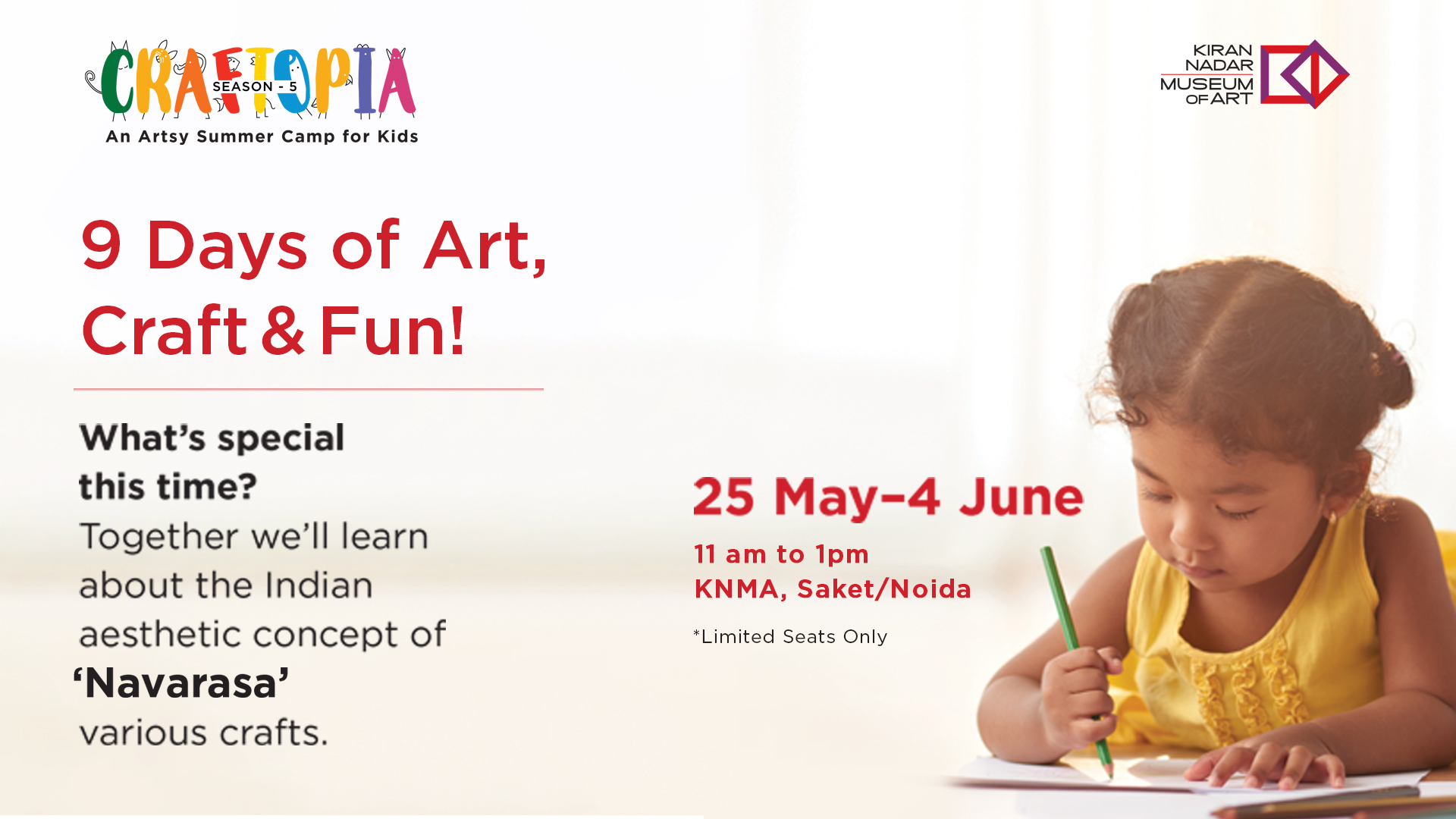 Thank you for the overwhelming response !
The Registrations are now closed.
Season 5 of Craftopia - An Artsy Summer Camp for Kids. This summer, KNMA will offer its popular art classes while keeping health and safety in mind. This year's programme will focus on the nine Rasas and creating fantastic crafts from them.
Rasa is in everything, or better yet, everything has Rasa. Navarasa means Nava means nine, Rasa means emotional state or emotions. The nine emotions are Shringara (love/beauty), Hasya (laughter), Karuna (sorrow), Raudra (anger), Veera (heroism/courage), Bhayanaka (terror/fear), Bibhatsya (disgust), Adbutha (surprise/wonder) and Shantha (peace or tranquillity). The Navrasas as described in ancient Indian aesthetic philosophy can be seen as being indicative of prime human emotions. Each Rasa is a repository of energy drawn from our Prana (life force). By unlocking this powerful energy and then mastering it, we can effectively achieve emotional balance, and also use this energy to realize our true potential. 9 rasas are seen as the essence of all of our emotions.
| S.No | Workshop | Rasa |
| --- | --- | --- |
| 1 | Crystal Butterfly Pin | Shringara Rasa |
| 2 | Diy Laughter Sculpture | Hasya Rasa |
| 3 | Wonderland Jar | Adbutha Rasa |
| 4 | Queen of Hearts | Veera Rasa |
| 5 | Nature Wall Hanging | Shantha Rasa |
| 6 | Diy Giant Eye | Karuna Rasa |
| 7 | The Rage Mask | Raudra Rasa |
| 8 | Monster Mouse | Bhayanaka Rasa |
| 9 | Diy Horrible Hand | Bibhatsya Rasa |
The Kiran Nadar Museum of Art (KNMA) presents Craftopia Season 4 - An Online Artsy Summer Camp for Kids. Keeping in mind health and safety concerns, KNMA will be holding its popular art camp online this summer. This year the camp will focus on the history of art movements mixing interesting historic titbits, with DIYs and crafts to go along. The session will delve into Renaissance Art, Impressionist Art, Contemporary Art and much more.
We bring to you a summer filled with fun and art. Join us to learn more about different art & craft techniques for 5 amazing days!.
Same treat same thrill
We bring to you a summer filled with fun and art. Join us to learn more about Indian art & carft for 10 amazing days!.