Daud Lagata Aaya Bagh Story Telling Session by Usha Chhabra Friday, 29 July 2022 | 5:00 pm to 6:00 pm at KNMA Saket
1 January 1970
KNMA celebrates Global Tiger Day with stories revolving around the magnificent big cat with a storytelling session conducted by Usha Chabbra!
The storytelling session led by Usha Chhabra brings into focus facts and references from popular and folk cultures, be it from literature in form of poems and from cinema. Using props and oration, Usha builds the flow of the session narrating in her unique style about the elusive Tiger as an animal and as a concept of collective imagination, slowly bringing awareness over the issue of the loss of tigers and as a significant link in bio-diversity and ecosystem. She re-tells stories from folklore as well as stories from wildlife conservation re-iterating the urgent need to safeguard the ecosystems, especially the Tigers.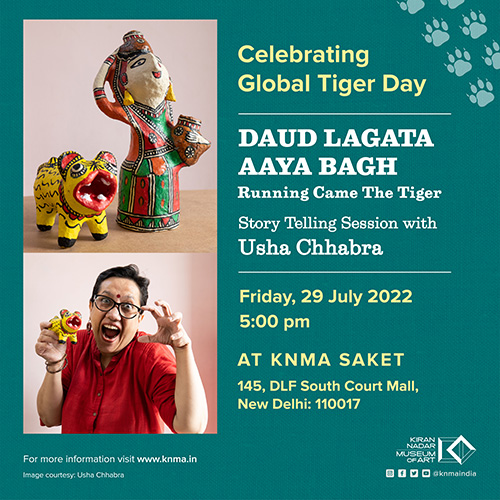 All are welcome to join the enthralling session that will explore the world of tigers! The story telling session is open to all (free entry). Refreshments will be provided after the session ends.
Usha Chhabra is an educator, author and storyteller. Having taught Hindi for 24 years at Delhi Public School, she ventured into conducting storytelling sessions, teachers' and parents' orientation programmes and workshops for children on creative writing and dramatics across India. She has taken sessions at the World Book Fair, Nehru Memorial Museum and Library, National Museum, National Bal Bhawan, Rajiv Gandhi Foundation, Kiran Nadar Museum of Art, Dilli Haat (INA& Janakpuri) and various NGOs across India.  She was also part of Jaipur Literature Festival Outreach Programme, Bhiwani Children Literature Festival, Kanpur Literature Festival, Katha Karnival Katha Utsav and Gwalior Art and Literature Festival.