Happenings
Dhrupad at the Museum With Dhrupad vocalist Pelva Naik Accompanied by PT. Sanjay Agle on Pakhawaj
18 May 2022
Celebrate International Museum Day 2022 with a musical evening 'Dhrupad at the Museum' with Dhrupad vocalist Pelva Naik accompanied by Pt. Sanjay Agle on Pakhawaj.
The event held at KNMA Saket is open to all (free entry). Refreshments will be served following the concert.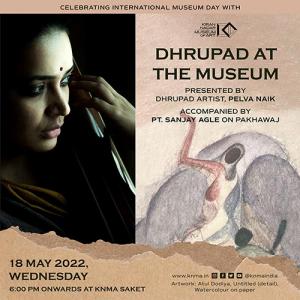 Pelva Naik has been trained in the Dhrupad style of vocal music under the eminent Dagar School of Indian classical Music. She is a disciple of legendary Dhrupad maestro Ustad Zia Fariduddin Dagar. She has also received proficient guidance from Rudraveena maestro Ustad Mohi Bahauddin Dagar. In her music, Pelva endeavors to adhere sincerely to these traditional elements- so complete in themselves; at the same time, with the help of the great liberty that the discipline of dhrupad offers, she strives to cultivate fresh characteristics that are personal and distinct.
As a solo Dhrupad vocalist, she believes, that even though performance of this unique art form is a central aspect of her 'being' as an artist; teaching and edification of Dhrupad must remain the most integral element for a practitioner. Teaching and sharing the nuances of the art of Dhrupad is an integral part of her life and practice. Pelva teaches and performs Dhrupad in India and overseas.