NGO
Drawing Spaces
A 3-day workshop on creative mapping through drawing and collage
Facilitated by Sareena Khemka
04 – 06 February 2021

Registration for the workshop has been closed because we have reached the maximum number of registrations for the event. Thank you for your interest!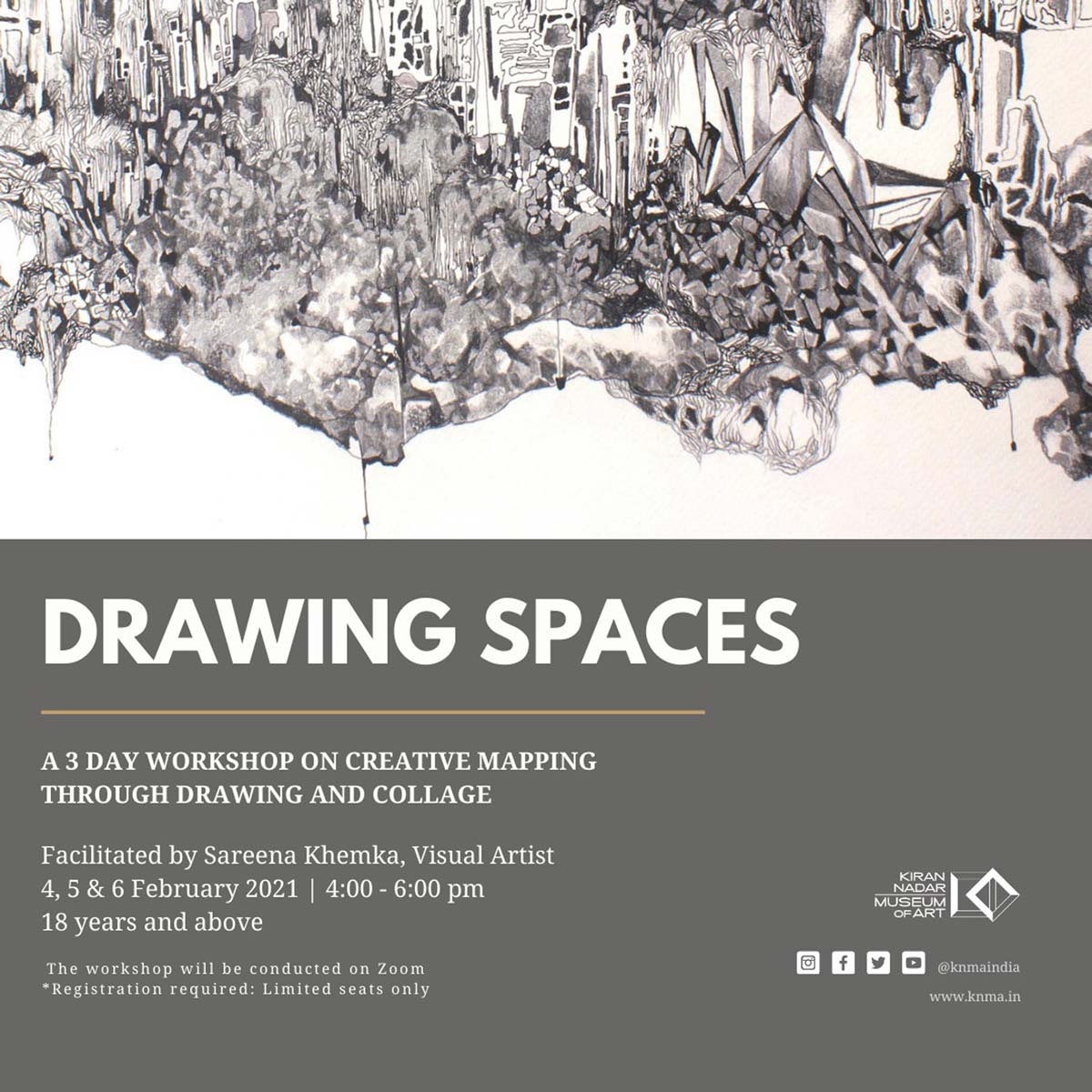 A space that one occupies, evokes a strong connection and leaves indelible impressions in one's mind. How do we make sense of these places visually with the attachments and emotions we associate with it? During the course of this pandemic we may have been confined to our homes, cities, alternate living spaces, spending time navigating it, that we have now developed muscle memories of that place. We know where each object is kept and have an associated emotion of each room we have occupied. We are able to visualize these spaces with our eyes closed. How do we interpret these places through drawing? Conversely we have yearnings of a place we wish to go to, walk on a particular street, go to our own house, a park, places within our city or our hometown itself. How do we draw the memory of these places and our imagination of them that may morph and adapt the images we have in our minds?
On a macro level if we think about the idea of mapping space, the strongest sentiments are evoked when one deals with issues of identity, where migration, loss, partition and the memories of home or the lack there of and or world events such as political and social changes feeds into the creative process. To channel all of that information, memory and emotion to make work that is poignant and visually provocative is a process of mapping spaces that we will delve into through this workshop by referencing works of artist Zarina Hashmi and her creative process.
Using drawing and collage through memory, maps and image, this 3-day workshop shall use various tools and techniques to distill images of places using imagined, remembered and real references in making an original map or a small series of them. All the sessions will be held on Zoom. Participation on all three days is mandatory.
Materials to be arranged by each participant:
A laptop with high speed internet, Scissors, ruler, old scrap magazine, pens, pencils – 2b, 4b, 6b pencils, charcoal pencil, black craft paper, paper cutter, fevicol, black drawing ink, old paint brush, eraser, A4 or A3 200-300 gsm drawing paper (loose or sketchbook format works), a writing notebook, small water container.
Participant eligibility
Basic skill and knowledge of drawing and using drawing material
Sareena Khemka is a visual artist working in mixed media drawing, painting and sculptural installations. Mapping cityscapes through narratives of its past and the future, her preoccupation with building a research-based practice on the subject has led her to work with several mediums that started with drawing and now includes sculpture and found object. Her current practice explores urban spaces through dichotomous ideas of construction and destruction, preservation and regeneration, man-made and organic environments, creating transformative spaces and objects that recall historical ruins and geological formations that have the potential for material evolution. Khemka holds a B.F.A degree in painting from The School of the Art Institute of Chicago and Kala Bhavan, Santiniketan. She has been a part of several group shows across India and has been a resident artist with Space 118, Mumbai and Piramal Art Foundation, Mumbai. She has conducted art workshops with the Art 1st Foundation, Mumbai, Mohile Parikh Center, Mumbai, Sangeet Shyamala, New Delhi amongst many others. The artist currently lives and works in Bangalore.