NGO
eee in SF
Emotion, Eruption, Expression in Science Fiction
A zine-making workshop by Renuka Rajiv
26 – 28 November 2020
THE ARTISTS' WAY #3
Registration for the workshop has been closed because we have reached the maximum number of registrations for the event. Thank you for your interest!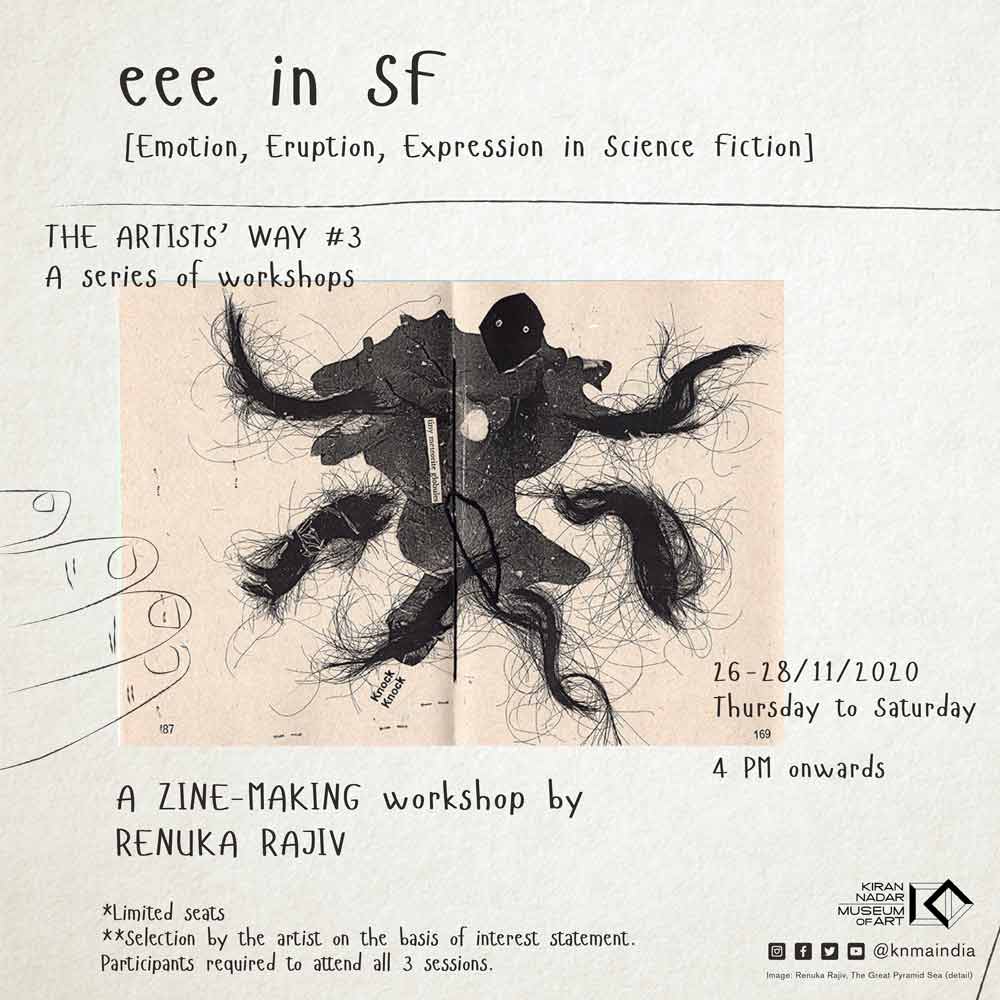 This workshop is an invitation to engage in making a reproducible sequential work that involves linear and/ or non-linear narrative. Aided with directives and prompts, participants will be encouraged to explore the emotional architecture embedded in the genre of science fiction and immerse themselves in the possibilities of time-travel, new discovery, sonar communication and extinction among other facets. While engaging with the idea of a book form with diverse potential, the workshop will cover the process of making a zine.
Spread over three intense sessions, of different durations, it is a participatory, hands-on and tactile workshop, exploring zine-making as a form and a medium. With primary focus on the act of making, the program will also look into the possibilities of physical circulation and sharing of zines and expanded publishing through Renuka Rajiv's own practice. Participation in all three sessions is mandatory and also requires commitment and preparation in between sessions. Preferred age group for participation would be 18 to 50 years old. 15 participants will be selected by artist and workshop facilitator Renuka Rajiv on the basis of interest statements. Further program details, additional material requirements, themes of the zine will be communicated by the artist to all participants via email or telephone prior to the workshop.
Renuka Rajiv has a background in working with paper and fabric primarily. Zines, drawing and personal expressions are central to their practice. They are interested in postal subscription and mailing lists. Currently, they are facilitating a subscription-based zine series involving several wonderful contributors.
Material required (to be arranged by each participant themselves): Paper, pens, colours, adhesive, collage material, any other material, stamps, 5 used a4 sheets that are lying around. Finished zines pages. Adhesive/ stapler/ tape, photocopied sheets, long needle, thread, packing material.
Schedule:

Session 1: 26 November, Thursday, 4 – 9 pm, Duration - 5 hours
Session 2: 27 November, Friday, 4 – 6 pm, Duration - 2 hours
Session 3: 28 November, Saturday, 4 – 8 pm, Duration - 4 hours
Participants will make parcels of their zines and send them off to fellow participants.
Session 4: TBD, Date to be mutually decided by the group
This is the third program of 'The Artists' Way' series of experimental workshops, organized virtually by KNMA. These workshops are led by practicing artists who have been using workshops as part of their art making process, often collaborating with different groups and forming their own personal, formal and informal networks of learning and unlearning. The series is imagined as an exploratory platform, with part pedagogic intent and infused with new questions, doubts, playfulness and sometimes also involving a collective/collaborative production towards the end of the workshop. The program is a part of KNMA Education Outreach, with the focus on artistic research as new pedagogies of the future. Each workshop is unique, different in format, scope and methodology, wherein artists also share their related research. 'The Artists' Way' program is outlined by Akansha Rastogi, with Madhurima Chaudhuri, Neha Tickoo, Priya Chandra and Rajshree Poonam Gupta.