NGO
Enter the Dragon
Five Lessons in Self-Introduction
A workshop by Paribartana Mohanty
05 – 09 October 2020
THE ARTISTS' WAY # 2
"Remember, the biggest enemy is your own image!," - Enter the Dragon (1973)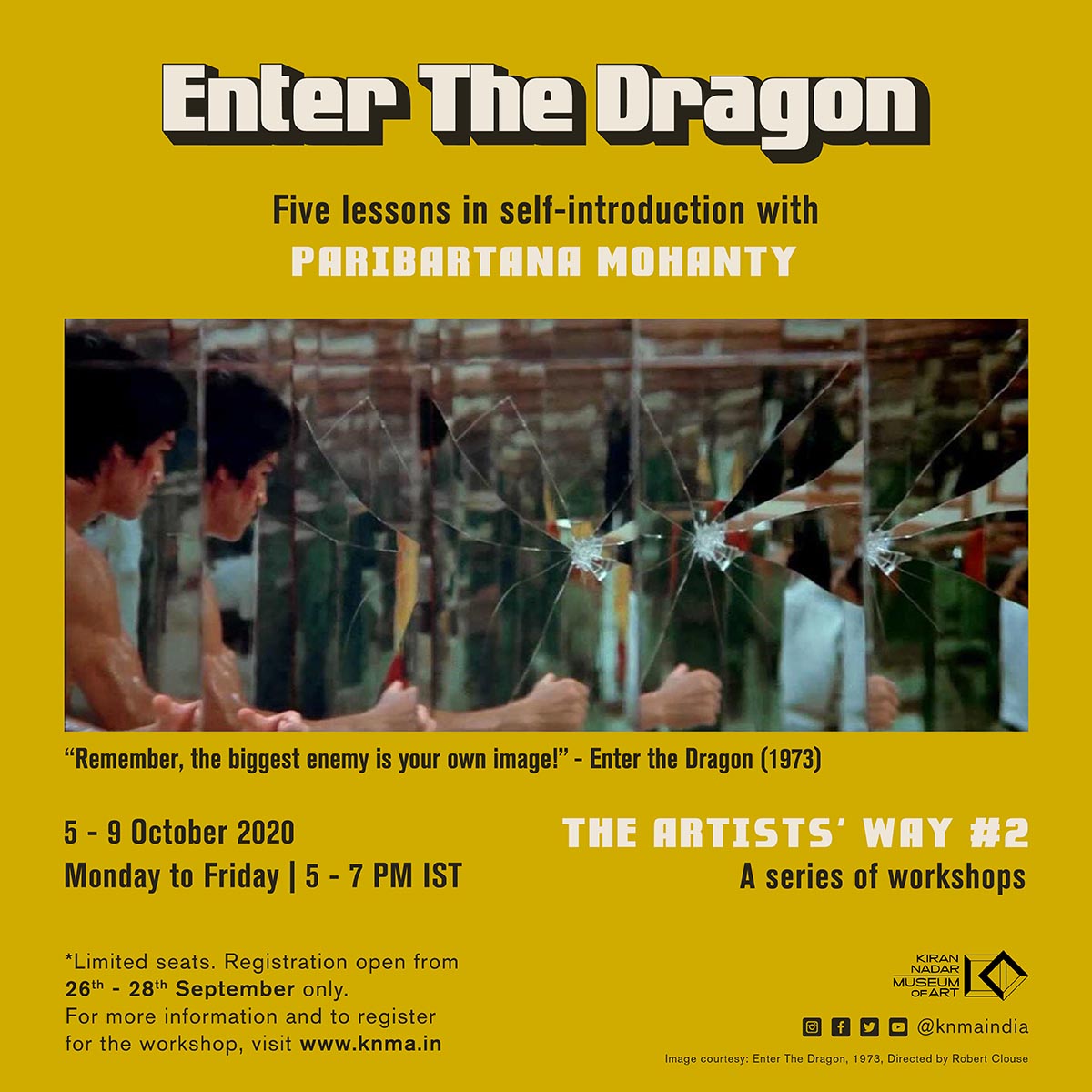 An unpredictable 'self' with its limits, scale and stakes is essentially the core of the whole existence; more so in the present situation of the pandemic, when we think of social distancing, immunity and the vaccine.
The question of the self has become central, and a lot relies on our individual behaviour. In this "phantasmagoria of bio-politics", when only individuals/isolated bodies are safe and 'other' bodies toxic or contagious, the vulnerable self seems to be surrounded by its own images. The universe is toxic because 'I' do not feel safe outside. Who am I then? Where did I come from? Where am I going? Is this movement a forward? Or a free fall? How do I make sense of this world? Am I an individual/singular entity or part of a large community, collective or conspiracy? What about my roots, learnings, morality, ethics, ethnicity, culture, colour and inheritance? How do I unlearn? Is there a future, I am secured for?
Introducing the self to oneself, to another and to the world/universe is a continuous process, that involves time, thinking and working. Repetitively exercising the act of self-introduction could be one of the ways to preserve the core. Carving out an alter ego and ascending or descending to level after level are other ways to sustain oneself in the game.
Conducted over five days, this online workshop is an artistic inquiry to dig deeper into the idea of the 'self'. It is participatory, conversation-based and performative in nature. Participants will be provided with the resource material (readings, films etc.) in advance and invited to adapt and work in any medium, including drawing, painting, writing, speech, performance, video or games, to create/destroy their own image.
Facilitated by Paribartana Mohanty, this workshop is a continuation of his long-term project 'Game for Artists and Artists' Communities' that focuses on labour, exploitation and resistance in the creative fields, and developed in different intensives at Botin Foundation (Santander, Spain, 2017), Onassis AIR (Athens, Greece, 2019) and National Institute of Design (Gandhinagar, India, 2020). Paribartana Mohanty is a storyteller and an artist based in Delhi. He works in the medium of video, performance-lecture, painting, text-based work, writes for his blog and on social media platforms, and curates. He has exhibited in many group exhibitions, film, festivals, seminars and symposiums.
This is the second program of the 'The Artists' Way' series of experimental workshops, organized virtually by KNMA. These workshops are led by practicing artists who have been using workshops as part of their art making process, often collaborating with different groups and forming their own personal, formal and informal networks of learning and unlearning. The series is imagined as an exploratory platform, with part pedagogic intent and infused with new questions, doubts, playfulness and sometimes also involving a collective/collaborative production towards the end of the workshop. The program is part of KNMA Education Outreach, with the focus on artistic research as new pedagogies of the future. Each workshop is unique, different in format, scope and methodology, wherein artists also share their related research. 'The Artists' Way' program is outlined by Akansha Rastogi, with Madhurima Chaudhuri, Neha Tickoo, Rajshree Poonam Gupta and Priya Chandra.