Community
Gesture Sketching and 3D Workshop
The Sketching Workshop is an excellent fit for beginners and advanced artists. It introduces complete beginners to the most effective communication tool. At the same time, the sketching training refreshes working professionals with tips and tricks.
In the workshop, we will practice the informative sketching type — the method used by designers to build and describe design items on paper. We will study how to make quick, designer quality sketches with just simple pen and paper.
Along with the meetings, we will revise techniques for building correct objects and bodies. Together we are going to deal with the basics of surfaces drawing and shading. By the end of the course, we will master the skill of capturing shapes and bodies from the world surrounding us.
In the 3D modelling workshop, the facilitator will teach how to do a sketch of a model at the venue using the technique of creating the illusion of three-dimensionality by the use of gradations of value.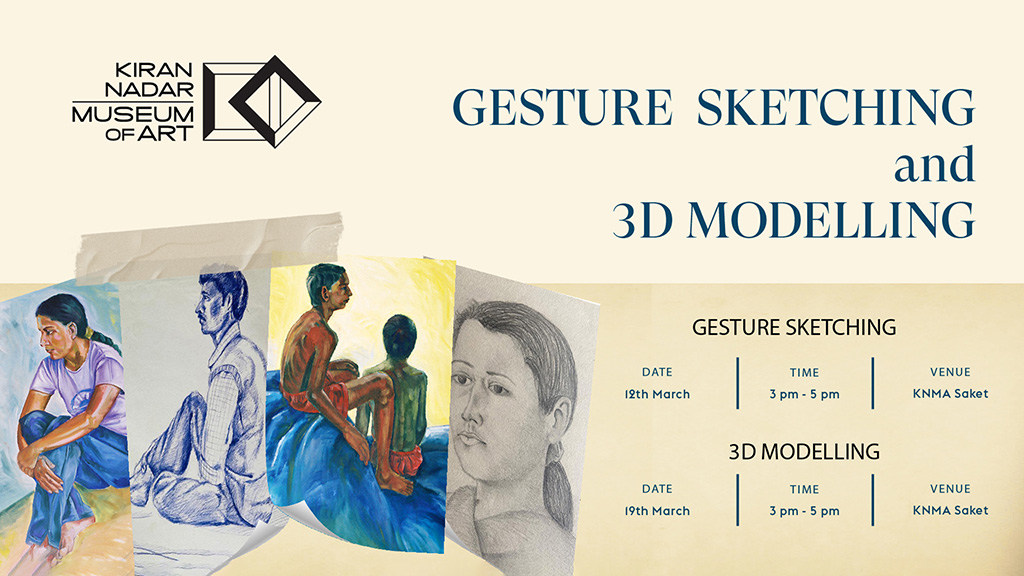 Gesture Sketching
Date : 12th March 2023
Time : 3:00pm to 5:00pm
Venue: KNMA, Saket
3D Modelling
Date : 19th March 2023
Time : 3:00pm to 5:00pm
Venue: KNMA, Saket
Key Points which will be covered in the two workshops are -
Fundamentals of Sketching
Basic knowledge of Human form
Proportion of Human Body
Study of Three Dimension/ illusion
Expression of Form
About The Artist -
Renu Bariwal is a multidisciplinary visual artist who lives and works in Delhi. She has a moment-to-moment awareness of emotions, and they influence her thoughts and actions. She believes that her thoughts help her abstracting the subject to make them more expressive. Through her works, she reconnects to her core emotions. Some her most notable solo/duo shows include "Indian Deities" at World Fine Art Gallery, New York, "Body & Soul" at Art Folio Gallery, Chandigarh, and "Concepts with visuals" an installation art show at Surekh Art Gallery, J.K.K., Jaipur. She has also showcased her work in various group shows in the USA, South Korea, Egypt, Turkey, Bangladesh and across different cities in India.
REGISTER