Community
Gouache Painting
In this session, we will learn the different approaches used in the Gouache technique. Gouache is a water-based medium similar to watercolour. It mixes coloured pigments with an opaque white pigment, often chalks, creating a velvety matte finish that absorbs light rather than reflecting it. It is primarily opaque, but you can make it transparent. It dries quickly but reconstitutes with a bit of water, it's easy to clean up after, and you can control it with precision.
This is a beginner-friendly workshop and is also suitable for different age groups. Using this medium, you can successfully capture the essence of an exciting idea.
Venue: KNMA Saket – 27th Nov 2022
Venue: KNMA Noida – 3rd Dec 2022
Time: 11am-1pm
Age Group: 16+
Registration for KNMA Saket Registration for KNMA Noida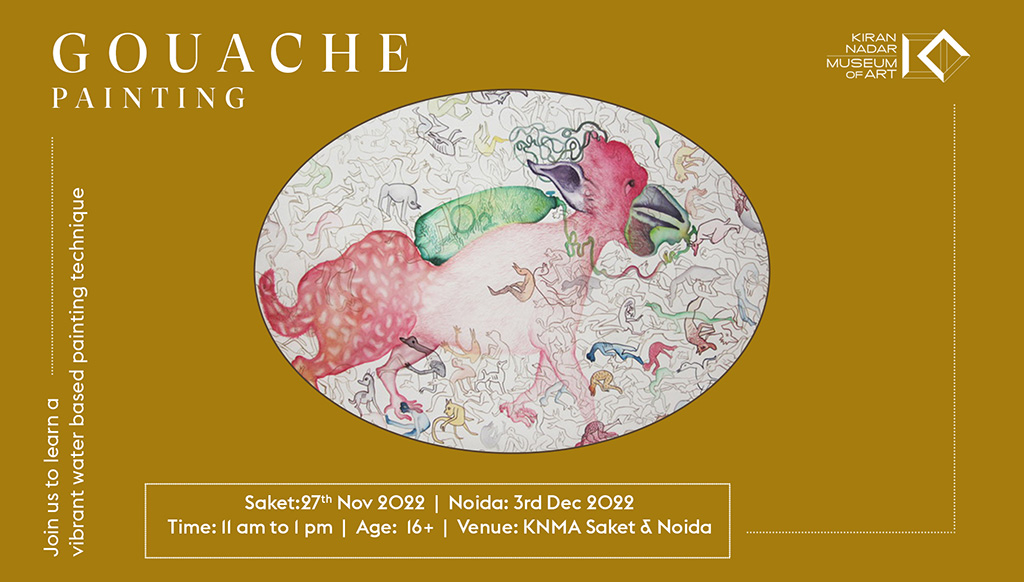 About Artist
Koustav Nag is a scholar and well-known artist from India. He completed his Master's degree at Visva Bharati University, Shantiniketan. He is pursuing PhD from Assam University Silchar. He has been a part of many national and international residencies and exhibitions, including Five Million Incident by Goethe Institut Germany Cultural centre, Imagining our Future Together Organized by World Bank USA, Jenesys Research Residency from Japan Foundation, Tokyo Wonder Site in Tokyo, Japan, National Exhibition in Lalit Kala Bharat Bhavan, India and many more.
REGISTER