Community
Hand Building
Discover with us the art of hand-building, an ancient pottery making technique that involves creating forms without the use of a pottery wheel using the hands, fingers, and basic tools. Experience the transformation of clay from its soft and mouldable form into your intended form by learning its three techniques: pinch, coil and slab construction.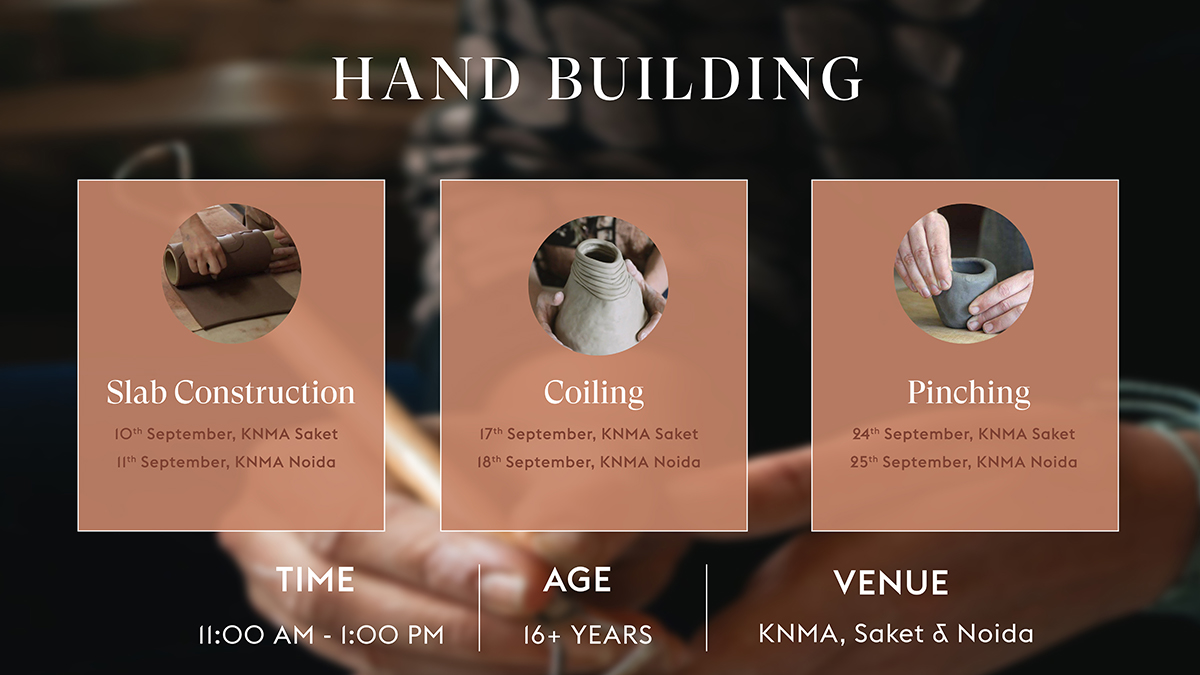 The registrations for this workshops are now closed.
Slab Construction
Learn the wonderful art of slab construction, a technique that was extensively used by various ancient civilizations, begins with smooth slabs of clay that are formed around moulds and are then layered. This technique is used to create more angular shapes that can't be created on a wheel.
Date:
10th September, Knma Saket
11th September, Knma Noida
Coiling
Explore the versatile and intricate technique of coil building; a forming method that uses rope-like coils of clay, assembled in successive courses to build up wall of vessel or sculpture and build forms of any design or scale.
Date:
17th September, Knma Saket
18th September, Knma Noida
Pinching
Get a hands-on experience of one of the earliest techniques for shaping the clay, the pinching method, extensively used in cultures all over the world to create exquisite ceramics that can be both ornamental and functional. Master the technique that involves using a lob of clay and pinching it into the desired shape.
Date:
24th September, Knma Saket
25th September, Knma Noida
Venue – Noida and Saket Museum
Age Group – 16+
Time – 11 am – 1 pm
REGISTER