NGO
How to Think in 3D
A workshop on paper sculptures
Facilitated by Gagan Singh
16 September 2022, 12 noon – 4:00 pm
KNMA Saket
Part of the Methods series
Registrations for this workshop is now closed.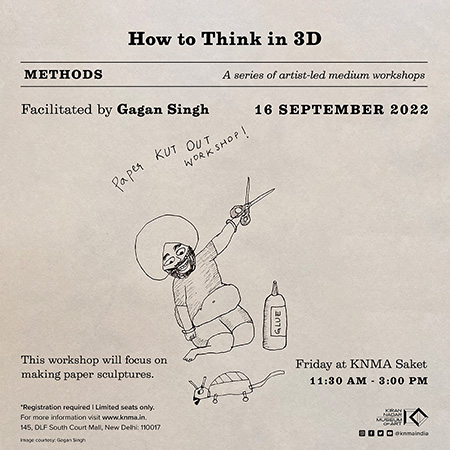 In this one day 'Drawing Intervention' workshop, participants will explore the idea of making sculptures with paper and delve into the process of intervening a site. The workshop will help participants address questions such as how does one see and respond to a location as well as the forms paper evolves into when cut. The workshop will tackle these basic enquiries and understand the tension between seeing a location and working with paper.
Interested and committed participants (18+) are expected to attend the entire duration of the workshop. Art material and refreshments will be provided. The onsite workshop with limited seats will be held at KNMA Saket.
Gagan Singh primarily defines himself as a Delhi-based object, and a visual artist dabbling in drawing - different modes of narration including illustrations, installations, storytelling, wall art and artist books. He is influenced by perception and explores various themes including everyday life, relationships, human nature through a satirical lens with the element of humour acting as an access point.
Born in 1975, Singh graduated from the Kent Institute of Art & Design, UK in 2005 with a Masters in Drawing. He has showcased his works in various solo and group exhibitions across the world including What I did Everyday (2019), Line Bombs (2014) in Mumbai; Mati Ghar (2014) in New Delhi; and The Drawing Project (2013) in Florida among others.
Methods : A series of artist led medium workshops organised by KNMA
The force driving at the crux of the segment has been to re-examine the mandate of a medium centric 'workshop' and looks beyond the usual format of craft-hobby workroom sessions. At the heart of each session is a chosen artist with their unique style of expression and fashioned in an actively interactive module of facilitator-participant format. This KNMA series highlights how the paradigmatic shifts in contemporary art making need to be registered at individual levels and not merely as institutional applied skill dissemination. The workshop opens up room for both artists and non-artists as well as keen learners to interact with practitioners from a wide spectrum of styles and media to reimagine the tools and raw material for art making - ranging from drawings, maps, personal memories to printing techniques to textual excerpts to found or broken objects, just to name a few.
Module curators: Neha Tickoo and Madhurima Chaudhuri