NGO
How to transmit earworms?
Exercises in Speculative Listening
Workshop with Suvani Suri
17, 19, 21, 23, 24 January 2021
THE ARTISTS' WAY #4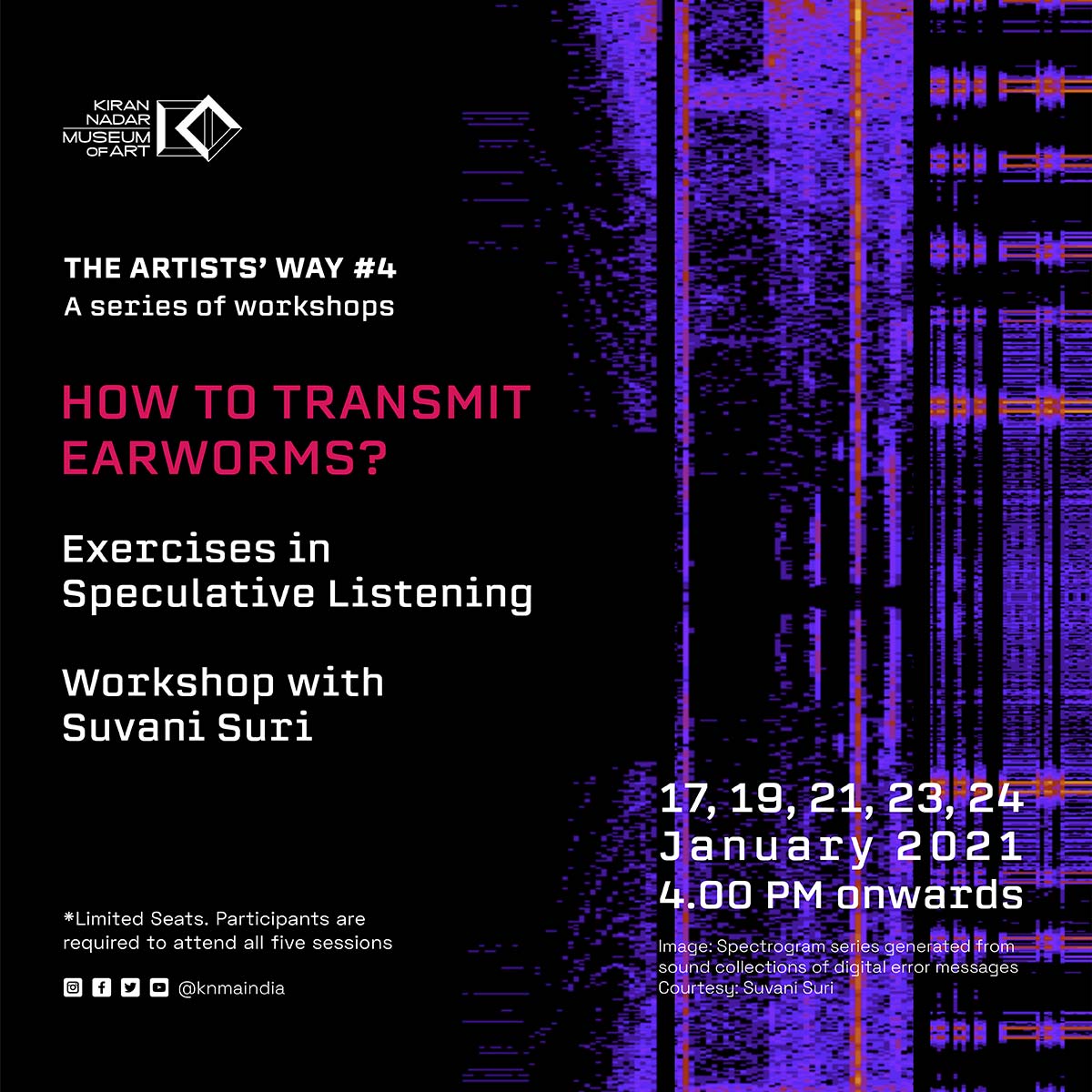 In the opening sections of More Brilliant Than The Sun: Adventures in Sonic Fiction (1998), Kodwo Eshun emphasizes that sound is a mode of thinking in itself and not merely that which is to be thought about.
Taking off from this concept and diving into the act of 'fictioning', the workshop explores possibilities of thinking through listening and transmitting earworms. A field of speculations and counter-speculations is seen to emerge from tuning in to the interstices of sound in existing narratives and apparatus – political, historical, technological and infrastructural. In the process of unearthing these, participants will be invited to a collective investigation into the philosophical and techno-political dimensions of voice, frequency and the audible. We start with a simple inquiry of 'what does an earworm mean to you?'
The five sessions will delve into the practice of listening as a means of speculation, examining its many sensorial and generative possibilities. From leaning into the disquiet in science-fiction writings to the fictions that are always inhabiting the 'real' of the world, this intensive short-module will unpack and unsettle the field of the aural, and attempt to open the question of the 'sensible'. Participants will collectively engage with the philosophical mediations on 'listening' by Jean Luc Nancy and the conceptual artefacts of Kodwo Eshun, while developing conversations around ideas of amplification, resonances, disquiet and acoustic dislocation or displacement across different mediums and technologies.
Intended as a participatory and discursive format, the workshop will follow an exercise-based methodology, along with a series of guest interventions that will catalyse our modes of sonic thinking and making. Participants will have access to a library of earworms specially populated for and during the sessions, viewing and listening materials, resources and readings.
This online workshop is free. Interested participants are expected to commit their presence on all days and undertake some group work between the sessions. The age limit for participation is 18 years and above. The workshop will explore the possibility of further collaborative work towards the end.
Suvani Suri is an artist and researcher based in New Delhi, India. Her interests and inter-media experiments have been tethered to the auditory spectrum, encountering and speculating its multi-fold possibilities. She has been exploring various modes of transmission such as podcasts, auditory texts, sonic environments, installations and live interventions. Alongside she has been actively involved in teaching at several universities and educational spaces.
This is the fourth program of the 'The Artists' Way' series of experimental workshops, organized virtually by KNMA. These workshops are led by practicing artists who have been using workshops as part of their art making process, often collaborating with different groups and forming their own personal, formal and informal networks of learning and unlearning. The series is imagined as an exploratory platform, with part pedagogic intent and infused with new questions, doubts, playfulness and sometimes also involving a collective/collaborative production towards the end of the workshop. The program is part of KNMA Education Outreach, with the focus on artistic research as new pedagogies of the future. Each workshop is unique, different in format, scope and methodology, wherein artists also share their related research. 'The Artists' Way' program is outlined by Akansha Rastogi, with Madhurima Chaudhuri, Neha Tickoo, Rajshree Poonam Gupta and Priya Chandra.