NGO
I Contain Multitudes
A workshop on portraiture and creations
Facilitated by Anish Cherian
25 & 26 February 2021, 4:00 – 6:00 pm

Registration for the workshop has been closed because we have reached the maximum number of registrations for the event. Thank you for your interest!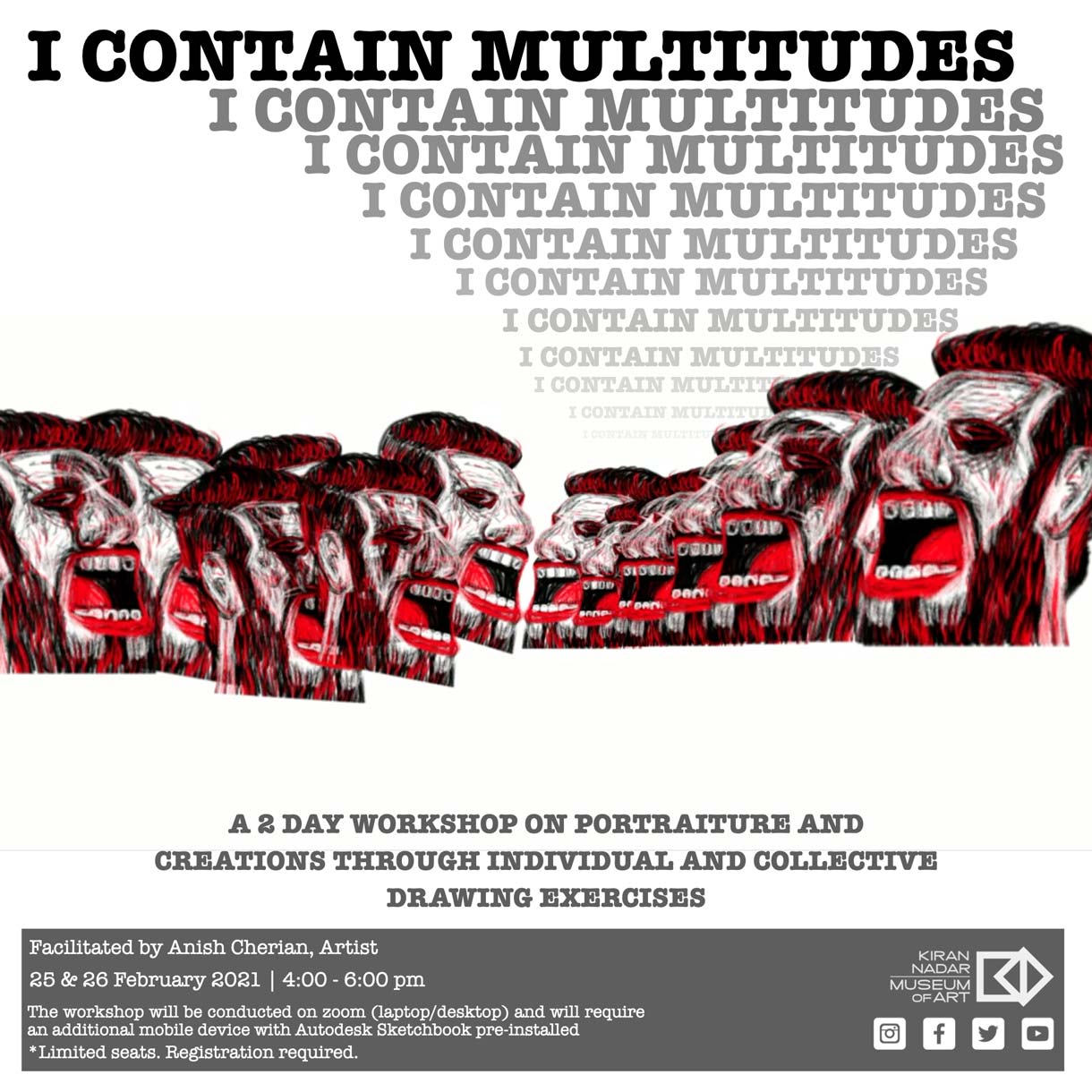 Kiran Nadar Museum of Art presents I CONTAIN MULTITUDES: A workshop on portraiture and creations facilitated by artist Anish Cherian. This two-day online workshop invites participants to reflect on portraits, characters, narrative, theme, and events in figurative drawings. Through individual and collective drawing exercises, using ideas and techniques in duplication, mark-making, and iconography, the workshop will explore the creation and reading signs or semiotic systems of meaning-making.
This workshop is suitable for those who have basic skills in drawing and are comfortable using digital drawing platforms. Participants will learn and work with Autodesk Sketchbook mobile application, and therefore are required to have a mobile device with the application pre-installed. Participants can also use other drawing surfaces and materials in addition. The sessions will be held on Zoom. Attending both days is mandatory. The workshop has limited seats.
Anish Cherian is a visual and performance artist based in Goa. He uses elements from architecture and modes of production to discuss systems of influence. Through these, he explores the visible and invisible performances of repetitive labor. His works can almost always be traced back to an archive, either personal or public. Yet, it is not the verifiability of the archive that he pursues. Going beyond archival abstractions his practice attempts to revitalize unrecordable memories and affects that are excluded from the archive and by extension the "official" narrative of our reality. He is a recipient of the Legislative Assistant for Member of Parliament Fellowship and resident at Skowhegan School of Painting & Sculpture. His drawings are currently part of an ongoing group show at KNMA titled, 'Right to Laziness...No, strike that! Sidewalking with the man saying sorry' curated by Akansha Rastogi.