Talks
Research as Practice 1.1
Conditions of Entry : Curatorial Agency & Interventions in the Histories of Art
A Lecture by Hammad Nasar
06 April 2021 | 6:00 pm IST
Zoom Webinar ID: 967 0689 7523
Live on Zoom, Facebook & YouTube
6 April 2021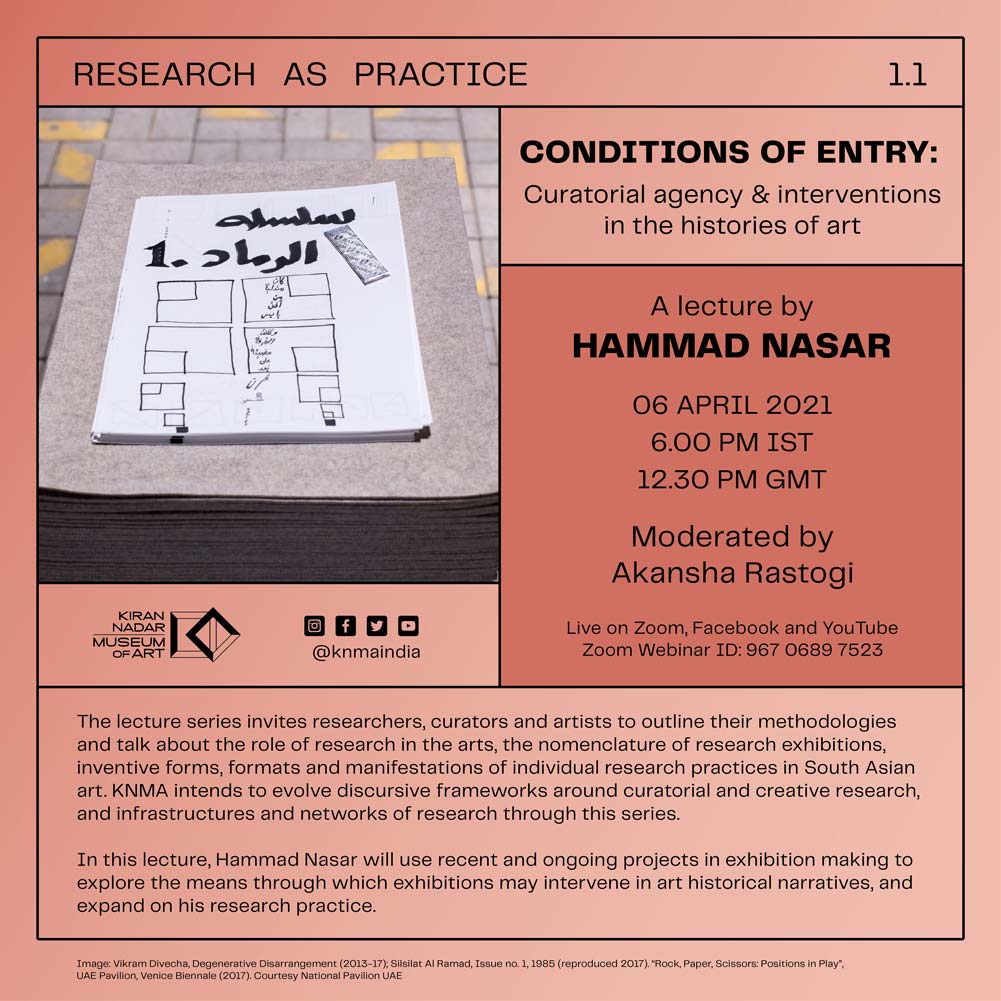 Kiran Nadar Museum of Art presents the new lecture series, ' Research as Practice.' The series invites researchers, curators and artists to outline their methodologies and talk about the role of research in the arts, the nomenclature of research exhibitions, inventive forms, formats and manifestations of individual research practices in South Asian art. KNMA intends to evolve discursive frameworks around curatorial and creative research, and infrastructures and networks of research through this series.
In this lecture, Hammad Nasar will use recent and ongoing projects in exhibition making to explore the means through which exhibitions may intervene in art historical narratives, and expand on his research practice. It will be moderated by Akansha Rastogi, Senior Curator, Kiran Nadar Museum of Art.
Hammad Nasar is a London-based curator, researcher and strategic advisor. He is currently Senior Research Fellow at the Paul Mellon Centre for Studies in British Art, where he co-leads the 'London, Asia' project; Principal Research Fellow at the Decolonising Arts Institute, UAL where is developing the 'Curating Nation' project; and co-curator of British Art Show 9. He was the inaugural Executive Director of the Stuart Hall Foundation, London (2018-19); Head of Research & Programmes at Asia Art Archive, Hong Kong (2012-16); and, co-founded the pioneering hybrid arts organisation, Green Cardamom, London (2004-12). Known for collaborative, research-driven and exhibition-led inquiry, he has curated numerous exhibitions internationally. Nasar has served in advisory, trustee and board roles for numerous organisations including: Mophradat (Belgium), British Council, Delfina Foundation, Iniva, Manchester Art Gallery, Tate Etc. and Whitechapel Gallery (UK), Lahore Biennale Foundation (Pakistan) and Alserkal Avenue (UAE). He is a member of the expert panel for Art and Design, History, Practice and Theory as part of the UK's Research Excellence Framework (REF 2021).
Akansha Rastogi is Senior Curator of exhibitions and programming at the Kiran Nadar Museum of Art (KNMA) in New Delhi. She was the Associate Curator of India Pavilion at the 58th Venice Biennale (2019). Her recent curatorial projects at KNMA include "Right to Laziness..." (2020), "Smell Assembly" (2019), "What Place is Kitchen? What Place Community?" (2018); "Hangar for the Passerby" (2017); conversation series "Invitation for a Coup" (2016); "Zones of Contact: Propositions on the Museum" (co-curated, 2013); and the performance series "Inhabiting the Museum" (2011–2015). She is an active member of artists-led initiatives, forums, and collectives in Delhi, including WALA.