Community
MAKING PRINTS NOIDA
Printmaking is a technique of art making carried on by transferring image from a prepared screen to a sheet of paper or other material. This process enables the production of multiples of the same image.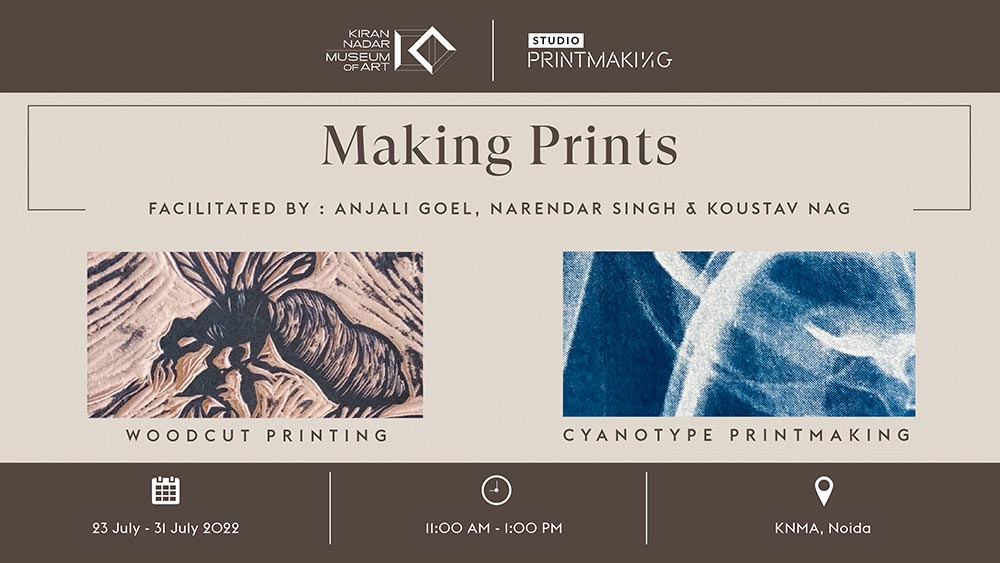 ---
Making Prints is a program which includes two forms of traditional and experimental print making i.e. CYANOTYPE and WOODCUT PRINTMAKING. The workshop includes a comprehensive understanding of the technique and procedure involved in printmaking practice.
2nd July to 10th July
Venue – KNMA, Noida
Time – 11 am – 1 pm
Age Group – 13+
Fees – Rs. 250 per Print Technique
Cyanotype Printmaking
Cyanotype, also known as a photographic printing technique, is a unique and simple manual process used to create print patterns that has been used for nearly 200 years by artists, botanists, and architects. It reveals original prints with good definition and an intense, unique shade of blue by using a photosensitive solution that dyes surfaces blue when in direct contact with light. During the two-day workshop, you will learn all of the steps necessary to create your cyanotype prints with ease, from solution preparation to image creation.
Materials
Photosensitive Chemicals, Hydrogen Peroxide, Paper for exposure, Acid free sheets for final prints, OHP sheets for hand-made negatives, required tools, including measurement tools, brushes, Markers and inks, Glass and board for contact sheets, Disposable gloves.
Dates – 23rd and 24th July
Woodcut Printmaking
Woodcut is among the oldest relief printmaking techniques. This workshop will introduce you to the tools and methods needed to allow you to carve and print from your own relief woodblocks. You will explore carving techniques to obtain a range of texture, depth, and contrast to create your artwork. Studying from the ongoing exhibition of works by Somnath Hore, you can see different possibilities of this medium at the workshop.
Materials
Blocks to carve (MDF board), relief carving tools, Reference sheet, Pencils/erasers, Transfer Paper, Brayer (ink roller), Ink knife/spatula, Water-based printing ink- Black, Paper - newsprint, archival paper for final printing.
Dates – 30th and 31st July
Disclaimer: Please note that all the workshop sessions will be recorded, and can be used on social media by KNMA
REGISTER