Community
Master the Art of Calligraphy!
Kiran Nadar Museum of Art (KNMA) and Inku Kumar, Founder, Calliart (an Institute of Handwriting and Calligraphy) presents experimental and traditional approaches to the art of Calligraphy. The workshop, led by Inku kumar herself, will focus on teaching Devanagari and Brush Calligraphy. Participants will learn how to hold a Devanagari pen, the basic strokes, letter formation as a pre-family, word formation, sentence formation, and how to create small Akshara designs and compositions. Students, guided by Kumar, will transform an elementary life lesson into a grand artistic journey during this workshop.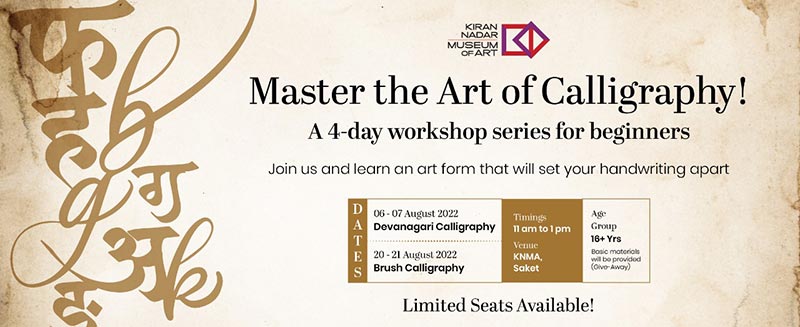 Dates – 6th and 7th August : Devanagari Calligraphy
Dates – 20th and 21st August : Brush Calligraphy
Time – 11am to 1 pm
Venue – KNMA, Saket
Age – 16+
Calligraphy is an ancient decorative handwriting and lettering art form that is more than just an expression of beauty and aesthetics. Slow and deep writing is a meditative process that allows us to express and reconnect with ourselves.
The Devanagari script evolved from the Brahmi script. Scholars have speculated that the word Devanagari is a combination of two Sanskrit words, 'Deva' (God, king, or Brahmans) and 'Nagari' (City). It literally translates to 'City of Gods' and 'Script of Gods.' The Devanagari script is a popular and widely used script in India, primarily for writing Hindi, Marathi, Nepali, and Sanskrit. Other languages, such as Punjabi, Sindhi, and Kashmiri, use it as an auxiliary script. Devanagari Calligraphy can be used to inscribe religious texts, write personal letters, and create works of art.
Brush Calligraphy is a type of calligraphy performed with a brush pen or a traditional brush. Each letter is written with heavy pressure on the downward stroke and light pressure on the upward stroke. It is commonly referred to as modern calligraphy due to the use of pressure and the appearance of the letters.
REGISTER