NGO
Methods Workshop | Anupam Roy
Methods Workshop
Facilitated by Anupam Roy
Saturday, 18 February 2023
Time: 2-6pm
Venue: KNMA Saket
Registrations for this workshop are now closed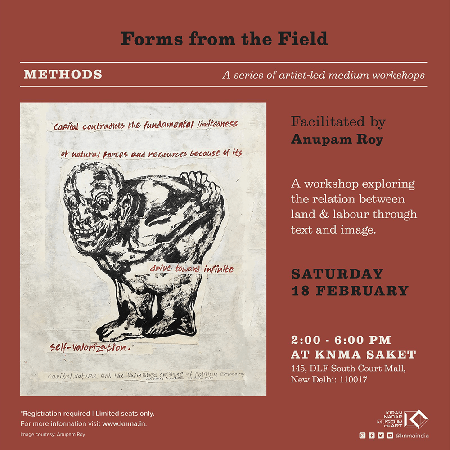 Through this workshop, participants will explore the relation of land and labour through the medium of text and image. Participants will think about how the land and labour relation takes shape across imaginations and interpretations of its many metaphors, through the poetics of making and reading together.
For the reading session, we invite all participants to bring with them short excerpts of texts that explore or express in some form the expanse of the topic and its associated visuals, metaphors, poetics, and politics. With these texts, we will be structuring a collectively sourced pool of readings and digital/drawn images that will serve as raw material for the image-making/collage exercise.
The texts can be in any language, and we encourage participants to consider poetic references. We welcome texts from across genres of poetry, fiction, non-fiction and/or critical writing. As we will be reading aloud our collectively sourced texts together, please excerpt up to only 1 - 2 paragraphs of long prose or poem otherwise short texts; would be ideal
Important: Interested and committed participants (18+) are expected to attend the entire duration of the workshop. Basic drawing and writing material will be provided. Participants are requested to bring anything additional they may wish to carry with them, including but not limited to drawing implements, notebooks, diaries etc. Those working with digital media are welcome to bring their devices (laptops, iPads, tablets) with them. The onsite workshop with limited seats will be held at KNMA Saket.
A formal training in Visual Arts combined with his lived experiences– engagement with local people and their everyday realities in many hinterlands of India has given Anupam Roy's artistic practices a distinct characteristic. His works emanate a grounded vitality that is palpably people centric and often an expression of his strong dissent against the dominating dystopian regimes and development aggression.
Anupam has a master's degree in Visual Arts from the Ambedkar University Delhi in the year 2016 and a second Master's in Fine Arts from the De Montfort University Leicester, UK in 2020. His works were part of the 2018 Triennial: Songs for Sabotage, New Museum New York. He also took part in several group shows and art fairs including Frieze Fair, London; Indian Art Fair, Delhi and "Historical Materialism", Montreal. In 2019 Anupam has his first gallery solo at Project 88 Mumbai. He has presented his works and thoughts in many seminars, panel discussions and workshops at the premier institutes like SOAS London and Bordeaux Montaigne University. He had his most recent solo show in December 2022 in Vadhera Art Gallery Delhi. Anupam is a recipient of the Charles Wallace long-term scholarship (2019-2020) and the FICA Emerging Artists Award (2018).
Besides showing his works in the galleries and arts spaces Anupam works tirelessly as a designer-campaigner, designing political posters, signages and graffiti and installing them at the site, often the site of an ongoing protest. In December 2022 Anupam joined as an Associate professor at Department of Art, Media and Performance, Shiv Nadar University, SNIOE, Greater Noida.