Talks
New Practices #1
Varunika Saraf in conversation with Zeenat Nagree
20 July 2022 | 6:30 pm IST
Zoom Webinar ID: 824 8053 7590
Live on Zoom, Facebook & YouTube
18 July 2022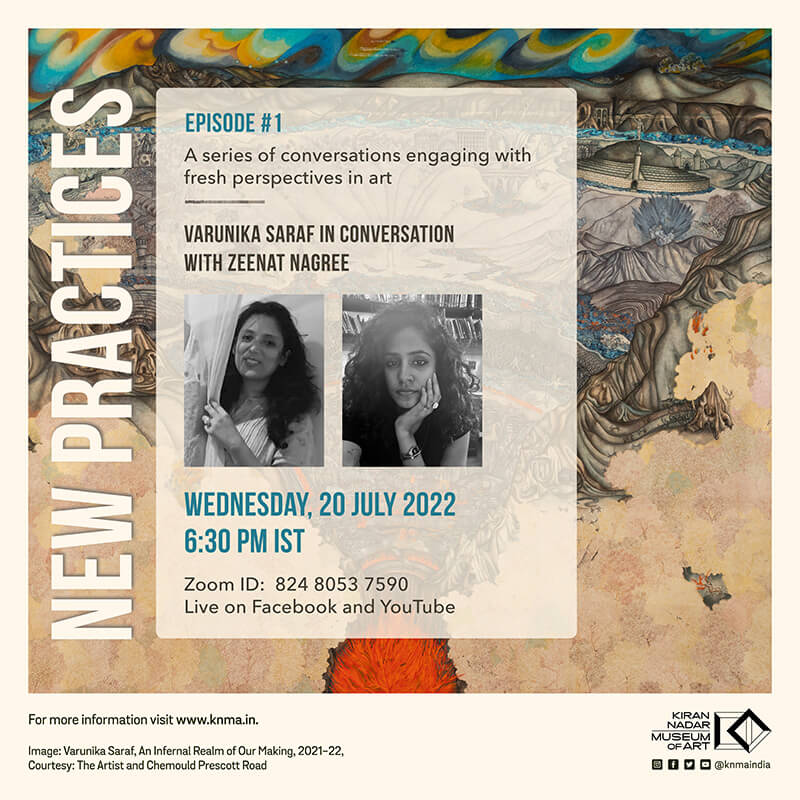 In the first session, of our newly launched series of conversations engaging with fresh perspectives in art, catch visual artist Varunika Saraf in conversation with writer and curator, Zeenat Nagree.
Where does contemporary begin and where does it end? New Practices, as the name suggests, explores the dynamic terrain of contemporary art, art-making and criticism through open public dialogue and articulation. With slow iterations, the series imagines itself as a river of processing thoughts and counter thoughts resonating with the times and its tribulations. Artists, curators, and critics from diverse areas come together to brew the chai / tea of their ideas and processes while they watch the river of conversation meander and flow around and beyond them. Hence, question and answer session with the listeners and viewers forms an integral part of each conversation.
Varunika Saraf is known for layering archival and mythical visual references to create a conceptual dialogue with the past and at the same time explore the antecedents of a range of contemporary political and social issues. These dense layers of often marginalised histories are narrated through the lives of dispossessed who appear alongside characters from history, and even imaginary beings in poetic landscapes. Saraf achieves this visual complexity through various techniques, which include the use of the wasli board, watercolours prepared from natural and mineral pigments, dyeing, embroidery, block-printing, etc. ch earlier in her artistic career, Saraf had developed the technique of layering different kinds of paper on canvas, plain cotton cloth, and printed fabric to create a surface for painting. Her interest in natural pigments, both mineral and synthetic, which she mostly prepares on her own, allows her to expand the palette.
Zeenat Nagree is an independent writer and curator living between Bombay and Montréal. She holds a Master's in Art History, Theory and Criticism from the School of the Art Institute of Chicago. Her art writing practice is built on an interest in writing 'around' art rather than writing 'about' art.
Series curated by Neha Tickoo and Madhurima Chaudhuri