Talks
New Practices #2
Birender Yadav in conversation with V Divakar
Friday, 7 October 2022 | 6:30 pm
Venue: KNMA Saket
The registrations for this workshops are now closed.
30 September 2022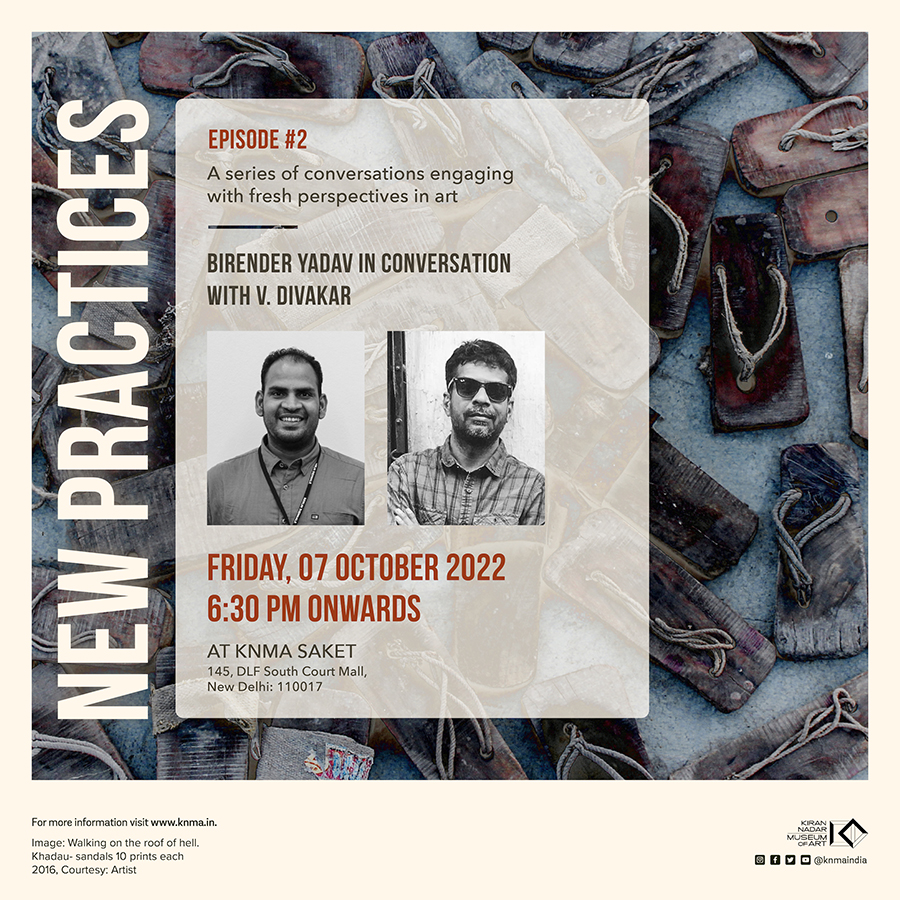 In the second session, we welcome a conversation focusing on fresh perspectives in art between artist Birender Yadav and curator V Divakar.
Where does contemporary begin and where does it end? New Practices, as the name suggests, explores the dynamic terrain of contemporary art, art-making and criticism through open public dialogue and articulation. With slow iterations, the series imagines itself as a river of processing thoughts and counter thoughts resonating with the times and its tribulations. Artists, curators, and critics from diverse areas come together to brew the chai / tea of their ideas and processes while they watch the river of conversation meander and flow around and beyond them. Hence, question and answer session with the listeners and viewers forms an integral part of each conversation.
Birender Yadav is a multi-disciplinary artist who experiments with various media including painting, sculpture, photography, installation, etching, found objects and man-made objects, as well as live documenting. Influenced by his early experiences as the son of a blacksmith working in a coal mine, his works often draw attention to the issues of class hierarchies and the plight of the working class. Using extracted materials from mundane objects, Yadav explores the complexities of class and identity while performing a commentary on power structures extant in contemporary socio-political structures. Birender Kumar Yadav earned a Bachelor's degree in Fine Arts from Banaras Hindu University and a Masters in Fine Arts specializing in Painting from the College of Arts, New Delhi in 2015. He lives and works in New Delhi.
V. Divakar is a Baroda-based curator and art critic. He also edits a bi-monthly called The Baroda Pamphlet, on art and culture. Besides that, he manages an experimental art collective called 'Knots' in Baroda. His other interests include films, music, books and star gazing. He is also associated with the Conflictorium in Ahmedabad, he curates exhibitions on various themes and facilitates the artist-in-residency programmes.
The series is curated by Neha Tickoo and Madhurima Chaudhuri