Talks
New Practices #4
Sahej Rahal in conversation with Arushi Vats
Tuesday, 6 December 2022 | 6:00 pm
Venue: KNMA Saket
29 November 2022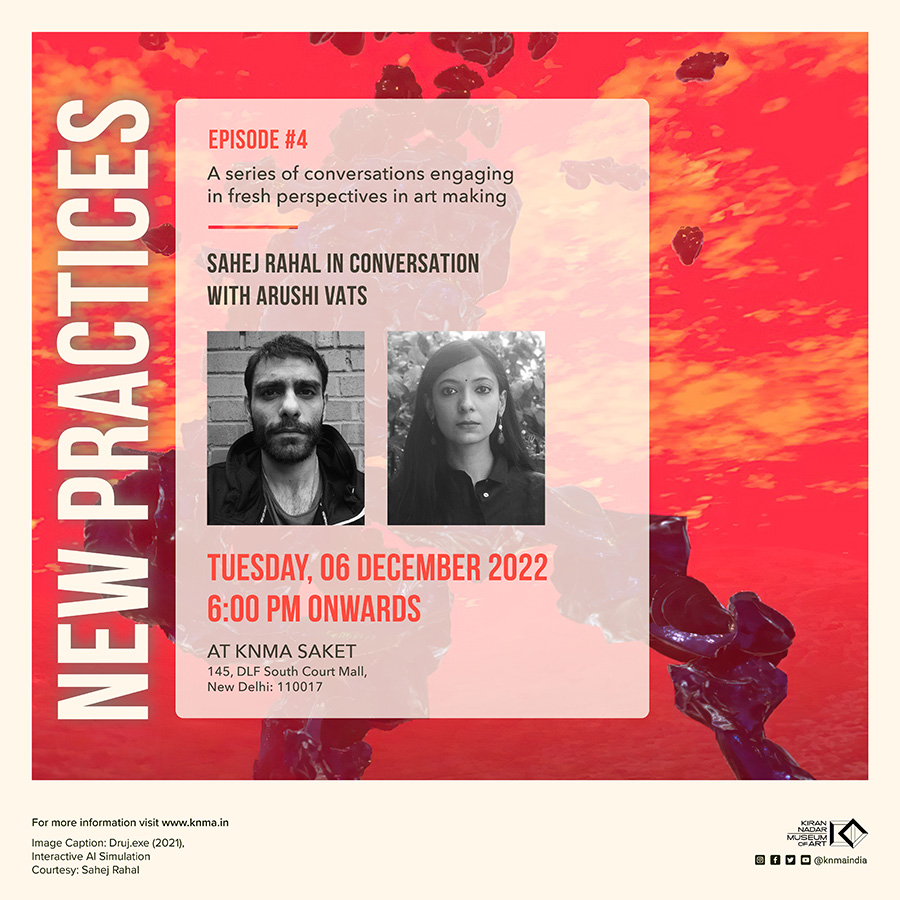 Where does contemporary begin and where does it end? New Practices, as the name suggests, explores the dynamic terrain of contemporary art, art-making and criticism through open public dialogue and articulation. With slow iterations, the series imagines itself as a river of processing thoughts and counter thoughts resonating with the times and its tribulations. Artists, curators, and critics from diverse areas come together to brew the chai / tea of their ideas and processes while they watch the river of conversation meander and flow around and beyond them. Hence, question and answer session with the listeners and viewers forms an integral part of each conversation.
This Series is curated by Neha Tickoo and Madhurima Chaudhuri, KNMA.
Arushi Vats | Bio
Arushi Vats is a curator and writer based in New Delhi, India. Her essays have been published in online and print platforms such as Usawa Literary Magazine, Art India Magazine, Runway Journal, Alternative South Asia Photography, LSE International History, Critical Collective, Write | Art | Connect, Frontline, Scroll, Mint, and The Quint; and in catalogues and anthologies by Serendipity Arts Foundation, New Delhi; Museum of Art and Photography, Bangalore (forthcoming, December 2022); Global Visual Handbook of Anti-Authoritarian Counterstrategies published by The Rosa Luxemburg Stiftung (forthcoming, 2022); and Safdar Hashmi Memorial Trust, India (January 2021). She has written curatorial notes for Anant Art Gallery, New Delhi; Galerie Mirchandani Steinruecke, Mumbai; Reliable Copy, Bangalore; Aicon Contemporary, New York. Her short stories are published in nether quarterly, Gulmohar Quarterly, and Hakara Journal; Poetry has been published by PIX Quarterly, India and as part of Zinnia Naqvi's artist book "Dear Nani" by Anchorless Press, Canada. She is the associate editor for Fiction at Alternative South Asia Photography; the recipient of the Momus - Eyebeam Critical Writing Fellowship 2021, and the Art Scribes Award 2021.
Sahej Rahal | Bio
Sahej Rahal, born in 1988, studied at the Rachana Sansad Academy of Fine Arts & Crafts, Mumbai, 2011. He is primarily a storyteller and weaves together fact and fiction, to create counter-mythologies that interrogate narratives shaping the present. His myth-world takes the shape of sculptures, performances, films, paintings, installations, and AI programs, that he creates by drawing upon sources ranging from local legends to science fiction, rendering scenarios where indeterminate beings emerge from the cracks in our civilization.
Rahal's participation in group and solo exhibitions includes the Gwangju Biennale, the Liverpool Biennial, the Kochi Biennale, the Vancouver Biennale, MACRO Museum Rome, Kadist SF, ACCA Melbourne, CCA Glasgow. He is the recipient of the Cove Park/Henry Moore Fellowship, Akademie Schloss Solitude Fellowship, the Sher-Gil Sundaram Arts Foundation Installation Art Grant, the Digital Earth Fellowship, and the first Human-Machine Fellowship organized by Junge Akademie ADK.