Community
Press Play Printmaking
Learn the most experimental printmaking technique in our upcoming Press Play workshop. One of the advantages of printmaking is having the ability to create multiple impressions of the same artwork. The medium's ability to reproduce images and create unique visual qualities has influenced everyone. Artists, in particular, have driven the medium forward by experimenting with its various processes, in which ink is moved from one surface to another. Below, we outline the most widely used printmaking techniques and how they work.
This workshop will run within the context of the ongoing exhibition of works by Anupam Sud titled Between Vows and Words open until end of October 2022. As a series of workshops that runs parallel to the exhibition, PRESS PLAY will involve slightly more technically intricate methods of printmaking that require an etching press. The series will impart knowledge of and make participants appreciate the umbrella field of Intaglio prints, which covers techniques like Etching, Drypoint, Collagraph, Monotype etc.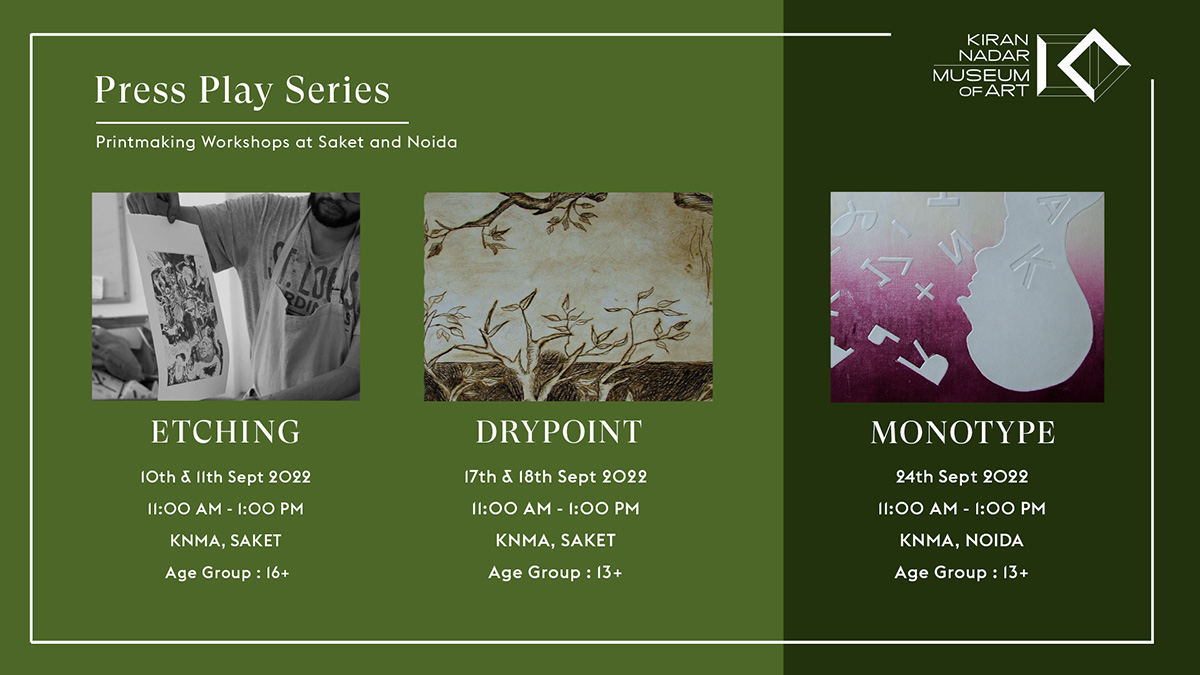 Registrations are closed for this workshop
Etching
In this printmaking technique, incised lines are produced on a metal plate, which then holds the applied ink and forms the image. The plate can be made of iron, copper, or zinc. This technique allows you to achieve a range of shallow and deep grooves; where an incision is shallow, the ink will be fainter, and where the incision is deeper, the ink will be more prominent. The workshop will take the participants through the processes of etching the plates and printing.
Age group: Age 15+
Date: 10 - 11 Sep 22
Venue: KNMA Saket
Drypoint
Drypoint is usually done on copper plates as the softer metal lends itself to this technique. It requires a sharp tool and a pointed needle-like instrument to form a design over it. This workshop is meant to introduce people to the most rapid of the intaglio processes, the technique of dry point. The participants will draw/scratch lines on acrylic or metal plates to make their designs and subsequently print them using an etching press.
Age group: Age 13+
Date: 17 - 18 Sep 22
Venue: KNMA Saket
Monotype
One of the most painterly printmaking techniques, monotypes mean the transfer of rolled on, scratched or brushed a layer of pigments or printing inks off a smooth plate onto a paper. The process lets the participants create a rapid design or texture on a smooth plate and get a unique, 'mono' impression on paper. But unlike the rest of the printmaking techniques on this list, monotypes only produce one impression.
Age group: Age 13+
Date: 24 Sep 22
Venue: KNMA Noida
Noida:– 11am to 1 pm
REGISTER