Talks
Research as Practice 1.3
Curator as Cat's Whisker
A lecture by Nida Ghouse
17 November 2021 | 6.00 pm IST
Zoom Webinar ID: 881 2126 1209
Live on Zoom, KNMA Facebook and YouTube
17 November 2021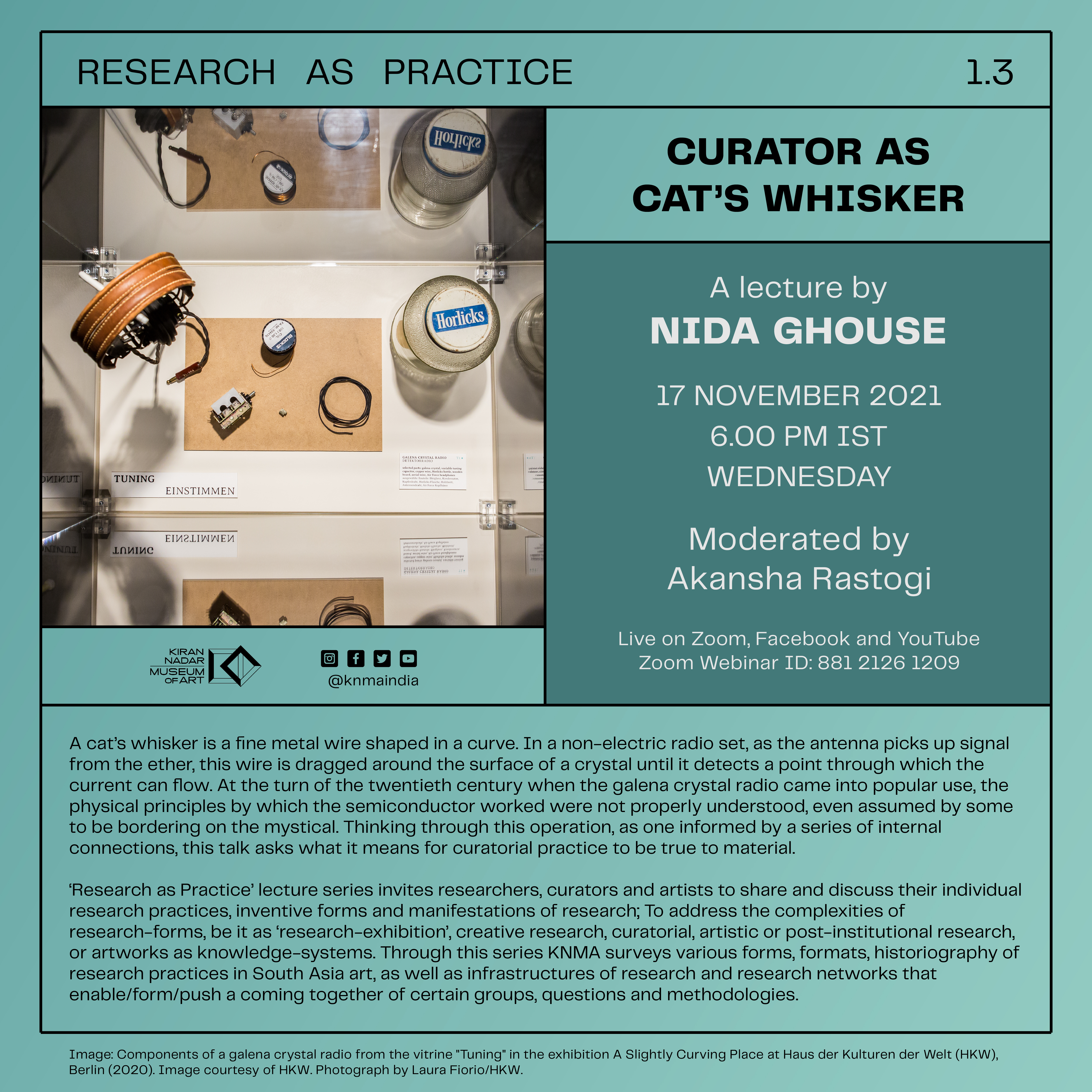 A cat's whisker is a fine metal wire shaped in a curve. In a non-electric radio set, as the antenna picks up signal from the ether, this wire is dragged around the surface of a crystal until it detects a point through which the current can flow. At the turn of the twentieth century when the galena crystal radio came into popular use, the physical principles by which the semiconductor worked were not properly understood, even assumed by some to be bordering on the mystical. Thinking through this operation, as one informed by a series of internal connections, this lecture by Nida Ghouse asks what it means for curatorial practice to be true to material. The talk will be moderated by Akansha Rastogi, Senior Curator, Kiran Nadar Museum of Art.
'Research as Practice' lecture series invites researchers, curators and artists to share and discuss their individual research practices, inventive forms and manifestations of research; To address the complexities of research-forms, be it as 'research-exhibition', creative research, curatorial, artistic or post-institutional research, or artworks as knowledge-systems. Through this series KNMA surveys various forms, formats, historiography of research practices in South Asia art, as well as infrastructures of research and research networks that enable/form/push a coming together of certain groups, questions and methodologies.
Nida Ghouse is a writer and curator. She is Visiting Lecturer at the Interdisciplinary Doctoral Program in the Humanities at Princeton University for Spring 2022 and Co-Artistic Director of the Singapore Biennale 2022. With Vic Brooks, she received the 2021 Andy Warhol Foundation curatorial fellowship for the exhibition Shifting Center upcoming at EMPAC in 2023. At Haus der Kulturen der Welt, she curated A Slightly Curving Place (2020) in the framework of 'An Archaeology of Sound,' a collaborative project responding to the acoustic archaeologist Umashankar Manthravadi. The project travels to Alserkal Arts Foundation over 2021-2022 and encompasses 'Coming to Know,' a discourse programme with Brooke Holmes; 'A Supplementary Country Called Cinema,' a film programme with Surabhi Sharma; and An Archaeology of Listening, a publication series with Archive Books. Previously, she co-curated Parapolitics: Cultural Freedom and the Cold War (2017) and co-edited its accompanying publication (Sternberg 2021), also at Haus der Kulturen der Welt.
Akansha Rastogi is Senior Curator of exhibitions and programming at the Kiran Nadar Museum of Art (KNMA) in New Delhi. She was the Associate Curator of India Pavilion at the 58th Venice Biennale (2019). Her recent curatorial projects at KNMA include "Right to Laziness..." (2020), "Smell Assembly" (2019), "What Place is Kitchen? What Place Community?" (2018); "Hangar for the Passerby" (2017); conversation series "Invitation for a Coup" (2016); "Zones of Contact: Propositions on the Museum" (co-curated, 2013); and the performance series "Inhabiting the Museum" (2011–2015). She is an active member of artists-led initiatives, forums, and collectives in Delhi, including WALA.