Talks
Research as Practice 1.4
Critical Inquiry as Necessity – A Non-Expert Opinion
A lecture by Saira Ansari
27 November 2021 | 6.00 pm IST
Zoom Webinar ID: 846 6060 1640
Live on Zoom, KNMA Facebook and YouTube
27 November 2021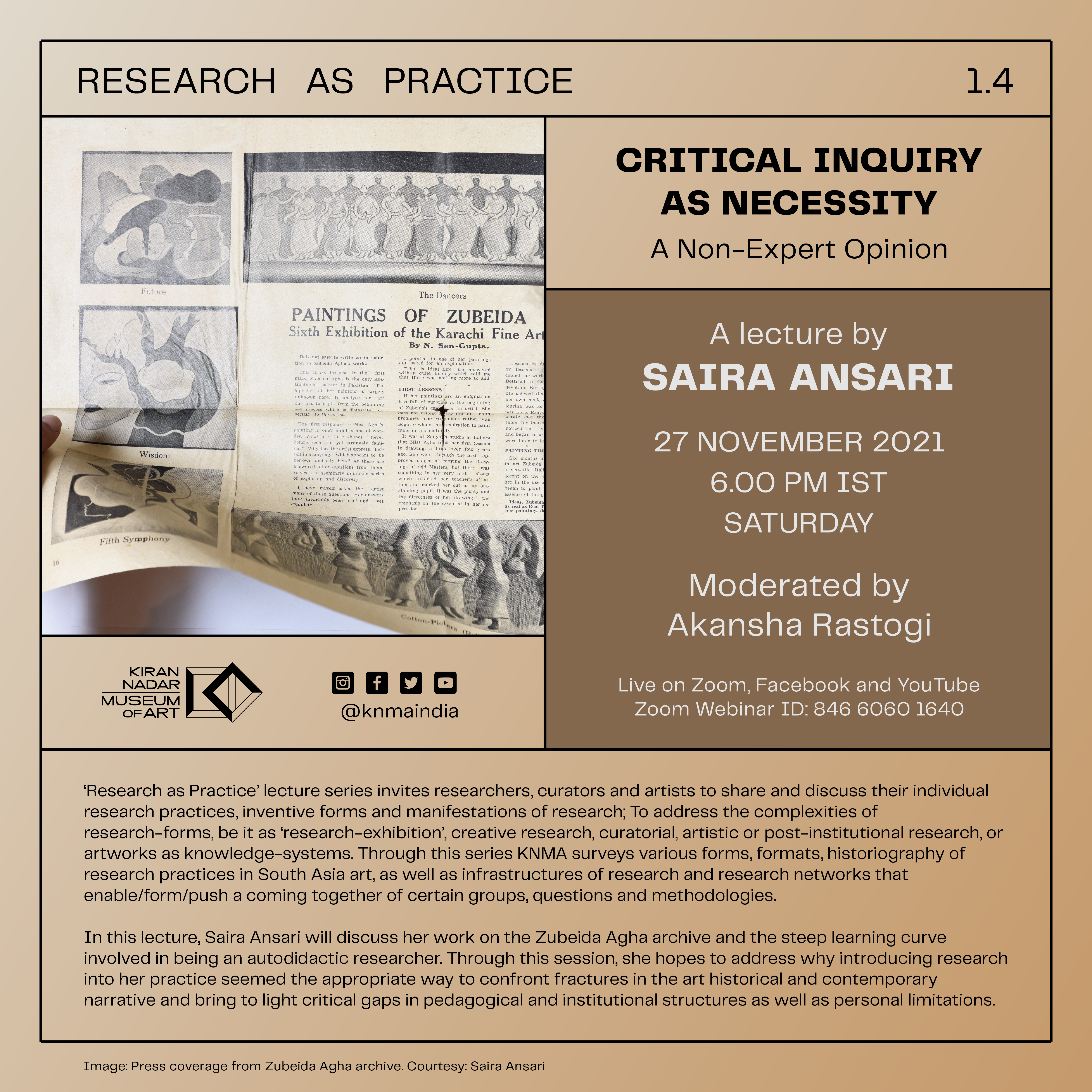 In the fourth lecture of the series 'Research as Practice', Saira Ansari will discuss her work on the Zubeida Agha archive and the steep learning curve involved in being an autodidactic researcher. Through this session, she hopes to address why introducing research into her practice seemed the appropriate way to confront fractures in the art historical and contemporary narrative and bring to light critical gaps in pedagogical and institutional structures as well as personal limitations.
'Research as Practice' lecture series invites researchers, curators and artists to share and discuss their individual research practices, inventive forms and manifestations of research; To address the complexities of research-forms, be it as 'research-exhibition', creative research, curatorial, artistic or post-institutional research, or artworks as knowledge-systems. Through this series KNMA surveys various forms, formats, historiography of research practices in South Asia art, as well as infrastructures of research and research networks that enable/form/push a coming together of certain groups, questions and methodologies.
Saira Ansari is a writer and researcher who employs creative non-fiction to think about art practice and criticism, feminist histories, gardens, grief, science fiction, and South Asia. Ansari has worked on and written for several print and digital publications, and is the editor of upcoming monographs on Bani Abidi and Sahand Hesamiyan. Ansari's research focuses on Pakistani modernist Zubeida Agha (1922–1997) and projects include the Zubeida Agha Archive, hosted by Asia Art Archive (Hong Kong) and made possible through the Lahore Biennale Foundation Research Fellowship. Collaborative curatorial projects include The importance of staying quiet (Hong Kong, 2014); within | without (London, 2018); and moonshow (Dubai, 2018). Most recently, Ansari worked at the Sharjah Art Foundation coordinating publications and the FOCAL POINT art book fair.
Akansha Rastogi is Senior Curator of exhibitions and programming at the Kiran Nadar Museum of Art (KNMA) in New Delhi. She was the Associate Curator of India Pavilion at the 58th Venice Biennale (2019). Her recent curatorial projects at KNMA include "Right to Laziness..." (2020), "Smell Assembly" (2019), "What Place is Kitchen? What Place Community?" (2018); "Hangar for the Passerby" (2017); conversation series "Invitation for a Coup" (2016); "Zones of Contact: Propositions on the Museum" (co-curated, 2013); and the performance series "Inhabiting the Museum" (2011–2015). She is an active member of artists-led initiatives, forums, and collectives in Delhi, including WALA.