Talks
Research as Practice 2.3
An Architect Contemplates Diasporic Longing
A lecture by Shahed Saleem
24 March 2022, 6.00 pm IST
Zoom Webinar ID: 831 8339 6163
Live on Zoom, Facebook & YouTube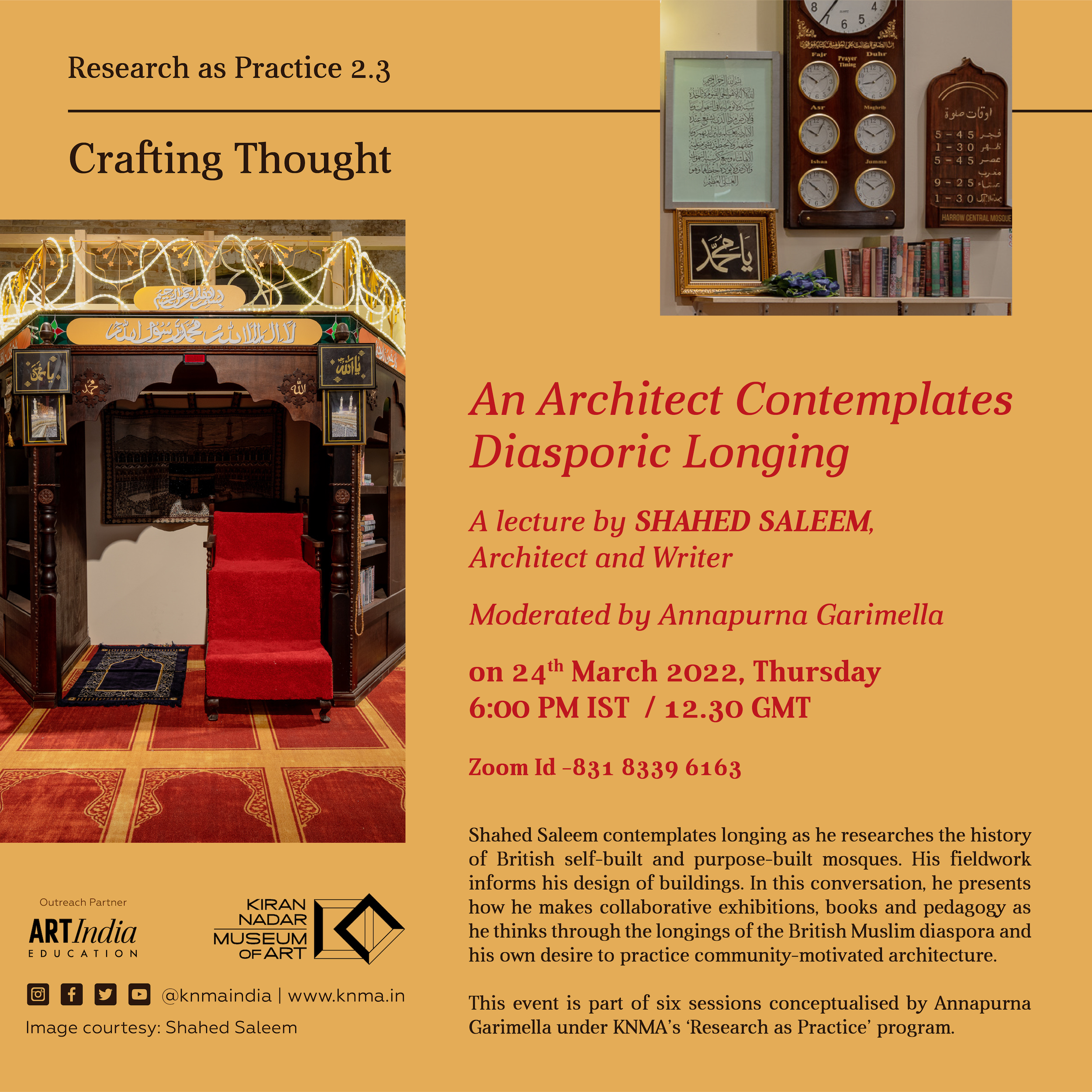 Kiran Nadar Museum of Art presents the second segment of the online lecture series 'Research as Practice' titled Crafting Thought. In this lecture, Shahed Saleem contemplates longing as he researches the history of British self-built and purpose-built mosques. His fieldwork informs his design of buildings. He will present how he makes collaborative exhibitions, books and pedagogy as he thinks through the longings of the British Muslim diaspora and his own desire to practice community-motivated architecture.
This event is part of a set of six sessions conceptualized and moderated by Annapurna Garimella that take the idea of research in practice to explore how scholars, curators, publishers, and artists reflect on the way they think and shape an enquiry. Thought has to be continually and skillfully crafted and re-crafted as they engage archives, forms of art and new information. How do practitioners do this? Conversations, modes of research output and engagement with art publics evolve while people, life and world events shift. Thought is immaterial and often evanescent but to gain gravity as an idea and then seed an enquiry, it must be crafted. In the crafting of research practices, accident, intuition, intention, will, desire and fear play important roles. The conversations in this set seek to engage committed practitioners in a discussion about how they work to think.
KNMA initiated the 'Research as Pratice' lecture series in February 2021, and has welcomed the likes of Hammad Nasar, Grant Watson, Nida Ghouse, Saira Ansari and Alexander Keefe. The series invites researchers, curators and artists to share and discuss their individual research practices, inventive forms and manifestations of research. It attempts to address the complexities of research-forms, be it as 'research-exhibition', creative research, curatorial, artistic or post-institutional research, or artworks as knowledge-systems. This program is conceptualised and organised by Akansha Rastogi, Senior Curator, KNMA.
Shahed Saleem is an architect and writer who teaches at the University of Westminster School of Architecture. His particular research and practice interests are in the architecture of migrant communities, and in particular their relationship to notions of heritage, belonging and nationhood. His book, The British Mosque, was published by Historic England in 2018, and he co-curated the V&A Pavilion at the Venice Biennale 2021.
Annapurna Garimella is an art historian and designer who researches medieval Indic architecture and visual and built cultures in India after Independence. She heads Art, Resources and Teaching, a research library dedicated to projects and teaching in the visual, built and performing arts and Jackfruit Research and Design, which specialises in research and curation for the arts. Her recent books are the co-edited The Contemporary Hindu Temple (Marg, 2019) and the upcoming The Long Arc of South Asian Art in honour of art historian Vidya Dehejia (Women Unlimited, 2022). Digesting the Past: The Discourse of Sacralized Architectural Renovation in Southern India is her manuscript in preparation.