Talks
Research as Practice 2.4
"What does the weaver know, when she knows to weave?"
A Lecture by Annapurna Mamidipudi
07 April 2022, 6:30 pm IST
Zoom Webinar ID: 818 8920 4334
Live on Zoom, Facebook & YouTube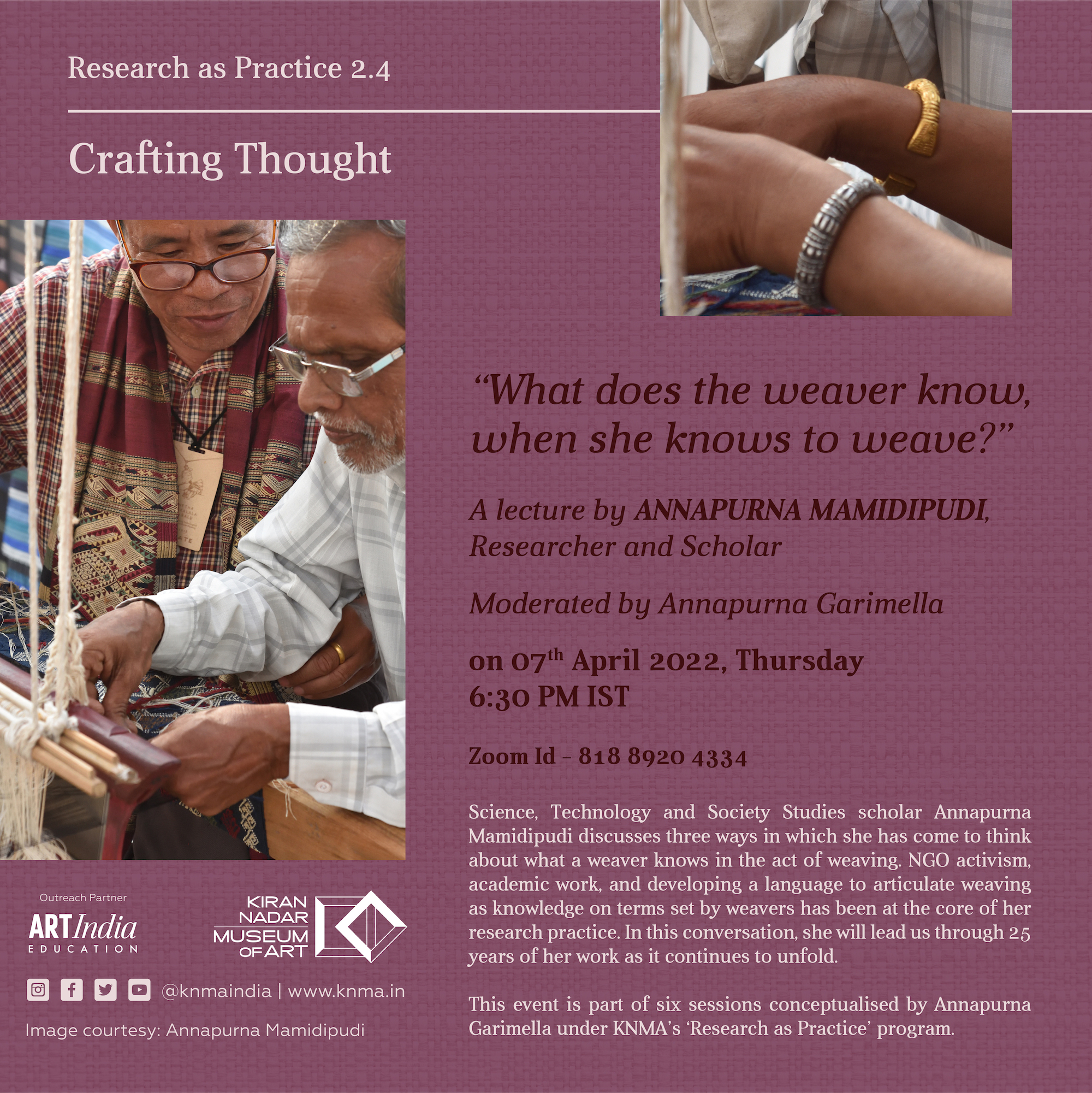 Kiran Nadar Museum of Art presents the second segment of the online lecture series 'Research as Practice' titled Crafting Thought with its fourth lecture "What does the weaver know, when she knows to weave?" In this lecture, Science, Technology and Society Studies scholar Annapurna Mamidipudi discusses three ways in which she has come to think about what a weaver knows in the act of weaving. NGO activism, academic work, and developing a language to articulate weaving as knowledge on terms set by weavers has been at the core of her research practice. In this conversation, she will lead us through 25 years of her work as it continues to unfold.
'Crafting Thought' is a set of six sessions conceptualized and moderated by Annapurna Garimella take the idea of research in practice to explore how scholars, curators, publishers, and artists reflect on the way they think and shape an enquiry. Thought has to be continually and skillfully crafted and re-crafted as they engage archives, forms of art and new information. How do practitioners do this? Conversations, modes of research output and engagement with art publics evolve while people, life and world events shift. Thought is immaterial and often evanescent but to gain gravity as an idea and then seed an enquiry, it must be crafted. In the crafting of research practices, accident, intuition, intention, will, desire and fear play important roles. The conversations in this series seek to engage committed practitioners in a discussion about how they work to think.
KNMA initiated the 'Research as Pratice' lecture series in February 2021, and has welcomed the likes of Hammad Nasar, Grant Watson, Nida Ghouse, Saira Ansari and Alexander Keefe. The series invites researchers, curators and artists to share and discuss their individual research practices, inventive forms and manifestations of research. It attempts to address the complexities of research-forms, be it as 'research-exhibition', creative research, curatorial, artistic or post-institutional research, or artworks as knowledge-systems. This program is conceptualised and organised by Akansha Rastogi, Senior Curator, KNMA.
Trained as an engineer in electronics and communications, Annapurna Mamidipudi has worked with artisan production for nearly two decades in South India and set up an NGO that supported vulnerable craft livelihoods. She is currently a postdoctoral fellow at the Max Planck Institute for the History of Science and is employed at the University of Maastricht to study responsible innovation. Her thesis is titled "Towards theory of Innovation for handloom weaving in India." She has trained herself in natural dyeing techniques that were slowly becoming extinct, and actively assisted production processes of artisan groups.
She is an awardee of the Global Social Business Incubator program of Santa Clara University of 2009, member Timbaktu Collective's General Body, and on the executive committee of the Craft Education and Research Centre at Kalakshetra, the premier Music and Dance institution, in Chennai. She is the producer of a musical opera, Pallaki Seva Prabandhamu, directed by renowned musician R. Vedavalli. Her research interests include the study of traditional craft in the contemporary world, particularly handloom weaving as livelihood, as socio-technology and knowledge; sustainable agriculture, politics of development and the role of markets in sustaining traditional arts and crafts.
Annapurna Garimella is an art historian and designer who researches medieval Indic architecture and visual and built cultures in India after Independence. She heads Art, Resources and Teaching, a research library dedicated to projects and teaching in the visual, built and performing arts and Jackfruit Research and Design, which specialises in research and curation for the arts. Her recent books are the co-edited The Contemporary Hindu Temple (Marg, 2019) and the upcoming The Long Arc of South Asian Art in honour of art historian Vidya Dehejia (Women Unlimited, 2022). Digesting the Past: The Discourse of Sacralized Architectural Renovation in Southern India is her manuscript in preparation.