Talks
Research as Practice 2.5
A Lecture by Lilly Irani
12 May 2022, 6:30 pm IST
Zoom Webinar ID: 868 7350 3088
Live on Zoom, Facebook & YouTube
28 May 2022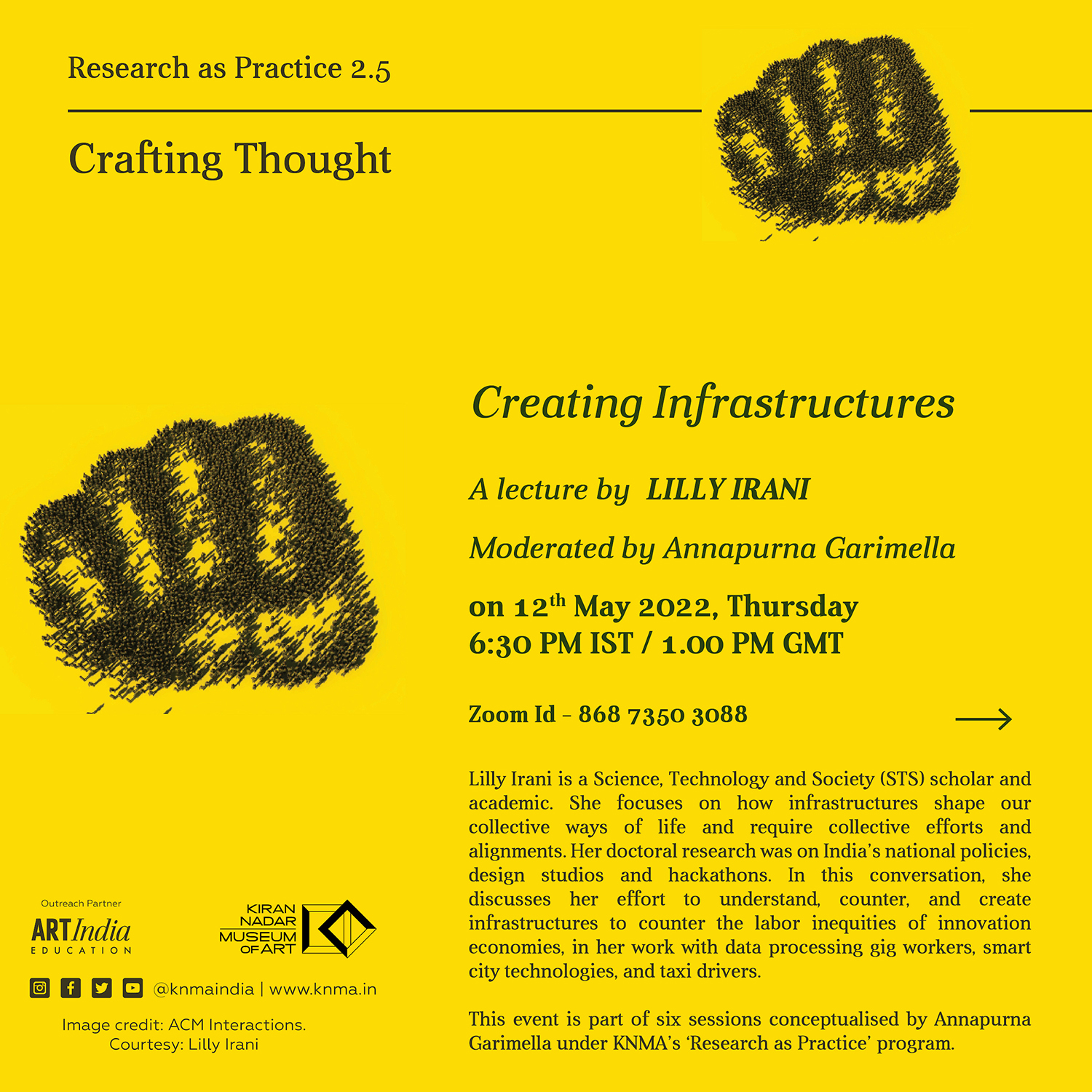 Kiran Nadar Museum of Art presents the second segment of the online lecture series 'Research as Practice' titled Crafting Thought with its fifth lecture Creating Infrastructure by Science, Technology and Society (STS) scholar and academic Lilly Irani. In this conversation, she discusses her effort to understand, counter, and create infrastructures to counter the labor inequities of innovation economies, in her work with data processing gig workers, smart city technologies, and taxi drivers.
'Crafting Thought' is a set of six sessions conceptualized and moderated by Annapurna Garimella take the idea of research in practice to explore how scholars, curators, publishers, and artists reflect on the way they think and shape an enquiry. Thought has to be continually and skillfully crafted and re-crafted as they engage archives, forms of art and new information. How do practitioners do this? Conversations, modes of research output and engagement with art publics evolve while people, life and world events shift. Thought is immaterial and often evanescent but to gain gravity as an idea and then seed an enquiry, it must be crafted. In the crafting of research practices, accident, intuition, intention, will, desire and fear play important roles. The conversations in this series seek to engage committed practitioners in a discussion about how they work to think.
KNMA initiated the 'Research as Practice' lecture series in February 2021, and has welcomed the likes of Hammad Nasar, Grant Watson, Nida Ghouse, Saira Ansari and Alexander Keefe. The series invites researchers, curators and artists to share and discuss their individual research practices, inventive forms and manifestations of research. It attempts to address the complexities of research-forms, be it as 'research-exhibition', creative research, curatorial, artistic or post-institutional research, or artworks as knowledge-systems. This program is conceptualised and organised by Akansha Rastogi, Senior Curator, KNMA.
Lilly Irani is an Associate Professor of Communication & Science Studies at University of California, San Diego. She also serves as faculty in the Design Lab, Institute for Practical Ethics, the program in Critical Gender Studies, and sits on the Academic Advisory Board of AI Now (NYU). She is author of Chasing Innovation: Making Entrepreneurial Citizens in Modern India (Princeton University Press, 2019) and Redacted (with Jesse Marx) (Taller California, 2021). Her research examines the cultural politics of high-tech work and the counter-practices they generate, as both an ethnographer, a designer, and a former technology worker. She is a co-founder of the digital worker advocacy organization Turkopticon. She sits on the Editorial Committee of Public Culture and on the Editorial Advisory Boards of New Technology, Work, and Employment and Design and Culture.
Annapurna Garimella is an art historian and designer who researches medieval Indic architecture and visual and built cultures in India after Independence. She heads Art, Resources and Teaching, a research library dedicated to projects and teaching in the visual, built and performing arts and Jackfruit Research and Design, which specialises in research and curation for the arts. Her recent books are the co-edited The Contemporary Hindu Temple (Marg, 2019) and the upcoming The Long Arc of South Asian Art in honour of art historian Vidya Dehejia (Women Unlimited, 2022). Digesting the Past: The Discourse of Sacralized Architectural Renovation in Southern India is her manuscript in preparation.