Talks
Revelations Series
Rajendar Tiku in dialogue with Roobina Karode
20 December 2021| 6:00 pm IST
Live on Zoom, Facebook and YouTube
Zoom Webinar ID: 876 4752 0466
20 December 2021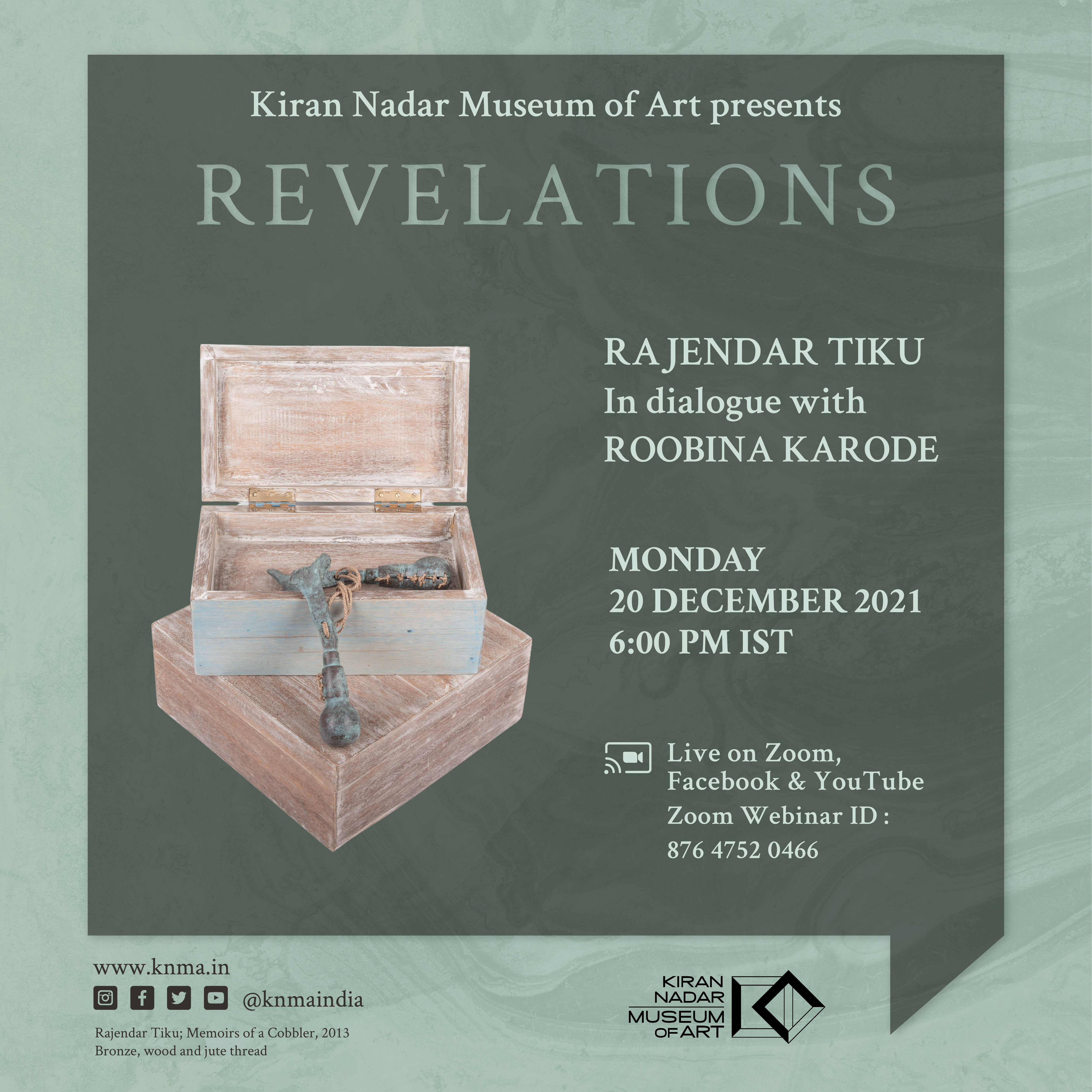 Kiran Nadar Museum of Art presents the online series, 'Revelations' where artists expound on their practice, sharing moments of creative discovery and insights into their art-making. The fourth from the series will unfold a dialogue between Rajendar Tiku and Roobina Karode.
Rajendar Tiku was born in 1953 in the village of Wadwan in Kashmir. He completed a Bachelor's Degree in Science and then Law from Kashmir University in 1974 and 1976 respectively, before pursuing a five year course in sculpture from the Institute of Music & Fine Arts, Srinagar. Tiku's sculptural practice is marked by his innovative workings with diverse materials including stone, bronze, wood and terracotta; where he often combines different elements to create a unique visual language. Thematically, Tiku's work explores the idea of the 'abandoned homeland,' memories and migration, having been a survivor of the forced mass migration from the Kashmir Valley.
Tiku has taught at the Institute of Fine Arts, Jammu and Srinagar and was also a Visiting Professor at Musashino Art University, Tokyo. He is the recipient of several awards and honours including the the Gottlieb Foundation Grant for his work/project 'Tradition, Continuity and Contemporaneity'; Pollock-Krasner Foundation Grant in 2005, for his work and execution of monumental stone sculpture in reference to places of heritage importance in India; Senior Fellowship of the Ministry of Human Resource Development, 1997-98; Government of India; 8th Triennale India Award (International) for Sculpture, 1994; The National Award for Sculpture, 1993. In 2013, Tiku was awarded the Padma Shri in the field of Visual Arts, with special reference to his creative treatment of form and the innovative methods of material combination along with his idea of 'sculpture as materialisation of thought. Selected exhibitions include Womb & the Sprout, Threshold Art Gallery, New Delhi, 2017; Metaphors in Matter, Gallery Espace, New Delhi, 2008 and Bronze, organised by Lalit Kala Akademi, held at Gallery Espace, New Delhi, 2006 among others.