Community
Silk Screen Printing with Air Ink
An artistic screen printing project, which includes the installation of a temporary screen printing workshop. The aim of the project is to use classical screen printing in combination with contemporary content for a project in public space. Textual as well as photographic models, which above all raise socio-cultural questions about social contexts and critically question them, will be exposed on screens and printed directly in public space. Overprints of poster surfaces, wall or glass surfaces, as well as specially produced canvases, wooden surfaces, etc., can be used. This kind of direct reference to the found underground transforms every public surface into an artistic starting point, inviting critical and aesthetic reflection.
We collaborate with Delhi based Graviky Labs for this workshop. Graviky Labs developed an air-ink which is produced out of collected air-polluting carbon particels which are filtered out of contamined air in Bangalore, Delhi aso. Making and using this ink for the prints in public space is a perfect tool of reflecting our circle of resources and circle of memes – and what we could do concerning art in public space.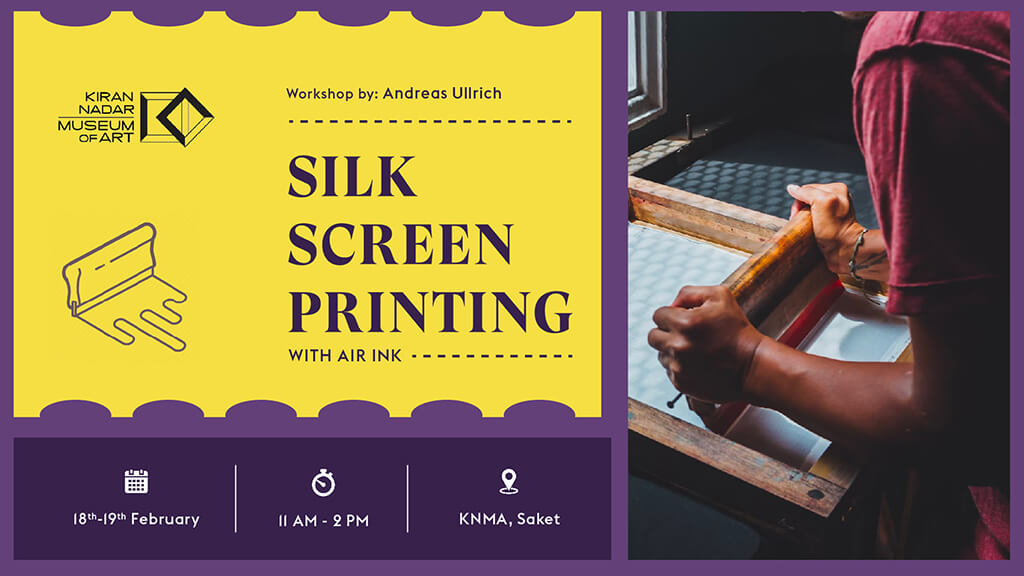 Date : 18th & 19th February 2023
Time : 11:00am to 2:00pm
Venue: Kiran Nadar Museum of Art, Saket
Andreas Ullrich
was born 1977 in Freiberg, Saxony, East Germany and studied Law, Photography and Media Arts at HGB Leipzig, Germany. He is a master scholar of the class for Intermedia, Prof. Alba D ́Urbano. Working in the field of media art for more than 20 years, he has organised several independent art spaces such as C.Rockefeller Center for the contemporary Arts Dresden and Theatre Impermanent, Leipzig. He runs a publishing house International Neighborhood Publishing in Leipzig, a seriegraphy studio in Dresden, die siebdrucker.de and a media lab for experimental design, publishing and artistic projects: WILDSMILE STUDIOS. He is part of the arts&culture track of the chaos computer club Germany and organises miscellaneous exhibitions about digital transformations and new media. He is the head of the association DRESDEN CONTEMPORARY ART and hosts several Artist-in-Residency programmes, in collaboration with Meetfactory Praha, Goethe-Institut, the City of Dresden and so on. His artistic work concentrates on art in public space, printmaking, media art and conceptual photography and has been shown in many international and national exhibitions in museums and independent art spaces alike, such as GRASSI MUSEUM, Leipzig, KUNSTHALLE EXNERGASSE, Vienna, Gallery Q, Kopenhagen, Version Festival, Chicago, Hill Hacks Conference, Dharmasala, TATUM Festival, Ulan Bator, AZULATO Festival Kampala, Uganda, PRINTED MATTER New York Art Book Fair and many more.
REGISTER