NGO
Small Forces
An online three-day intensive on Cities
With Rupali Gupte and Prasad Shetty
02 – 04 September 2021
THE ARTISTS' WAY #6
A Series of Intensives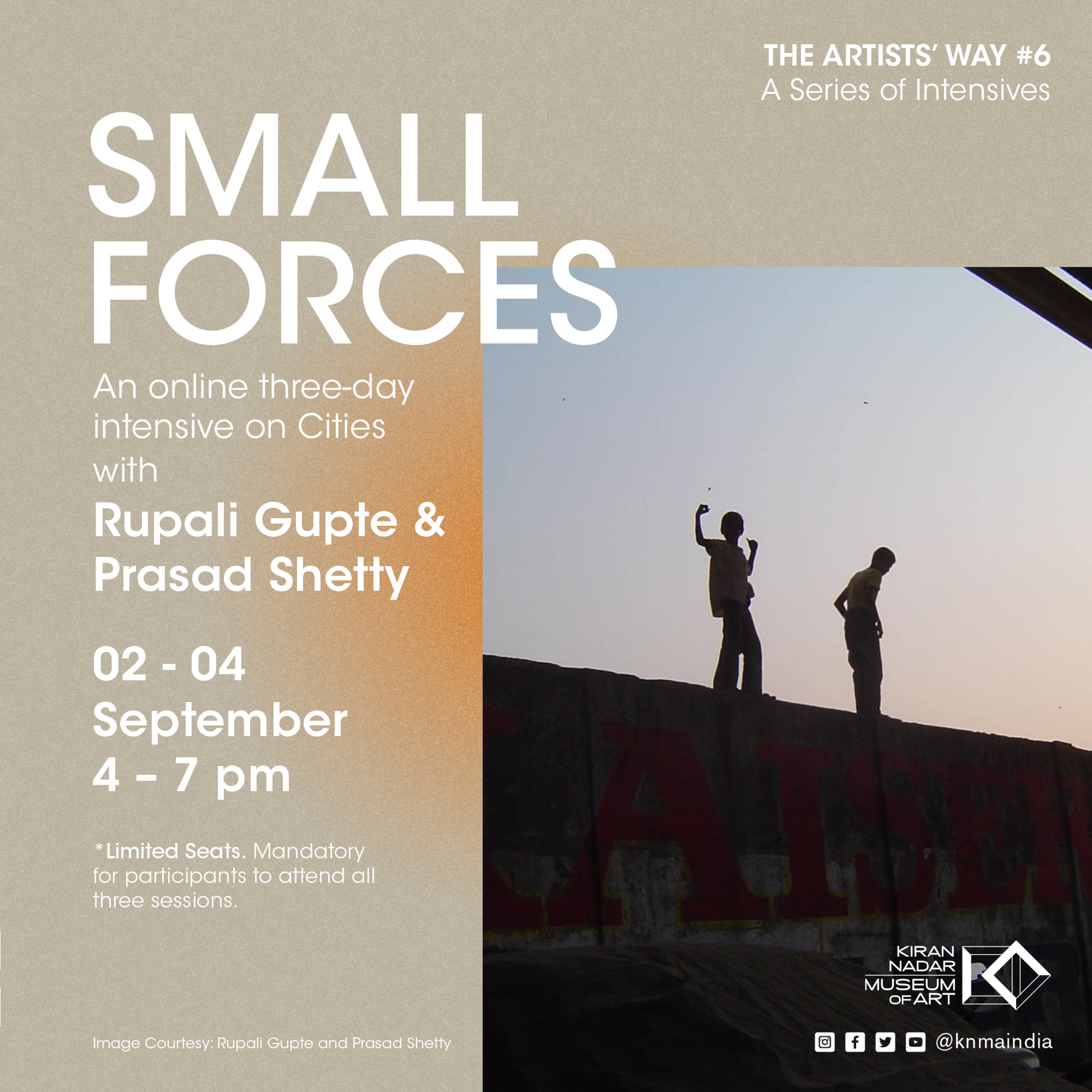 This three-day intensive is based on Rupali Gupte and Prasad Shetty's hypothesis on 'small forces' which has emerged largely from their field work experiences. It will discuss cities as composites of small forces of energetic selves. Energetic self here is the dimension of the self that drives one to undertake specific activities connected to one's desires. These could include - collecting strange objects, behaving like spies, writing stories, achieving mundane targets, opposing new ideas, making antennae to listen to strange sound waves, counting every tree, tracking obscure data, etc. Energetic selves also express themselves in everyday friendships and compassions.
These practices go beyond the acts of routine and are considered unproductive in generating grand conceptualizations of cities. They are often discarded as stray individual preoccupations, anecdotes or subjective obsessions. While some of these are related to earning and occupations, others are simply 'useless'. Everyone seems to have a trip that one lives with and for. Trips seem to provide individuals with their energy. Such energies, expressed in absurd quests, unusual obsessions and bizarre interests cumulatively appear to be producing the city. The city seems to acquire its generative energy from such small forces. In many ways the city seems to be a mad house and madness seems to be running it. Urban theory and pedagogy has seldom engaged with an understanding of these small forces or extended it for speculative / projective purposes.
The three days of the intensive aim at exploring frameworks for engaging with the idea of 'small forces' through narratives, stories, semi-fiction, transactional capacities of form within urban environments, etc. The focus will be to think of cities (and societies) through non-institutionalised frameworks, not as a set of infrastructure or a meta-society, but as trips & kicks. Sessions are conceptualized as a conversation catalysed through provocations, to open up the mechanics of our orientations with cities. Participants are expected to be active conversationalists and co-thinkers to collectively explore this terrain. The conceptual coordinates for this workshop will be the works of Walter Benjamin, Charles Baudelaire, Peter Linebaug, Marcus Redikar, James Gibson, Abdoumaliq Simone and Solomon Benjamin.
Participants will have access to the research material, resources and reading list prior to the sessions. This online intensive is free. Interested participants are expected to commit their presence on all days and participate in group discussions with their own examples and understanding. The age limit for participation is 18 years and above. The intensive may explore the possibility of further collaborative work towards the end.
Rupali Gupte & Prasad Shetty are urbanists based in Mumbai. They are co-founders of the School of environment and Architecture (sea.edu.in) and are partners at the BARD Studio (bardstudio.in). They are based in Mumbai, India.
This is the sixth program of the 'The Artists' Way' series of intensives, organized virtually by KNMA. These intensives have been conceptualized and led by practicing artists who have been using workshops and different pedagogic formats as part of their art-making process, often collaborating with different groups and forming their own personal, formal and informal networks of learning and unlearning. The program is part of KNMA Education Outreach, with the focus on artistic research as new pedagogies of the future. Each intensive is unique, different in format, scope and methodology, wherein artists also share their related research. 'The Artists' Way' program is outlined by Akansha Rastogi, with Madhurima Chaudhuri, Neha Tickoo and Priya Chandra.