NGO
Stitching Landscapes
Facilitated by Nidhi Khurana
16 July 2022 | 11:00 am to 3:00 pm
Onsite workshop at KNMA Saket
Part of the Methods Series
Registration for this workshop is closed.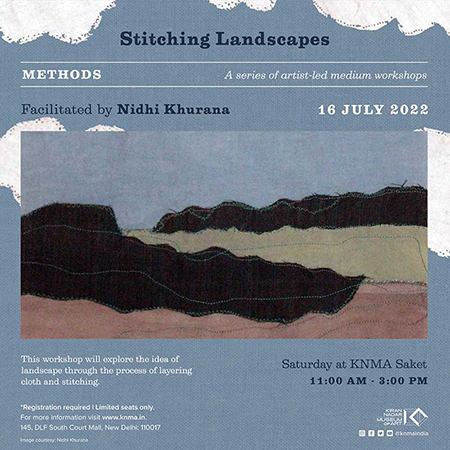 A landscape refers to "all the visible features of an area of land, often considered in terms of their aesthetic appeal". During this workshop we will create individual artworks exploring the idea of a landscape by the process of stitching and using layers of cloth. Instead of paints and brushes, we will employ shape, color and texture along with basic hand stitching to execute the artworks. The malleable qualities of the textile allow it to absorb and withstand imprints, knitting, plating, bunching, tearing, and stitching.
Interested and committed participants (18+) are expected to attend the entire duration of the workshop. Participants are encouraged to bring their own images related to the topic as well as cloth scraps/old textile pieces that can be used. Art material and refreshments will be provided. The onsite workshop with limited seats will be held at KNMA Saket.
Nidhi Khurana is an artist and educator based in New Delhi. Born in Allahabad, Uttar Pradesh, she completed her Bachelors in Visual Arts with a specialization in Sculpture from the Faculty of Fine Arts, Maharaja Sayajirao University, Baroda, Gujarat in 2003 followed by a Masters in Art from the School of Arts and Aesthetics, Jawaharlal Nehru University, New Delhi. Her studio work takes the form of drawings, textiles, carpets, prints, artist-books, and sculptures to reflect upon the role of the human within nature. In her recent works she explores her relationship with the natural world by mapping her experiences as cyclical graphs of time, inspired by a diversity in cognitive approaches such as the Australian aboriginal dreamtime, the Mappaemundi, the yatra or pilgrimage maps and representations from Mughal and Islamic cosmological diagrams. Nidhi has completed a yearlong Artist residency program at the Hochschule fur Bildende Kunste Braunschweig, funded by the State of Lower Saxony (BS Projects Scholarship 2018-19) Germany.
Methods: A series of artist led medium workshops organised by KNMA.
The force driving at the crux of the segment has been to re-examine the mandate of a medium centric 'workshop' and looks beyond the usual format of craft-hobby workroom sessions. At the heart of each session is a chosen artist with their unique style of expression and fashioned in an actively interactive module of facilitator-participant format. This KNMA series highlights how the paradigmatic shifts in contemporary art making need to be registered at individual levels and not merely as institutional applied skill dissemination. The workshop opens up room for both artists and non-artists as well as keen learners to interact with practitioners from a wide spectrum of styles and media to reimagine the tools and raw material for art making - ranging from drawings, maps, personal memories to printing techniques to textual excerpts to found or broken objects, just to name a few.
Program curators: Neha Tickoo and Madhurima Chaudhuri