Community
The Art of Mindfulness
KNMA brings you mindful art workshop for adults to help with stress and frustrations. With people continuously accessing virtual sessions, device addiction is an all too real issue. These lessons are centered on the Waldorf theory which is largely sensory and mindful of emotional and physical needs. It plays on the idea that art must allow for appreciating the process as well as the finished product. The activities themselves are sensory oriented such as painting and clay work, to help center the mind and body and allow for creative expression. Tune in to this series of workshops kicking off on 09 April till 30 April, 2020, and give yourself a chance to relax and reset.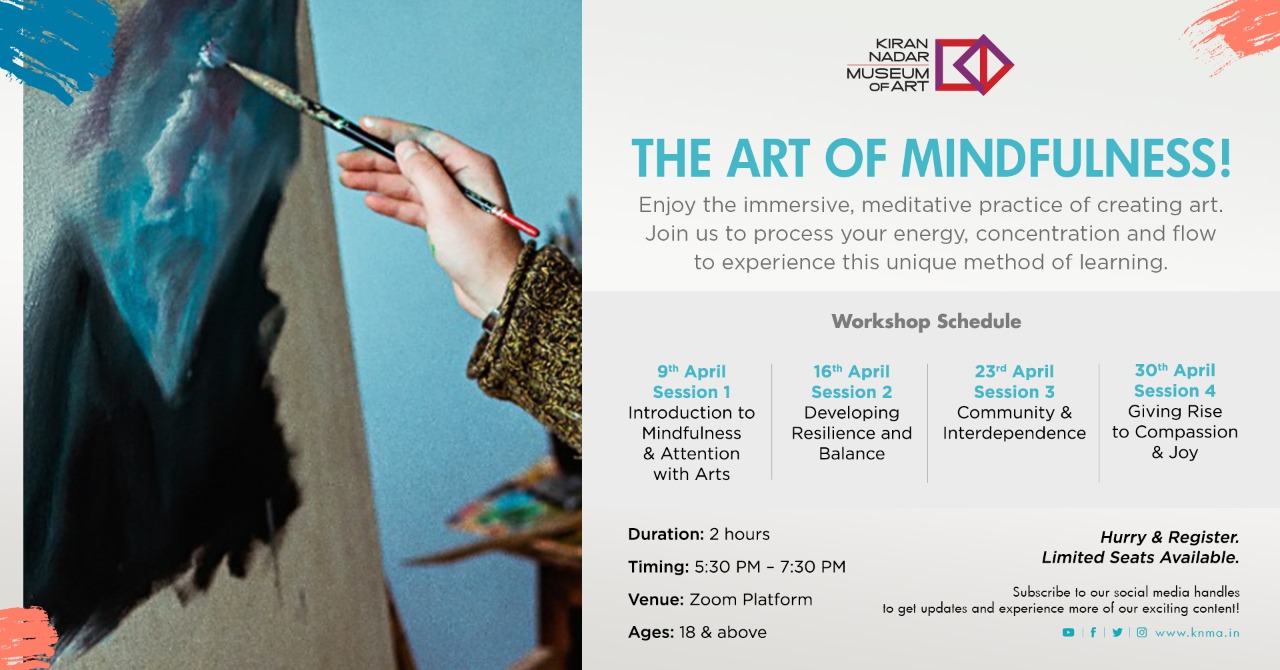 ---
A workshop series by Vanashree Ghate
09 April – 30 April
This Series Includes:
09th April
Session 1 | Introduction to Mindfulness & Attention with Arts – Building body & emotional literacy through attention training. Experiencing mindfulness with short, simple techniques. We work with watercolour painting as key to expression and introspective reflection.
16th April
Session 2 | Developing Resilience and Balance – We learn to put our attention training to use as we work with emotions to be- friend them. This session we focus on regulating emotional skills toward self-care as we go deeper into the world of sensations with clay-work.
23rd April
Session 3 | Community & Interdependence – We are stronger when we feel the support of our community – family, friends and as we allow to enlarge our circle, the outer world! We work with oil-pastels to cultivate our intuitive understanding of interdependence.
30th April
Session 4 | Giving Rise to Compassion & Joy – As we learn to be mindful, we take the first step toward self-compassion. Compassion for ourselves and for those in family, community is the key toward happiness & joy. We explore this deeper with a story reflection and art – using multimedia
---
Required Material :
Regular A3 Card sheet paper 120 gsm
Plain white A4 paper
Clay 250 gms (plasticine, play-dough or terracotta)
Flat brush size 12, Round brush size 8
Oil Pastels box of 12 or 24
Watercolour tubes
Flat Board for A3 sheets, Rags, Bowl for water, Rags, Toothpicks and butter knife for clay-work
Beads, sponge, feathers, nature material like leaves, flowers, branches, small stones, pebbles, aluminium foil, tissue etc for multi-media work.
---
About the Facilitator:
Vanashree Ghate is Waldorf trained, an Arts based Therapy (ABT) Practitioner and ABT Educator and runs Anantaraa ABT Course aimed for healthcare professionals. She has been a Vipassana Meditator since 2004, is a PG Diploma holder in Nalanda Philosophy Studies from Tibet House & trained in Socio-Emotional-Ethical (SEE) Learning & Cognitively Based Compassion Training (CBCT) developed by Emory University, USA. She has also trained in 'Positive Neuroplasty" by Rick Hanson and "Mindful Self-Compassion Core Skills" with Kirsten Neff & Chris Gerner. She brings her personal experience and insights from mindfulness, meditation and artistic practice into her workshops.
*This online workshop conducted over a period of four days is participatory, discussion-based and performative in nature.
REGISTER