Tiger In & As Me A Display of Zines By Mahila Zine (An Initiative by Vichar k Achaar) 29 – 30 July 2022 | 11:00 am to 6:30 pm at KNMA Saket
1 January 1970
On Global Tiger Day, we are pleased to present a zine display at the museum in collaboration with Mahila Zine. This issue of Mahila Zine is intent on exploring and tracing the presence of the tiger as a being and a metaphor in our life. The tiger has been an inherent part of the ecological, mythological and cultural landscape of  the Indian subcontinent, and has been filtered in our subconscious as a symbol of Power & Strength. The display of zines will trace these aspects by looking into the contemporary interpretation of the same.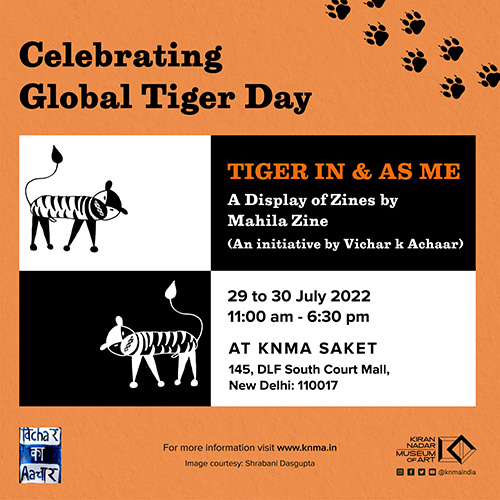 Come explore the world of tigers through this zine display! The event is open to all!
Mahila zine is a collection of different voices, narratives, montages from women, women artists and all those who associate with the female gender. Primarily visual in text, the stories/narrative range from at times drawing and analyzing the everyday, to observing the altering roles of women in urban sphere (from domestic to professional, sexual to social, emotion to economical), reflecting upon the embodied experiences as/ of living under the given social construct of the gender, to shouting out for gender equality and understanding intersectionality. Mahila Zine is part of Vichar k Achaar, artist collective founded in 2017. It is a self-published initiative dedicated to a specific theme every issue in the form of comics, narrative, poster, poems, photo essays, sequential drawings, etc.
Global Tiger Day is celebrated every year on 29 July as a way to raise awareness about this magnificent but endangered big cat. The day was founded in 2010, when the 13 tiger range countries came together to create Tx2 – the global goal to double the number of wild tigers by the year 2022.